79 new Covid cases as expert warns infections will jump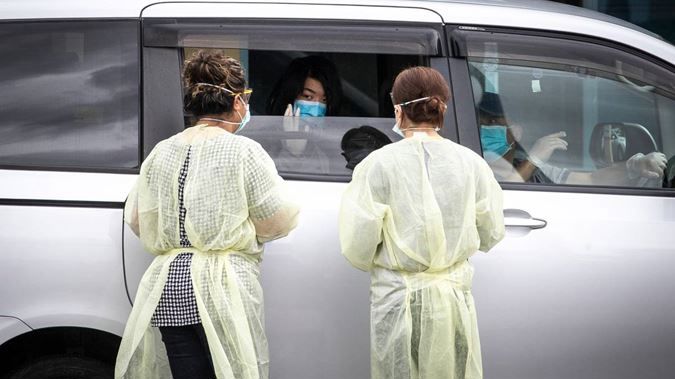 79 new Covid cases as expert warns infections will jump
There are 79 new Covid community cases today after a long weekend in which fewer tests and vaccinations were carried out, sparking concerns the virus' spread could soon accelerate. 
As at 10am, 46 of these cases are linked - including 24 household contacts - and 33 remain unlinked, with investigations continuing to help determine their connection to the outbreak, the Ministry of Health said. 
Out of the new cases, 75 are in Auckland and four are in Waikato. 
From Monday's 109 community cases, 42 people were infectious while in the community. 
The other 66 were in isolation during their infectious period. 
Just 4937 vaccine doses were given out in Auckland yesterday, including 1410 first doses and 3527-second doses. 
That meant the total number of doses given out in the city inched ahead to 2,396,115, including 1,293,840 first doses, or 90 per cent of the eligible population and 1,102,275 second doses or 77 per cent of eligible residents. 
Across the country, 10,660 doses were handed out yesterday, made up of 3492 first doses and 7168-second doses. 
There has now been 6,634,258 vaccine doses administered in Aotearoa. That includes 3,646,869 first doses to 87 per cent of eligible Kiwis and 2,987,389 to 71 per cent of the eligible population. 
Mâori first vaccine doses have hit 394,513 or 69 per cent of eligible people and 277,596 second doses or 49 of the eligible. 
There are now 37 people in hospital, two more than yesterday. They include eight in North Shore, 12 in Middlemore and 17 in Auckland. 
The average age of those in hospital is 45. 
There has been a decrease in hospitalisation from Covid-19 following a number of discharges over the weekend. 
This reflects some instances where individuals were identified as having Covid-19 when presenting for other issues and were admitted for a short period while their other issues were managed. 
The average age of hospitalisations in the current outbreak is 45 years, however over the past fortnight the average age of hospitalisations is 38. 
This reflects a trend of younger hospitalisations overall, with only six per cent of the 372 hospital admissions in this outbreak being amongst the 65 and over age group. 
Auckland public health officials continue to urge residents of the North Shore suburbs of Redvale and Rosedale to get tested as soon as possible if they have even mild symptoms of Covid-19 - and even if they are vaccinated. 
This follows high positivity rates of more than 6 per cent in Redvale and 3.8 per cent in Rosedale. 
"This testing will help to provide assurance that any undetected spread of Covid-19 in these communities is identified as quickly as possible," the ministry said. 
New Lynn and Bayswater are no longer specific areas of concern however residents in these areas are urged to be vigilant for symptoms and get tested no matter how mild. Community Testing Centres on the North Shore are operating at: 
North Harbour Stadium, Oteha Valley Road in Carpark B – open 8.30am to 4.30pm




• Northcote Community Testing Centre, Corner of College Road and Kilham Avenue – open 6.30am to 6.30pm
Testing is also available at GP and Urgent Care clinics, the locations of these can be found on the Healthpoint website. 
Waikato 
The four new cases of Covid-19 in Waikato today were all expected and linked, the ministry said. 
All of them were in isolation throughout their infectious period and are in Te Awamutu/Kihikihi area and isolating currently at home with public health support. This brings total cases for Waikato during this outbreak to 91, with six cases for which epidemiological links remain under investigation. 
Waikato DHB is continuing to carry out testing throughout the region, to help determine any undetected community spread of Covid-19, the ministry said. 
Two bakeries have been added as locations of interest in Tokoroa, connected with the person who stayed at a residential address overnight in the town before flying to Blenheim from Rotorua Airport. 
The DHB has a pop-up testing site open in Tokoroa today through to at least Thursday at the hospital car park. 
Anyone in Waikato - in particular, people in Te Awamutu and Ôtorohanga – is urged to get tested if they have any symptoms that could be Covid-19. 
Testing locations can be viewed on the Healthpoint and Waikato DHB websites. 
Over the long weekend, there were 9089 tests processed for the Waikato, including 1951 yesterday. 
There were also 4160 vaccinations over the same period, including 670 yesterday. 
The ministry said it expected vaccination numbers to be lower over the long weekend. 
Nelson/Marlborough 
Interviews are continuing with the person recently identified as a Covid case in Blenheim, and who is currently isolating. 
The person's three close contacts, including two house household contacts, are due for further testing this week, following their initial negative test results over the weekend. "It is important to reiterate at this stage there have been no further Covid-19 cases reported in the region," the ministry said. 
People living in Tokoroa, Blenheim and Nelson, Tasman and Marlborough are asked to monitor the Ministry of Health's locations of interest page, which is regularly updated. 
"We are also asking residents in Marlborough, Nelson and Tasman with symptoms – no matter how mild – to please get tested, even if they are vaccinated," the ministry said. 
Testing in the region is available today and tomorrow in Blenheim and Nelson, Horton Park, off Redwood Street, Blenheim, open until 9 today and tomorrow, and The Saxton Field parking area in Suffolk Road, Stoke, open until 4pm today. 
Northland 
There are no new confirmed cases of Covid-19 to report in Northland, with cases in the region, associated with this outbreak, remaining at seven. 
However, people living in Northland are urged to remain vigilant and get tested if they have any symptoms that could be Covid-19. 
We also ask that those in the region continue to monitor the Ministry's locations of interest webpage, which is updated regularly, with initial locations in the region already confirmed. 
Anyone who visited these locations of interest at the specified times is asked to monitor their symptoms for 14 days and if any develop, get tested and stay at home until a negative test result is received and they have been symptom-free for 24 hours. We would like to remind people that, as standard protocol, locations of interest are deep cleaned to ensure there is no ongoing risk of transmission from the premise. 
As an additional precaution, we also recommend that everyone wears face coverings in public areas, washes their hands regularly, uses the NZ Covid Tracer app to keep track of everywhere they go, and get vaccinated if they haven't already. 
Testing and vaccination clinic locations across the region are available on the Northland DHB website. 
There was also one new Covid case among returnees in managed isolation, with a person arriving from Qatar on October 20 testing positive. 
Long weekend cases 
Some 293 new community cases of Covid were recorded over Saturday, Sunday and Monday. 
The majority - 271 - of the cases were in Auckland, while 16 were reported in Waikato and seven in Northland. 
Auckland and part of Waikato remain in level 3, while Northland still remains in level 2 despite two cases of Covid being confirmed in the region on Friday afternoon. 
Waikato's alert level settings are to be reviewed tomorrow after level 3 was last Thursday extended for a further six days. 
But top microbiologist Dr Siouxsie Wiles told TVNZ this morning she would expect to see Covid community cases getting "quite a lot higher" over the next few days. 
"I'm not going to sugar coat it...the outbreak is growing and it's really clear that level 3 is not enough to contain Delta and we're seeing that in the Waikato." 
She said it was very clear that the majority of people getting the virus and particularly those being hospitalised were those who were unvaccinated. 
"As we're seeing around the world, this is becoming a pandemic of the unvaccinated." 
Wiles said the government needed to be wary about those community cases growing even more and the healthcare system becoming overwhelmed as a result. 
"If our hospitals become overwhelmed, it's not just people with Covid who suffer, it's everybody - operations, people with strokes and all those kinds of things. We need to protect everybody." 
It was better to prevent that from happening - rather than reactionary moves when or if that happened. 
Wiles said as well as vaccination, people should still wear a mask. Good ventilation in buildings such as school classrooms were also going to help limit the rate of transmission, she said. 
Auckland University Epidemiologist Professor Rod Jackson told Mike Hosking on Newstalk ZB that getting vaccinated was the difference between life and death. 
"This is the biggest catastrophe in public health... this is really, really important." 
He said the 560,000 people who were eligible and hadn't been vaccinated could overwhelm the hospitals. 
Jackson said ICU could get bigger but it wouldn't solve the issues with a Delta outbreak. 
"It's not just about how many people, it's who they are and how sick they are and they're the ones who will overwhelm NZ's health system."