Large tyre fire in Christchurch
Author

Section

Publish Date

Monday, 26 February 2018, 7:46p.m.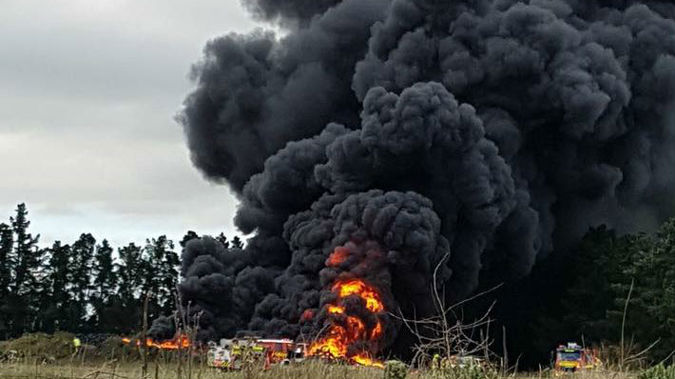 Fire and Emergency are attending a large tyre fire on Racecourse Road in Christchurch - a site previously identified as a fire risk.
Nine tankers, four fire engines and one command unit are in attendance.
A pile of 500 tyres is on fire. The pile is near another pile of 200,000 tyres.
Fire and Emergency said the fire was contained and they would let the fire burn itself out at the request of Environment Canterbury.
A light wind was blowing the tyre smoke away from Rangiora and the city but anyone in the path of the smoke was advised to close their windows and avoid inhaling it.
The fire had burned through 70 per cent of the tyres and fire crews would not be using water or foam on it.
Fire fighters first attended at 6pm and crews were expected to remain on site overnight.
Christchurch resident Donna Hicks said she could see the smoke from the fire from about 9km away.
A meeting report from Hurunui District Council in August last year identified the tyre storage site as a potential fire risk and a discussion was had about how the risk could best be mitigated until the tyres were removed.