Christmas shopping is dashing its way to Auckland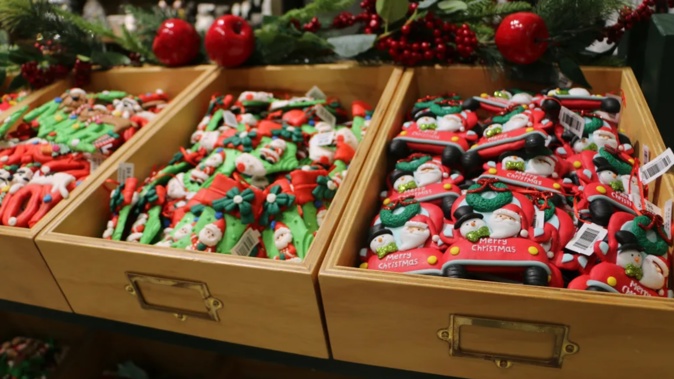 Christmas shopping is dashing its way to Auckland
By Rayssa Almeida of RNZ
October has only just started and stores across the country are already transforming into winter wonderlands, gearing up for the Christmas season.
Retail stores are aglow with festive lights and adorned with ornaments, getting in the holiday spirit well before December and inviting shoppers into a world of early jolly cheer.
In Auckland, Smith and Caughey's staff were getting ready to officially open its Christmas section this Friday.
For the past 43 years, Kevin Broadfoot has been responsible for setting up the store for the holiday season.
He retired from the store a couple of years ago but kept doing the job.
Christmas decorations up at Smith and Caughey's in Auckland on October 4. Photo / Rayssa Almeida, RNZ
"I retired just as Covid hit and then it was suggested that maybe I'd like to look after Christmas, which of course I couldn't turn down.
"Because I love Christmas, it is part of my job. I work on Christmas for 12 months of the year. I live it, breathe it, dream it, have nightmares about it. But it's probably one of my most passionate little projects."
The store was expecting thousands of people to come in the next three months, especially to see the Christmas set-up.
Broadfoot said customers came in early to get the best of all the new pieces.
"We've got our Christmas fans who absolutely love Christmas and can't wait for the Christmas shops to open.
"We've already had people passing as we've been setting it up asking 'when do you open?'.
"For those people, they want to get in early because then they've got the best choice and some of these things are one-offs, so they're looking and they're waiting."
The Christmas section was always a popular one, he said.
"It's really incredible to watch just how it is.
"As people get off the escalators, they just have their eyes light up. A big smile comes on their face, and they just are drawn into the shop."
Bookings to see Santa at the store started coming as early as June, he said.
"Returning guests call us in June or July each year, which is unreal.
"They know if they want a specific date, they've got to make that booking early. Our bookings system usually is live from mid-August onwards and so far, it's tracking brilliantly well obviously."
Jordan at Smith and Caughey's Photo / Rayssa Almeida, RNZ
Auckland-based Jordan was helping set up one of the many Christmas trees on sale at the store.
"I love it. This is my second year doing Christmas set-up.
"I think your Christmas spirit gets bigger and bigger the more time you spend here, it's kind of hard to be down on Christmas when you're doing all of it."
There was no problem with decorating in October, she said.
"There are many more people than you'd think who get into that Christmas spirit much earlier, because there's so much to do, so much to set up.
"I think it just really depends on how hard you go."
Jordan said at home, the pressure to get the tinsel up came from her son.
"My Christmas tree probably goes up mid-November, but I have a four-year-old.
"As soon as we can get Christmas out, he's very excited for it."
But it wasn't only the big stores that were getting ready to cash in early on the jolly season.
For the past 11 years, Cyndy MacDonald had been setting up a pop-up Christmas store in Newmarket.
"I adore Christmas, I just love it. We started with a superficial idea in 1987 when I was over in China and I realised Christmas was everywhere, and it's gorgeous, so many things around, so many options.
"So, 15 years ago we bought an instant shape tree and since then my passion has always been Christmas. We've always strived to get the best of everything."
MacDonald took two weeks to set up the store by herself, with more than 400 trees in stock, of all colours and shapes.
The store was set to open next week, but she said customers were already excited.
"We start getting messages from people at the beginning of September.
"[Customers] keep an eye on our website and then when we say we're open, they flock. They want to get in first to get the best of what we got for this year."
Cyndy MacDonald. Photo / Rayssa Almeida, RNZ
With all the work setting up the store, sometimes her house missed out on the decorations, MacDonald said.
"I'm a bit naughty because I live Christmas every day, I work with it every day, so I don't do my home until a week before Christmas, generally."
She said it was never too early to get started.
"Some trees take a lot of time and effort to put up and it's just magical with the lights twinkling, people love it.
"If you enjoy it as much as I do, it is never too early, not at all."
Auckland Council said public displays could be seen from mid-November.
"There will be a lot of events through various areas in the central city, but Te Komititanga is where we will have the giant balls, the light forest and the pavilion with a lot of activities," Heart of the City chief executive Viv Beck said.
"It's been a difficult time for a lot of people and we're looking forward to seeing everyone in the city enjoying the celebration of Christmas."
- RNZ
Take your Radio, Podcasts and Music with you