Supie failure shows need to 'break up' Woolworths, Foodstuffs dominance- critic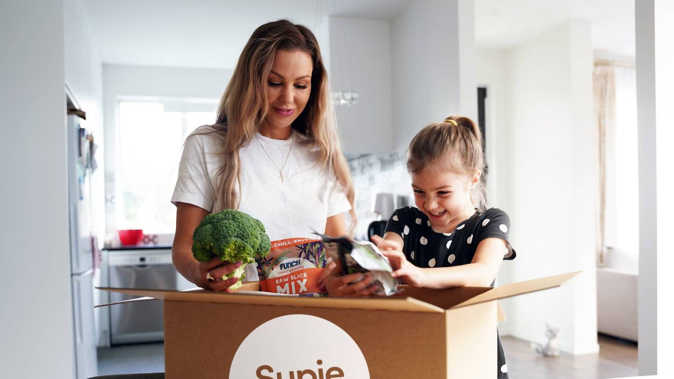 Supie failure shows need to 'break up' Woolworths, Foodstuffs dominance- critic
The failure of online grocery startup Supie needs to lead to a renewed focus on reducing the power of the two dominant supermarket companies, according to a competition advocate.
Online grocery start-up Supie, which raised millions from investors to take on the big supermarket chains, was this morning placed in voluntary administration owing $3 million.
Richard Nacey and Stephen White of PwC were appointed administrators.
Established two years ago by Sarah Balle, Supie Group had the aim of introducing competition into the supermarket industry, employing 120 staff.
"It's damn hard breaking [the supermarkets] up," said 2degrees founder turned Monopoly Watch spokesman Tex Edwards.
"I have nothing but respect and admiration for Sarah and her team."
In a submission to the Commerce Commission's grocery sector investigation, Edwards said it would require at least $1.1 billion in capital to take on the incumbents.
He did not want to comment on Supie's funding push and whether the startup was undercapitalised.
"All discussion should centre on a structural break up of the supermarkets," Edwards said.
The focus must be on the structural separation of the supermarkets, says Tex Edwards. Picture / Jeff Brass
The collapse of Supie comes after it tried to raise $3m from investors in August with $1.1m already committed.
In a statement, PwC's Nacey said Balle made the decision to appoint administrators after a key investor stopped providing funding to the business, which resulted in the business facing cashflow difficulties.
"While sales have rapidly grown over the last calendar year, recent growth has been lower than expected and insufficient to provide the scale needed to operate profitably in what is a highly competitive industry."
As administrators, Nacey said, they did not have sufficient funding to continue to trade the business in administration. "In the absence of securing funding, we expect to be seeking to have the three companies in the group placed into liquidation in the near future."
The business has approximately 120 staff, who were told at 9am this morning that they would be laid off.
According to one employee present, they would not be paid for the past two weeks. There would be no annual leave paid out or redundancy pay. The administrators have been asked for comment.
"People were crying, upset and stressed. We can't pay our rent," the staffer told the Herald. "We busted our asses for that place."
In April, Supie said it was facing pushback from multiple suppliers about its retail prices.
The business, which operates out of Auckland, said suppliers demanded Supie increase retail pricing, despite their "reasonable profit margins".
Balle said the approaches from suppliers came after the company implemented a more competitive pricing strategy in January.
"We're not entirely sure why suppliers are putting pressure on us. We know there is a duopoly market in New Zealand," Balle said.
Supie's failure was announced the same morning that the Government's Grocery Commissioner, Pierre van Heerden, released his top three priorities on his "fix-it list" - priding integrity, supplier behaviour and a "level playing field".
Icehouse Ventures has a 26 per cent stake in the business, with Balle holding 17 per cent.
The collapse comes after Ben Kepes and Hadleigh Ford quit the company's board on Friday.
Last July, the business valued itself at $20m and forecast a net profit of $2.3m in 2025.
Take your Radio, Podcasts and Music with you