Student loan debt 'balloons' with average student owing $21,000 - Labour
Author

Publish Date

Tue, 24 Jan 2017, 4:29pm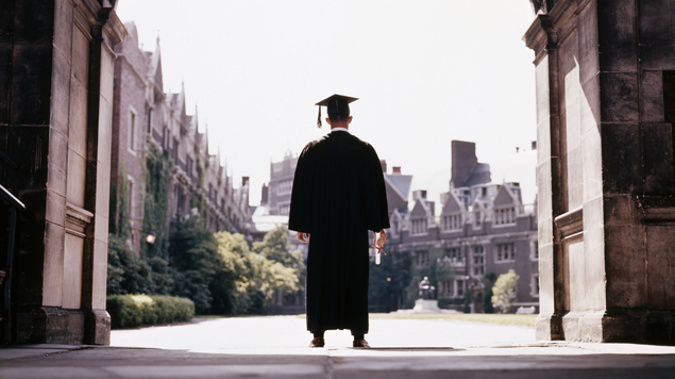 Student loan debt 'balloons' with average student owing $21,000 - Labour
Author

Publish Date

Tue, 24 Jan 2017, 4:29pm
Student loan debt has "ballooned" under National, Labour says, with the average student now $21,000 in the red.
The comments came after a Government stocktake of the student loan scheme was released in an annual report for the 2016 year, showing costs have tracked up while participation has declined.
Almost 731,800 people have a student loan, with a nominal total of $15.3 billion of debt.
More than 90 per cent of students borrow in order to pay their fees, the Ministry of Education report said, with the largest increase in costs coming from hikes to fees.
In 2015, $1073 million was drawn from the loan scheme to pay for fees - 64 per cent of all money borrowed that year.
The second largest driver of costs was the cost of living, the report said, representing 26.1 per cent of all money drawn in 2015.
In that same year, the average amount borrowed was $8888, an increase of 3.5 per cent on the previous year. A similar increase was seen from the 2013 to 2014 year.
Bachelor degree students borrowed an average of $9676 each in 2015, while masters and post-graduate students borrowed an average of $10,300. 
Students were leaving university with an average of between $16,600 and $17,220 of debt, with bachelor students tending to have the largest volume of borrowing, the report found.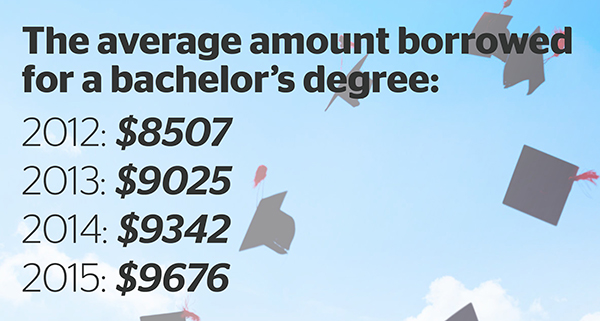 "Participation in tertiary education peaked in 2009/10 and has been steadily declining ever since as the effects of a National Government bed in," he said.
"Meanwhile the accumulated debt of those who do complete tertiary study has been climbing steadily, increasing a whopping 37 per cent under National compared to just 9 per cent under the previous Labour Government."
The average loan balance at June 30 was close to $21,000, the report said, while the average time it takes a graduate to repay their loan is now 8.4 years.
Record amounts of student debt are being written off for bankruptcy, with $17.6 million wiped from the books in the 2015-16 year. Because of the death of the borrower, $15 million was written off.
"National are saddling future generations with huge debt and it's getting worse not better," Hipkins said, accusing the Government of trying to "sneak these figures out".
"Declining participation rates are really concerning. If we are to provide all New Zealanders with the opportunity to adapt to the changing needs of the economy and society, and to fulfil their own potential, we need to see participation in tertiary education increasing, not decreasing."
The number of domestic students enrolled in tertiary education has declined since 2005, which the report said was mainly due to a decline in enrolments in certificate-level qualifications following moves to strengthen quality.
The number of full-time equivalent student places reached a peak in 2010, and has declined since.
The report pointed to a stronger labour market since 2010, which influenced young people's decisions on whether to study or not.
At June 30 last year, there were 731,754 student loan borrowers, with the nominal value of all loans sitting at $15.3 billion.
In the year to June 2016, 40,695 borrowers re-paid their loans in full.
More than 490,000 borrowers have repaid their loans since the scheme began, with IRD collecting close to $11.5 million in repayments.
Tertiary Education Minister Paul Goldsmith said New Zealand had "one of the most generous student support systems in the world", spending more than $3.1 billion on financial support in 2015.
"New Zealand spends three times the OECD average on financial aid to students, with only the UK spending more," he said.
"Tuition subsidies paid to providers cover on average 71 per cent of the cost of tuition for most domestic students. In practice, the share borne by the Government is larger because much of the students' share of compulsory fees is paid by interest-free student loans; increasing its share in the cost of tertiary education to around 82 per cent.
"In 2000, the average student paid 33 per cent of the cost of their education. While in 2015, that figure had reduced to 29 per cent."
A strengthening economy, creating 250,000 new jobs over the last three years, was the main reason for a decline in those opting for a tertiary education, Goldsmith said.
As well as a "demographic blip" in the 18-22-year-old age bracket, which is expected to increase again in 2021.