Liam Dann: Trade war shock just what NZ didn't need
Author

Publish Date

Sun, 15 Jul 2018, 10:25AM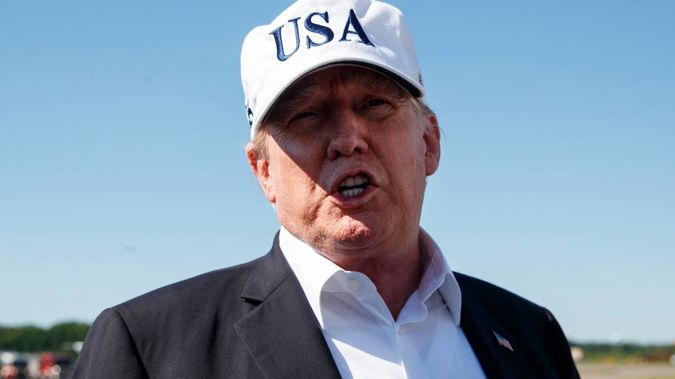 Liam Dann: Trade war shock just what NZ didn't need
Author

Publish Date

Sun, 15 Jul 2018, 10:25AM
Sadly, the trade war between the US and China is starting to look like the external shock the New Zealand economy did not need right now.
A relatively moderate reaction on doggedly bullish share markets has masked more serious economic fallout.
As the war of words intensifies, and a second round of tariffs starts to look inevitable, global commodity prices have started to fall.
Commodity prices had been on the rise this year in anticipation of global growth driving up demand. US President Donald Trump's aggressive trade policy has put them into reverse.
Bloomberg's commodity index is now off almost 9 per cent since mid-May.
Metals have been hardest hit, and copper prices plunged as much as 4 per cent on Wednesday. US copper futures have lost almost 17 per cent since peaking in early June.
Zinc, nickel, lead and tin have also fallen, as have shares in miners and metals companies including BHP Billiton, Bloomberg reports.
New Zealand is not in the direct firing line of the US/China scrap, apart from the earlier tariffs Trump applied to steel and aluminium.
We are caught in the crossfire, though. And Australia is even more exposed.
KPMG economist Grant Wardell-Johnson this week told The Australian that Australia faced "serious consequences" as the trade war escalated.
"Global growth will be significantly reduced, with Chinese particularly hard hit," Wardell Johnson said.
That's bad news for New Zealand. Our two largest trading partners are Australia and China.
Their fortunes have a huge influence on our economic performance.
It's worth noting that last year outgoing Reserve Bank Governor Graeme Wheeler, who has high level contacts in the US, rated Trump's trade policy as one of the most serious risks to an otherwise benign New Zealand economy.
Events are playing out as he feared.
Even dairy prices are coming under pressure.
Economists told the Herald last week trade tension was compounding recent falls in global dairy trade auctions.
After a strong recovery across the past couple of years the global dairy trade index has been slipping since mid-May.
Some say Fonterra will now struggle to maintain its forecast pay out to farmers - although others argue the fall in the Kiwi dollar should soften the impact.
One Australian analyst told the Herald he expected New Zealand dairy prices could fall by 10-30 per cent.
Independent economist former ANZ chief economist Cameron Bagrie believes a 10 per cent fall is on the cards.
That's news the dairy sector does not need on top of tough issues like the Mycoplasma Bovis cull.
There is no threat of a poor pay out for farmers this year - with milk solids prices ensconced well above $6 a kg.
But a step back from forecasts will erode confidence, spending and investment in the rural sector.
Commentators have pointed out there may be a short-term upside for New Zealand and Australian exports if China looks to our markets to replace products hit with US tariffs.
But so far the overall effect has simply been buyer caution and a dampening of overall demand.
The broadly optimistic outlook, which most economists still retain for New Zealand, looks through domestic headwinds like business confidence and labour shortages.
It anticipates fiscal stimulus from the Government coming into play next year and assumes this will coincide with an export-led recovery.
Many of those forecasts made at the start of year - locally and internationally - are starting to look overly optimistic.
The Reserve Bank, Treasury and retail bank economists are dialling back on expectations for New Zealand's GDP growth rate.
More bearish outlooks are starting to look like the most realistic. Australia's Capital Economics has been one outlier - picking a fall to 2 per cent GDP growth by the end of the year.
Wellington-based Infometrics has been perhaps the gloomiest, picking in April that we'll see GDP growth dip below 2 per cent in 2019.
If correct we can expect to see interest rates stay on hold longer.
The next move might even be a cut.
It should be reassuring there is actually plenty of scope for the Reserve Bank to cut if things turn ugly.
GDP growth below two per cent would be worrying and would put us into territory where we are one drought or natural disaster away from recession.
The Government also has headroom to stimulate the economy more aggressively if things fall off a cliff - although that would require a softening of its commitment to fiscal responsibility.
Sensibly, that policy always retained the wriggle room for adjustment if events unfolded that required it.
In fact, external shocks and unforeseen events are exactly why New Zealand governments need to be so fiscally responsible in the first place.
There is no need to push the panic button yet.
The trade tensions may yet reach a stalemate. Trump might win concessions from the Chinese and call it quits.
But there is no sign of anyone backing down yet. It seems short-term economic growth is taking a back seat to larger global power plays.
And in the meantime, that puts more pressure on the Government to execute well and get economically stimulating policies up and running as quickly as possible.