How a 17-year-old Aussie pastry chef built his incredible doughnut empire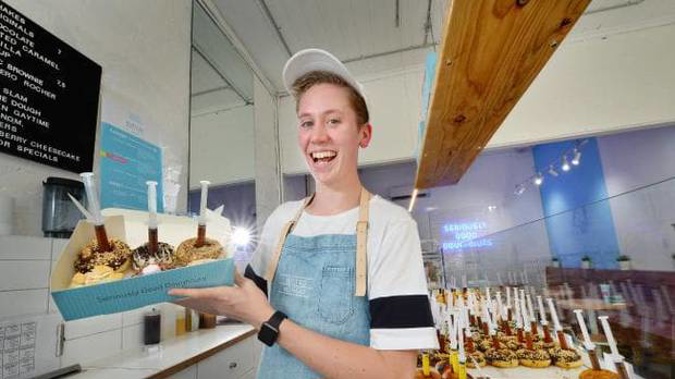 How a 17-year-old Aussie pastry chef built his incredible doughnut empire
At just seven years old, Morgan Hipworth was already a budding entrepreneur. Today, he's raking in the dough.
Less than 10 years ago, Morgan Hipworth was still in primary school watching his heroes George Calombaris and Gary Mehigan on Channel 10's MasterChef.
Today, the budding pastry mogul is running a half-a-million-dollar doughnut business, has won praise from billionaire Instagram founder Kevin Systrom, and is even working on a collaboration with one of the men he used to watch on TV.
That is, when he's not at school.
"At the moment I'm pretty much doing two full-time jobs, school during the week and the business every single second around that," said the 17-year-old year 12 student.
Morgan, who will appear in the season four premiere of Channel 10's Shark Tank later this month, was just seven years old when he started cooking. Inspired by MasterChef, he set up a "restaurant" in his parents' dining room.
"I would call it 'Bistro Morgan' because I loved French food," he said. "I would cook for my friends and family and would also make cake orders for birthday parties."
When he was 13, he got chatting to a cafe owner while paying his bill for lunch, who offered him a contract. "She said, 'You seem to know a bit about baking. We're looking for a new cake supplier'," he said.
"I took in some samples, brownies, slices and everything in between. From there they would place orders every day and I would deliver every morning. Soon I had a council-registered kitchen, an ABN — it turned from a hobby to a business."
In 2014, a Valentine's Day experiment with heart-shaped jam doughnuts was a massive success — and pretty soon that's all his customers wanted. Before long he was producing up to 800 doughnuts every weekend.
"It just kind of took off," he said. "I got about 20 more cafes around Melbourne, they just wanted the doughnuts so I phased out of the brownies and so on. I focused on the doughnuts."
Still in year 10, at that point he decided he wanted his own store. But mum and dad, who own a building company and a children's clothing brand — said no way. So they compromised. After he had saved up $59,000 himself, they agreed to let him lease a pop-up store off Melbourne's Chapel Street.
"In eight days we ended up selling 10,000 doughnuts," he said.
In December 2016, Bistro Morgan opened in the same location as a permanent store, and now sells up to 10,000 doughnuts every week. Last year, the business turned over $536,975.
Morgan, who is a qualified food safety supervisor, handles all the recipes, banking, invoices, HR, as well as running social media. On Instagram, Bistro Morgan has more than 62,000 followers.
On weekends, he arrives at 5am, while his mum works in the store six days a week in between running her own business.
"Up until recently it's pretty much just been me and my parents helping out a bit," he said, adding the staff didn't mind his age once they realised he actually does run the business and not his parents.
Morgan attributes his success to finding his passion at such an early age. "The main thing was just that passion, I found I loved cooking," he said.
"It was as soon as that cafe was like, 'Do you want to bring some samples down?' - at that stage I didn't know cafes bought their cakes in, I thought they made their own stuff — that I thought this could actually be something."
And unlike most kids his age, Morgan has no plans to go to university straight away. "I've been waiting a while now to do what I want to do full-time, so it would be nice to go straight into it," he said. "The amount of effort I'll be able to put into the business will make my life a bit easier."
He wants to expand Bistro Morgan both in Australia and has had interest from overseas, but doesn't want to spread himself too thin with too many stores.
"I don't ever want to be on every second corner," he said. "The big dream is to have one shop in every major city, so you have that major kitchen and wholesale business, so you've got your stable income.
"As much wholesale can go up and down, you will have clients who order every day, but you can open a store and not sell one doughnut."
As a social-media-savvy teen, Morgan is conscious that the Instagram foodie crowd can be fickle. "I think everyone's always going to love a good doughnut," he said.
"Social media is key not just to keeping up with trends but also making trends. We get a feel for what customers want, what they like or don't like. We change our flavours once every two or three months."
Morgan is now working on a collaboration with George Calombaris.
"It's pretty awesome to be working with someone like George who I looked up to," he said. "I used to get inspiration from people stuffing things up in eliminations. I'd think, 'I could do that, I want to try that recipe.'"