Global dairy prices plunge
Author

Section

Publish Date

Thursday, 16 July 2015, 6:15AM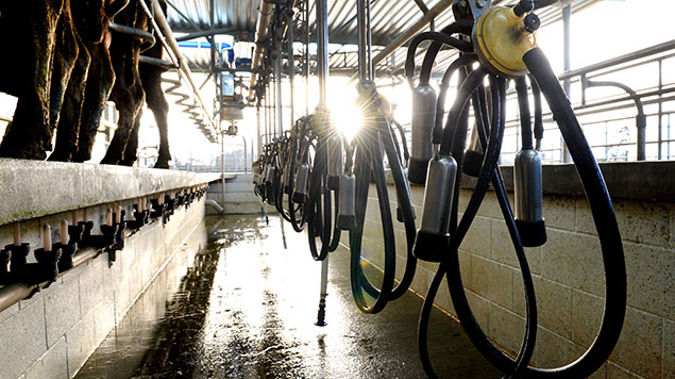 Worldwide population growth is the solution our Government is waiting for to solve the dairy price fall.
Global prices plunged over 10% overnight, with whole milk down even further, at 13%.
Primary Industries Minister Nathan Guy says the market is currently flooded by oversupply, but natural forces will take care of that.
He says the world population is expected to grow to nine billion by 2050, and even in the next ten years, the population will increase by one billion. 
Whole milk powder is responsible for about 75 per cent of Fonterra's farmgate milk price.
Fonterra's current milk price forecast of $5.25 per kg of milksolids for 2015/16 is based on GDT prices reaching about US$3500 a tonne towards the end of this season. Dairy NZ estimates $5.70 a kg to be the breakeven point for most farmers.
The dairy auction result was responsible for taking around 40 pips off the Kiwi dollar, and the NZ/Australian dollar cross rate dropped to below A89.50c.
"It is hard to see markets remaining sanguine about the New Zealand dollar with the coming boost to auction volumes," Sam Tuck, senior foreign exchange strategist at ANZ Bank, said. "We expect the New Zealand dollar to remain under pressure across the board," he said.
Pre auction Kiwi was trading US66.70c and hit US66.34 immediately after, later settling at US66.0c.
Brian Rice, principal and owner of Chicago-based commodities broking house - Rice Dairy - said the GDT result showed that the trend in low dairy prices was not over yet.
He added that it appeared from the GDT result that New Zealand was struggling to clear product.
"I definitely view it as a cyclical thing and this cycle will end," he said. "Some time over the next next five years, the world will be short dairy product," Rice said.
Price declines were across all but one of the products offered for sale at the auction.
Cheddar prices dropped by 13.9 per cent to US$2,613 a tonne, skim milk powder by 10.1 per cent to US$1,702/tonne, butter by 9.5 per cent to US$2,460/tonne and rennet casein by 8 per cent to US$5,430/tonne.
Butter milk powder prices dropped by 4.4 per cent to US$1,794 a tonne and anhydrous milk fat lost 10.6 per cent to $2,621. The only product to gain was lactose, which firmed by 1.9 per cent to US$549/tonne.
NZX dairy futures pricing suggested prices might fall at this morning's auction but not nearly to the same extent. The average winning price was US$2,082 a tonne.
Prices, after a steep decline in 2014, bounced back in February this year but have been falling ever since.
Oversupply, slack demand from the world's biggest dairy importer - China - Russia's import ban, the removal of dairy production quotas in Europe and higher production arising from cheaper feed costs have all acted to depress dairy prices.
Economists expect prices to stay low this year before the balance between supply and demands starts to improve next year.
The Reserve Bank has flagged a weak dairy sector as one of three key risks to the nation's financial stability, saying about a quarter of farmers were operating in negative cash flow.
The bank cut its official cash rate by 25 basis points to 3.25 per cent on June 11 and financial markets are pricing in two more cuts by the year's end.
Prices shows signs of bouncing back in February but have declined at every sale since March 17. Trade on the NZX futures suggested that wholemilk prices would decline by around 8 per cent, not the 13.1 per cent fall that transpired at the auction.
Domestic milk production, despite low prices, was strong in May - the last month of the 2014/15 season. According to Dairy Companies Association of NZ (DCANZ) data, the sector produced 80.8 million kg of milksolids in the month, down from 138m kg in April but up from 72.3m kg in May 2014.
Federated Farmers said on Wednesday its new-season July 2015 Farm Confidence Survey had moved further into negative territory because of further declines in dairy prices.
Additional reporting by Newstalk ZB Staff