Dive in log prices making harvesting uneconomic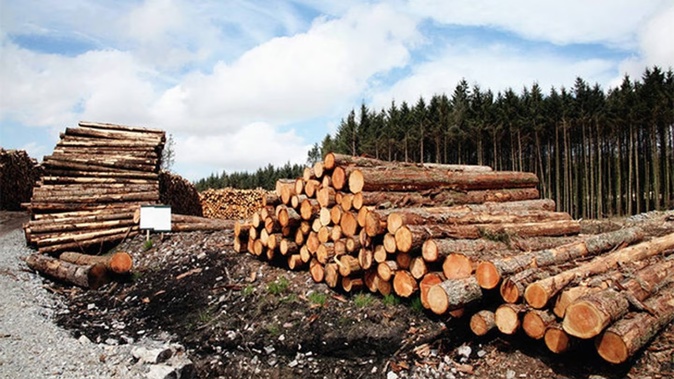 Dive in log prices making harvesting uneconomic
Logging exporters are being blamed for the current dive in log prices to a level where harvesting is uneconomic.
Between March and April, log prices dropped 14 per cent to $112 - $115 for an A-grade log.
Laurie Forestry managing director Allan Laurie said prices needed to be "north of $120″ to be economic for harvesters.
Laurie said the situation, which had happened before, was incredibly frustrating because it was predictable and avoidable.
He said it was obvious months ago that China's usual seasonal increase in consumption was not happening, with the market signals pointing to China's construction boom ending.
"Despite the fact that some of those fundamentals were working downward during the first quarter of this year, New Zealand exporters in the market were trying to push prices up," he said.
"That reaches a tipping point where the market simply says 'we have enough wood, if you want to sell us more, you're going to need to discount it'."
"Some ships were on the water without contracts, without letters of credit," he said, meaning exporters had to accept whatever price was being offered for the logs on arrival in China.
Laurie said the drop in demand had pushed prices down to levels where forest owners should shut their gates.
"We can't recommend that a forester continues to harvest when prices are much below where they should be to achieve a reasonable return. So you've got to have that same conversation with the contractors and it becomes extremely messy and difficult trying to find solutions to keep people working.
 "We should have maintained a much more realistic price in the market and had a stable price situation in New Zealand, [then] we wouldn't see these peaks and troughs that we're currently seeing."
Laurie said the contractors and forest workers needed to be considered much more in the equation.
"It's about a holistic approach and about looking after everybody to ensure that we've got good stability and offer good job opportunities to New Zealanders ... these fluctuations do cause a great deal of anxiety and to see people not working, that's what we need to fix," he said.
Laurie is recommending "a sit-down review amongst key players" to implement a strategic approach to "scour the planet for more markets".
He said India was a lower-price market, and difficult to work in, but worth exploring.
He saw Europe as being ripe with opportunities.
"Europe is a standout. We're seeing significant reductions in harvest across Europe of the softwood species, and that must be destined to continue. So we should be looking for opportunities in Europe also."
The Forest Owners Association, which represents all the main exporters, said nearly all commodities in international trade were unstable at the moment.
An association spokesperson said in comparison to other New Zealand exports, such as dairy products, log prices had been very stable over the past few years.
"Our exporters are used to inventory disruptions in China and believe at the moment that this is the case. However the industry is well aware of the slowdown in construction in China and the potential for this to flow to an appetite for logs and other wood products from New Zealand," he said.
- RNZ
Take your Radio, Podcasts and Music with you