Foodstuffs halts distribution of Australian strawberries
Author

Publish Date

Mon, 17 Sep 2018, 10:49am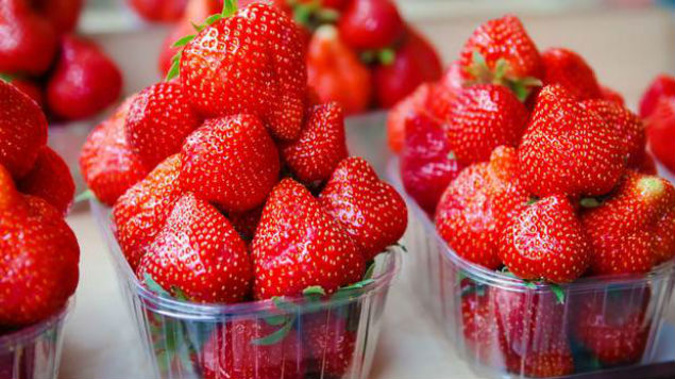 Foodstuffs halts distribution of Australian strawberries
Author

Publish Date

Mon, 17 Sep 2018, 10:49am
Foodstuffs confirmed today that it would halt the distribution of Australian strawberries in New Zealand.
Foodstuffs operate Four Square, New World and Pak'nSave.
This comes after a massive recall across the Tasman, where the product was pulled from the shelves of a number of supermarkets after the discovery of strawberries spiked with across six regions in Australia.
A Foodstuffs spokeswoman said that no products in its stores had been affected by the problems in Australia.
However, the company has taken the step as a precautionary measure to keep its customers safe.
"Our customers' safety is our number one priority," the spokeswoman said.
New Zealand imports strawberries from Australia during the off-season in this market.
New Zealand's strawberry season will start shortly, Foodstuffs said.
The latest shock discovery was at a Woolworths supermarket in Tasmania.
On Sunday a customer returned a punnet of strawberries to the supermarket purchased earlier in the day, alleging the fruit had been contaminated by a needle, police said.
Earlier on Sunday, a customer in South Australia made the discovery while eating fruit from a punnet of Mal's Black Label strawberries, South Australia Police say.
The punnet was bought from Klose's Foodland Supermarket in Littlehampton on Saturday with the independent grocery retailer pulling the strawberries from all its shelves.
It comes after Australian Health Minister Greg Hunt ordered the national food safety watchdog to assess the states' handling of strawberry contamination.
Australian Police are investigating claims that needle sabotage has now spread to six brands of strawberries across five states.
The sewing needle contamination is believed to have affected six separate brands of strawberries: Berry Obsession, Berry Licious, Love Berry, Donnybrook Berries, Delightful Strawberries and Oasis.
Berry Obsession, Berry Licious and Donnybrook Berries branded fruit have recalled their strawberries nationwide.
Coles and Aldi have both pulled all strawberries from their shelves after needles were found inside berries sold as far apart as Sydney and Townsville.
The dramatic move affects stores in every state except Western Australia.
"Now that the withdrawal of product is complete, our focus will shift to working with our primary producers and the supporting supply chain to do what we can to minimise the impact and cost of these withdrawals," an Aldi spokeswoman said.
Queensland Police are leading an investigation into the source of the needles, and the state's Premier Annastacia Palaszczuk has stumped up a reward of $100,000 for anyone with information that leads to the capture of the culprits.
Horror stories
A number of terrifying stories have emerged since the needles were first discovered.
One mother told the publication Sunrise she had discovered the metal implement when she was cutting up the fruit for her child.
Angela Stevenson said she cut into metal and then realised she had given her son strawberries for his packed lunch.
She frantically called her son's school and asked them to throw the fruit away.
So far only one person is believed to have swallowed a needle, in the first known case last Sunday.
A 21-year-old man from Burpengary in Queensland bit into a strawberry with a needle inside it and ended up in hospital.
"When I bit into one I felt like a sharp snap, and my knee-jerk reaction was to swallow, and what was left was half a sewing needle," he told the Courier-Mail.
"I'm just in shock, you don't expect that."
- Additional reporting from News.com.au