Dominion Rd light rail construction may be 'rough ride' for businesses
Author

Publish Date

Thu, 10 May 2018, 5:43AM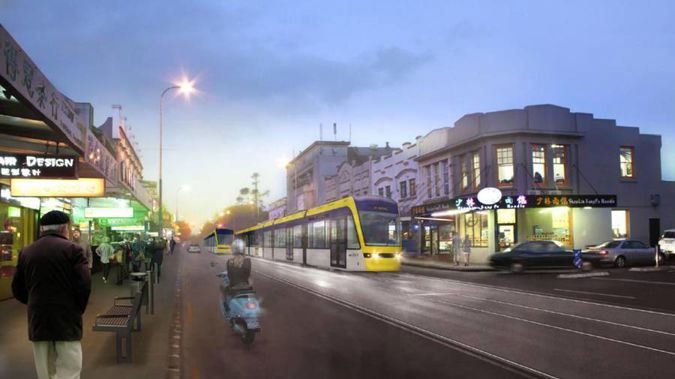 Dominion Rd light rail construction may be 'rough ride' for businesses
Author

Publish Date

Thu, 10 May 2018, 5:43AM
Dominion Road businesses are cautiously optimistic about plans for two new light rail networks in Auckland.
The Government is seeking proposals from private outfits to fund the two networks.
One will run along the Northwestern motorway, while the second, connecting the central city to Māngere and the airport, will run down Dominion Road.
Dominion Road Business Association chair Chris Hammonds says while the end result will be beneficial - it's going to be a rough ride.
"I can see there's some businesses that will fall over, because we know what sort of disruption these sort of projects do to businesses."
Hammonds hopes businesses will have a part to play in the project, and an ability to voice concerns.
He says they could see a drop in business.
"The likes of dust and congestion, people will avoid the area as they will find a quicker route to town by miles."
Hammonds expects store owners will be checking to see when their leases run out, sooner rather than later.
The proposed plans have garnered interest from the New Zealand Superannuation Fund, which has a proposal to own, build and operate the two lines.
National's transport spokesman Jami-Lee Ross says it's no surprise it is interested, as the fund is a smart investor.
"They will look at this and see that the Government is so desperate to have light rail down there, hell or high water, they will go with something that has a guaranteed revenue stream, and that will be why the Super Fund is interested in this."
Ross says if that goes ahead it's effectively a public private partnership scenario.
He's questioning why the government has more or less ruled out PPPs on everything else it's doing, yet seems happy to look at it for transport.
"They should be doing it across the board as well and not be so ideological when they are ruling out public-private partnerships across the rest of the Government."