Another Kiwi craft beer company in deep trouble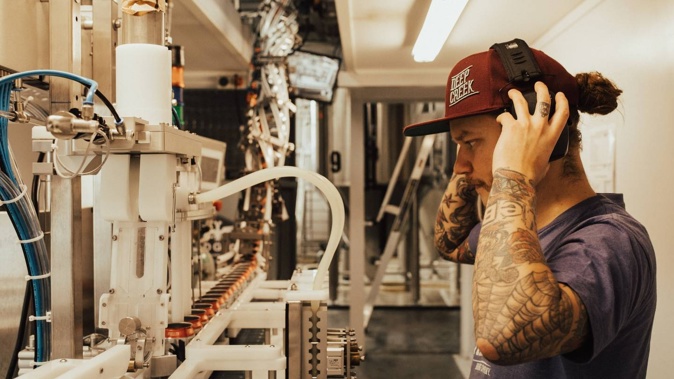 Another Kiwi craft beer company in deep trouble
Another homegrown brewer has found itself in financial trouble after a horror few months for the sector. 
Deep Creek described itself as a company with origins as a small brewery in 2011 in Browns Bay on Auckland's North Shore. 
But the company, Deep Creek Brewing operations, is now in liquidation. 
Paul Brown (left) and Jarred Maclachlan of Deep Creek pictured several years ago. 
Liquidators Paul Vlasic and Derek Ah Sam from Rodgers Reidy were appointed liquidators this morning, according to Companies Office records. 
Their office told the Herald Vlasic was at the North Shore brewery around 10.30 on Tuesday morning. 
Deep Creek was founded by Jarred Maclachlan, Paul Brown and Scott Taylor in 2011. 
By 2019, it employed 15 staff at a Silverdale brewery and 30 staff at a North Shore brew pub. 
It began exporting to China in 2019. 
Earlier this month, the brewer told fans on Facebook it was voted "3rd Choicest Craft Beer" in a contest involving 500 beers. 
Interests associated with Maclachlan own at least 26 per cent, while Brown owns 9.5 per cent. 
Although it was not immediately clear what had caused Deep Creek's financial struggle, the broader sector has been in some turmoil lately. 
Epic Brewing Company called in insolvency specialists on July 25 after experiencing financial difficulties blamed on Covid-19 and increased costs. 
But that craft beer brewer found a new buyer a month later. 
And in August, Brothers Beer was put into voluntary administration. 
A PwC voluntary administrators' report said Brothers Beer Ltd and Brothers Wholesale Ltd suffered from Covid-era hospitality restrictions and subsequent inflationary pressures. 
Pursuit of Hoppiness publisher and editor Michael Donaldson on his website said Deep Creek's current situation was "another hammer blow for the industry". 
Take your Radio, Podcasts and Music with you