Covid casualty: Top Auckland restaurant Euro to close
Author

Publish Date

Fri, 1 Oct 2021, 7:28pm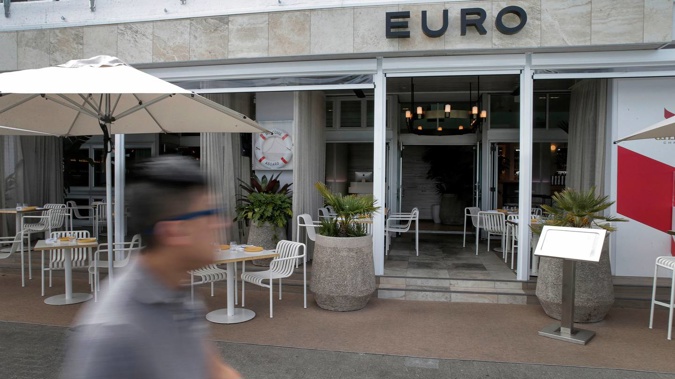 Covid casualty: Top Auckland restaurant Euro to close
Author

Publish Date

Fri, 1 Oct 2021, 7:28pm
Top Auckland restaurant Euro has revealed it is closing it doors, with owners blaming Covid-19.
The Princes Wharf restaurant confirmed the "sad news" today on social media. This week we have made the extremely difficult decision to keep Euro closed.
"The ongoing challenges caused by the Covid-19 pandemic over the past 18 months have meant that it is no longer sustainable to reopen, despite doing everything in our power to do so.
"We're incredibly proud of everything we've achieved since Euro first opened in 1999 and it's been our privilege to welcome you through our doors over the last 22 years.
"We're particularly proud of our amazing Euro team - for the consistently exceptional food, beverage and service they've delivered and all the good times our guests have experienced.
"Euro holds a special place in the hearts of so many - whether you've celebrated a special occasion here, attended one of our legendary long lunches or simply dined with us, we're extremely grateful to each and every one of you for your continued support."
Paula and Richard Sigley of Euro. Photo / Supplied
The owners said it had been an "amazing journey" and they were sad that patrons would not be able to enjoy a "last hurrah" at the venue.
"We'd like to thank you from the bottom of our hearts for all the wonderful memories."
'No longer sustainable'
The business issued a statement this afternoon saying it was shut after 22 years, "as a result of the ongoing challenges caused by the Covid-19 pandemic".
The Nourish Group's Euro had been an institution and founder Richard Sigley said the decision was extremely difficult.
"Over the past 18 months we've had everything thrown at us – lockdowns, prolonged CBD road works, closed borders, severe staffing shortages and working visa issues," he said.
"All these mitigating factors have created the perfect storm and while we've done everything in our power to remain open, unfortunately, it's no longer sustainable to do so."
Last year Euro went through a significant rebrand that had been two years in the making, launching with a new fitout and dining experience focussed on shareable plates instead of the three-course fine dining concept it was long renowned for.
Sigley says while the move was a bold one considering the uncertain climate, it was impossible to foresee how long the tail end of the pandemic would be.
"We're incredibly proud of the work that has been put in by the team and the exceptional food, beverage and service customers have experienced with our new offering.
"Unfortunately, this latest lockdown, the new restrictions imposed under Delta and the previous challenges we've faced, mean that it's just not viable for us to continue trading."
Under alert level 2, only 50 people are allowed inside at hospitality and indoor event venues. Euro seats 130.
Sigley says the focus is on supporting staff, with a priority to find new employment opportunities for impacted team members, where possible, at other Nourish Group establishments.
Euro had always been a star performer on the local dining scene, he said. Just last month it was revealed as one of Metro's top 50 restaurants for 2021 and was the first New Zealand restaurant to be named on Condé Nast Traveler magazine's list of top 50 restaurants in the world in 2003.
"I know Euro holds a special place in the hearts of so many people - whether they've celebrated a special occasion here, attended one of our legendary long lunches or simply dined with us," Sigley says. "It's been an amazing journey and we're extremely grateful to each and every guest that has supported us over the last 22 years," he said.
Last year the restaurant - one of the Viaduct's original businesses - had announced a change of pace. Adapt or die was the hospitality industry's post-lockdown mantra and Euro Bar and Restaurant's response appeared pitch-perfect: stylish but informal, less fine dining and more shared plates, Herald reviewer Kim Knight wrote.
Top chef Simon Gault had worked at the restaurant and one customer once contacted the Herald to complain she'd been rejected at the door because she didn't look rich enough.
Euro is at the waterfront's Princes Wharf in Shed 22.
'Tragedy': Leo's lament, warning other eateries also struggling
Leo Molloy said today it was "a tragedy" that Euro was closing permanently.
"I opened it on August 3, 1999 and sold it in 2002," he said. "But it's just the tip of the iceberg. Wait till you see the iceberg!"
Molloy said he had spoken to many in the restaurant business who also feared for the future and Euro would only be the first big-name restaurant whose doors would stay shut.
"Thirty to 50 per cent out outlets will go under in New Zealand. Auckland will be the key place. I could drop you another half dozen names of restaurants that won't re-open. There's at least one other big one and four in Commercial Bay," Molloy said.
Auckland restaurateur Leo Molloy. Photo / Dean Purcell
He expects "opportunists" to perhaps make an offer for Euro and open it once again but he said nothing was certain.
"Opportunists could pick it up. Euro has just had a refit and it looks quite nice," he said referring to an upgrade which he said was around $2m.
"Auckland will be the poorer for this. The beating heart of any city needs food and wine. But it's just so hard because there's no margin in this," Molloy said.
Marisa Bidois, Restaurant Association chief executive, said today: "We are saddened to lose this iconic Auckland restaurant from our harbour. Euro has long been a jewel of the viaduct harbour serving up some of our finest NZ produce to local and international diners alike.
"Euro is a classic example of a restaurant that would have continued to thrive had it not been for the devastating effects of Covid-19 on our industry. Its closure is yet another casualty of the pandemic and highlights the critical need for targeted support for those businesses disproportionately affected," Bidios said.
Nourish owns and operates hospitality businesses in the downtown Auckland waterfront area, including The Crab Shack and The Culpeper. The hospitality group owns and operates 13 venues in total throughout the country, including Soul Bar and Jervois Steak Houses.
In 2018, Foley Family Wines Holdings took a 24 per cent stake in Nourish.
Danielle Lendich, Richard Sigley and Kim Hockings at Euro. Photo / Norrie Montgomery
Euro announced a "new lease of life" last November when it was refurbished and a new style of dining offered. The name was retained but much else was changed.
Sigley said last November: "Euro was my firstborn, so to speak, my first foray onto the dining scene, so it will always hold a special place in my heart. When it opened, it blew everyone away. It was a truly international restaurant that has been consistently good for two decades, but the time is now right for reinvention.
"Our evolved vision for Euro is for a place where the traditional boundaries between kitchen and dining room are relaxed, where meals become a series of vividly flavoured shared dishes rather than rigid three courses, and where the menu responds to its customers' needs, rather than being prescriptive," he said last year.
The traditional dining style of restaurant had been ditched. Bold new dishes created by executive chef Gareth Stewart were shareable and range from small to large, bringing together a broad range of influences from his experience as a chef, Euro said last year.
The interior had been redesigned with contemporary furniture and new lighting, the business said.
Interior design studio CTRL Space was in charge of that and had worked closely with Paula Sigley on the project.