Company implants microchip in employees' hands
Author

Publish Date

Tue, 21 Aug 2018, 10:22AM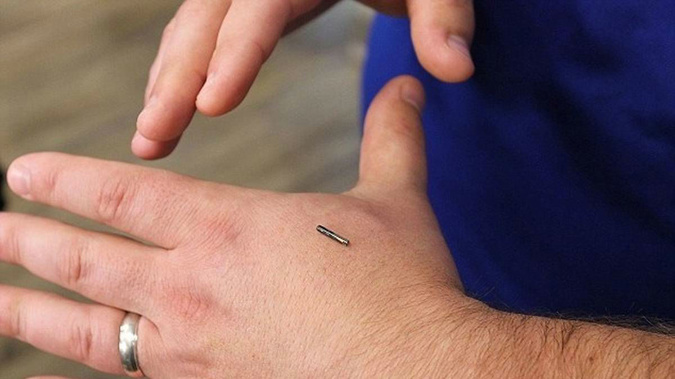 Company implants microchip in employees' hands
Author

Publish Date

Tue, 21 Aug 2018, 10:22AM
One year after first claiming they introduced microchipping to its employees, a Wisconsin company insists its workers are loving it.
About 80 of the 250 employees at Three Square Market in River Falls have reportedly now had a microchip the size of a large grain of rice implanted in their hands.
The Radio Frequency Identification (RFID) chips are used to make purchases in the breakroom, sign into computers and access the building.
'It's just become such a part of my routine,' Steve Kassekert, vice president of finance, told Technology Review.
The chips cost about $300, which is paid for by Three Square Market.
Critics cite concerns including data theft, lack of privacy and risk of infection from implants.
The idea came from a trip to Sweden in 2017, McMullan said.
Nearly 3,000 of the country's 10 million residents have opted for microchip implants, using them for such varied purposes as buying train tickets, accessing printers and vending machines, and getting into buildings, the AFP reported in May.
'In Sweden, people are very comfortable with technology,' Swedish microbiologist Ben Libberton said.
'I would say there is less resistance to new technology here than in most other places.'
The US business specializing in custom break room markets first launched the RFID chip option for its employees on August 1, 2017 with about 41 employees, including company vice president of international developmen Tony Danna and president Patrick McMullan.
'You get used to it; it's easy,' McMullan said.
At that time, the company only had 85 employees. A few more opted in later, bringing the initial opt-in number to about 50.
Over the past year, 30 more have signed on out of the now-250-strong staff, and just two have opted to have the chips removed, McMullan said.
They did so when they left the company.
For about one-third of the individuals with the company now, the RFID chips seem to be a welcome convenience, with software Sam Bengtson saying he uses his chip 10 to 15 times each day.
Implanted between the thumb and forefinger, the RFID chips work by transmitting information when they're scanned by readers.
At Three Square Market, many chips are connected to employee accounts, so workers can purchase food and beverages with the swipe of a hand rather than the swipe of a card, and funds are automatically deducted to cover the cost of the items.
Users of the chip scan their items at a break room market kiosk and hit pay with a credit card.
Chip users can then hold their hands up near an RFID reader, similar to how consumers pay for products using their smartphones, and a transaction providing payment for the product(s) purchased is completed.
This function presents privacy and security concerns, both at work and elsewhere.
One potential risk scenario involves an unauthorized person with an RFID reader trying to scan a chip to see what's on it.
McMullan said his chip contains identifying information to grant him access to the building and basic medical information, and that only some of the data on his chip is encrypted.
Concerns over unencrypted data being acquired by a third party have been raised before, related to the possibility of credit card numbers being skimmed from cards equipped with RFID chips.
This led to companies selling RFID-blocking wallets, but the demand for that kind of protection never quite seemed to catch on, according to Slate.
McMullan isn't bothered by the possibility, either, arguing that any information a third party would get from reading his RFID chip is the same kind of information someone could get from his wallet.
That may be true for now, but it might not be in the future.
'At the moment, the data collected and shared by implants is small,' Libberton said, speaking of how the chips are used in Sweden. '
'But it's likely that this will increase.'
In terms of privacy within the workplace, Nick Anderson, an associate professor in public health sciences at the University of California, Davis, points out the chips could provide Three Square Markets with extensive information about an employee's daily activities, in general.
Other factors to consider include the medical risks that comes along with implanting a foreign object in our bodies.
Twenty-eight year-old Ulrika Celsing told the AFP that when she got a microchip implanted in Sweden, she felt only a slight sting.
Melissa Timmins, vice president of sales at 32M, said she was initially apprehensive but decided to give the chip a chance in August of 2017.
'I planned for the worst and it wasn't bad at all,' Timmins said at the time. 'Just a little prick.'
But Libberton warned beyond the initial implantation, these chips could cause 'infections or reactions of the immune system.'
Three Square Market's marketing executive Katie Langer, who chose not to have a chip implanted citing those health concerns.
If other employees are concerned about these things, though, any hesitations seemed to be outweighed by the convenience.
For those already swiping their hands over RFID readers to buy their morning coffee and log in to their workstations, another thing to think about is whether the chip will need to be updated at any point as technology changes.
'There may need to be a—dare I say—upgrade program, or something like that,' Bengtson said.
'Eventually, this technology will become standardized allowing you to use this as your passport, public transit, all purchasing opportunities, etc.,' Three Square Market's CEO Todd Westby said.
Westby added that, for those wondering, 'there's no GPS tracking at all.'
The chip received approval from the US Food and Drug Administration in 2004, Langer noted.
How do they work?
Each chip has been implanted between the thumb and forefinger underneath the skin.
Users of the chip will scan their items at a break room market kiosk and hit pay with a credit card.
Chip users will then hold their hands up, similar to how consumers pay for products using their smartphones, and it'll pay for the product.
Officials said the data in the microchip is encrypted and does not use GPS, so it cannot be used to track employees or obtain private information.
Take your Radio, Podcasts and Music with you