$181k: House sellers pocket big profits despite slowdown
Author

Section

Publish Date

Saturday, 25 August 2018, 7:56AM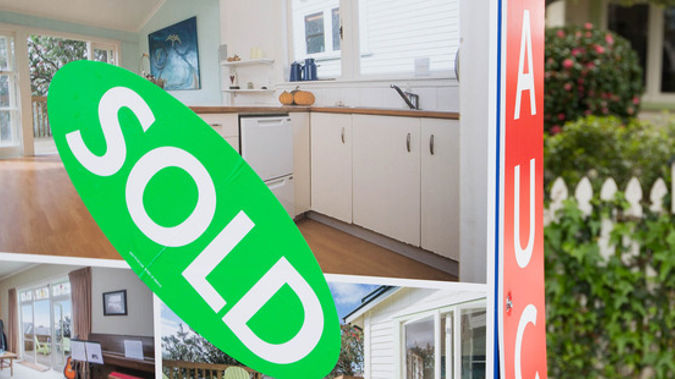 A slowdown in the property market has not stopped New Zealanders cashing in - making an average $181,000 per house profit when selling up.
The release of the latest CoreLogic Pain and Gain Report reveals $3.5 billion in re-sale gains in the past quarter.
Of the total house sales, only 3.9 per cent of properties sold over the quarter from April 2018 were sold at a loss. The total losses amounted to $23.4 million, with a median loss per property of $20,000.
The other 96.1 per cent of sellers enjoyed $3.5b in re-sales gains in the past quarter - an average of $181,000 per property.
The report from the property analysis company takes figures from April 1 and June 30.
Head of research Nick Goodall said the "levels of pain" revealed in the data remained very low compared to previous years and were consistent with the large rises in values seen in the past five years.
Even though the values had slowed recently there had not been any falls, he said.
"These figures are consistent with the continued growth in property values across most parts of New Zealand - apart from stability in prices in Auckland and Christchurch," Goodall said.
"It indicates that relatively few people are pushing through a quick sale for a low price".
The re-sale profit was similar between owner-occupiers and investors.
For owner-occupiers, the proportion making a resale profit was 96.9 per cent, while for investors it was 95.4 per cent.
Goodall said this was likely to be because investors made more financially-minded decisions and were more likely to buy apartments.
The report found that of the 145 Auckland properties which sold at a loss the hardest hit suburbs included apartment-loaded Auckland Central with 32 properties, Manurewa with seven and Glen Eden with six.
According to QV, Glen Eden had 62 sales in the past three months with an average value of $726,000.
Kelvin Davidson, from CoreLogic, said four of the six Glen Eden properties were apartments on Westward Ho Rd - which, according to a Herald/CoreLogic article from November last year, was one of the cheapest streets in Auckland.
There were 92 sales in Manurewa where the council valuation at $650,500.
Houses were selling within 1 per cent of the CV.
The Pain and Gain report found apartment re-sales were holding steady, with 87 per cent seeing a profit in the second quarter.
Houses were still the safer investment, however, with more than 96 per cent resulting in a profit.
The median loss per apartment was $26,000 in the second quarter - slightly higher than for houses. The profit made in apartment sales was also lower than for houses at $137,000.

Findings in the Pain and Gain report supported data from other property experts that there was still growth.

In his market report, Peter Thompson, from New Zealand's largest real estate firm Barfoot & Thompson, said July - usually the poorest-performing month - was the highest it had been.
"The major trend in the market at present is that sales numbers are definitely higher than they were last year, and with 830 sales in July, were 11.1 per cent higher than in July last year," Thompson said.
"This trend of higher sales than in the monthly equivalent in 2017 started in April, and is providing the current stability we are seeing in prices.
Thompson said the average sales price of $912,487 in July was the highest average ever recorded in a July - although it was down 1.8 per cent on that for June.
OneRoof editor Owen Vaughan said the figures from CoreLogic's Pain and Gain report showed the housing market was still offering good value for those selling.
"However, it's clear that value growth has slowed, especially in Auckland, and that has required vendors to adjust their expectations on price," he said.
"While market conditions are not the best New Zealand has ever enjoyed, vendors can take heart that they are operating in what amounts to New Zealand's second-best housing market."
Vaughan said any profit allowed greater freedom with the next property purchase but urged buyers to be mindful of the debt they were carrying into their next property.
"Although the OCR is on hold for the near future, and may even be cut, rates can and will go up at some point," he said.
He warned that those selling up in Auckland to buy in the regions should be mindful of job opportunities outside the city.
"Whatever gain they make from further resales may not be enough to get them back into the Auckland market at the level they left," he said.
Statistics released by the Real Estate Institute of New Zealand earlier this month revealed house prices had increased in every region in New Zealand in July - apart from in Auckland.
National house prices rose 6.2 per cent in the July year but Auckland prices fell slightly by 0.1 per cent.
Excluding Auckland, national house prices rose 8.6 per cent in the July year, from $419,000 to $455,000.
In Auckland, prices fell by $1000 from a median $836,000 a year ago to $835,000 last month.
Cashing in
• $3.5b in resale gains in last quarter
• $181,000 median profit per house
• 96.1% of sellers made money
• $23.4m of total losses
- Source: CoreLogic Pain and Gain report