'Prepare for morning without power' - Wild winds hammer Auckland
Author

Publish Date

Tue, 3 Aug 2021, 9:18am
'Prepare for morning without power' - Wild winds hammer Auckland
Author

Publish Date

Tue, 3 Aug 2021, 9:18am
Many Aucklanders are facing a morning without power as wild winds and rain cause havoc across the region this morning.
Fallen trees have damaged houses and cars and brought down power lines - cutting power to dozens of areas across Auckland.
Motorists face widespread disruption and are being warned to expect delays, with lower speed limits imposed on the harbour bridge as wind gusts hit 110km/h.
Around 30 shipping containers have been blown over in south Auckland, a witness says.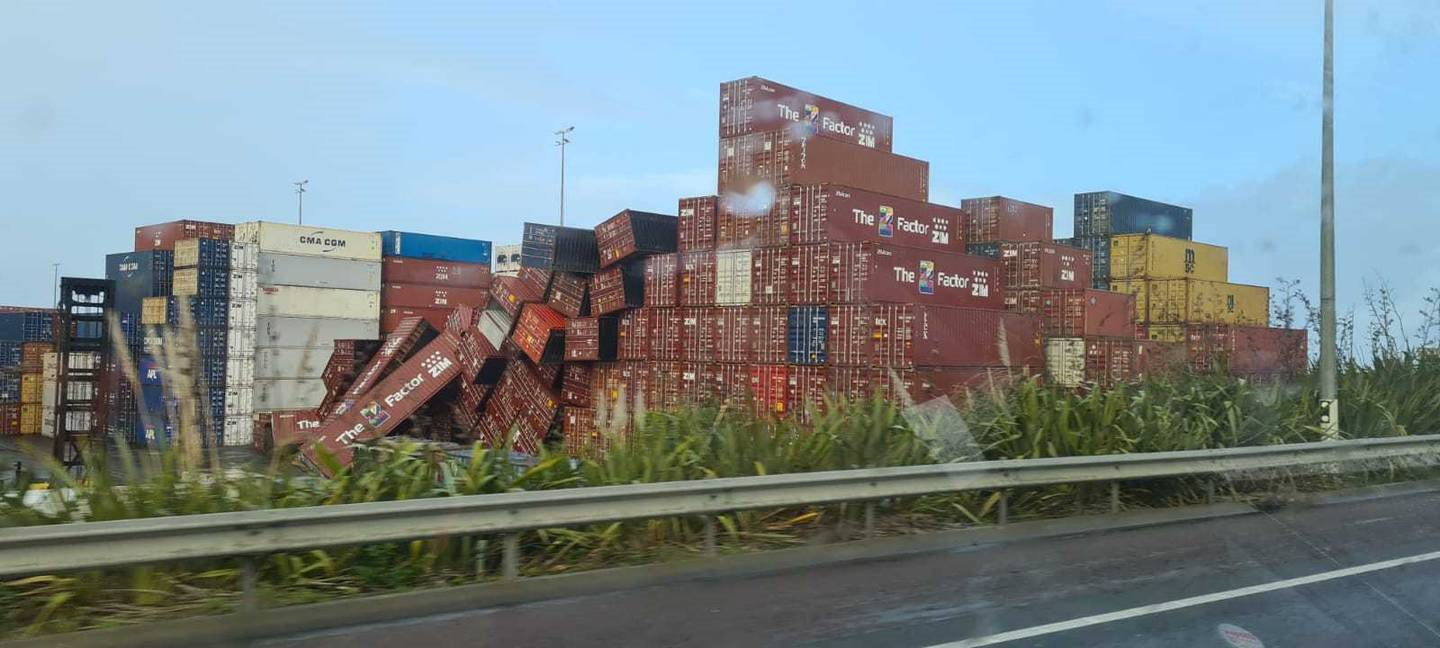 Containers at the Wiri container yard toppled by wind gusts up to 110km/h in Auckland. Photo / Supplied
Vector is warning the public to stay away from an area in Albany, due to two high voltage power lines brought down in the bad weather.
The roads affected are Clemos Lane and Jack Hinton Drive.
"The roads have been closed for safety and work is underway with traffic agencies to undertake repairs," a statement released at 8.31am said.
After yesterday's weather warning for the region, crews were scaled up to respond to outgages, Vector's Marko Simunac said.
Vector couldn't say how many outages crews were still responding to at 8am.
"Given the weather forecast for today, we may need to stand our crews down for their own safety if the wind picks up again," Simunac said.
Members of the public are being asked to "please bear with our crews" if an outage happens in their area.
Counties Power says the network on the western side of the Franklin and Papakura region is severely impacted by the extreme weather.
"There will be long resolution times as crews work as safely as they can out there in these high winds across many outages. Please prepare for a morning without power."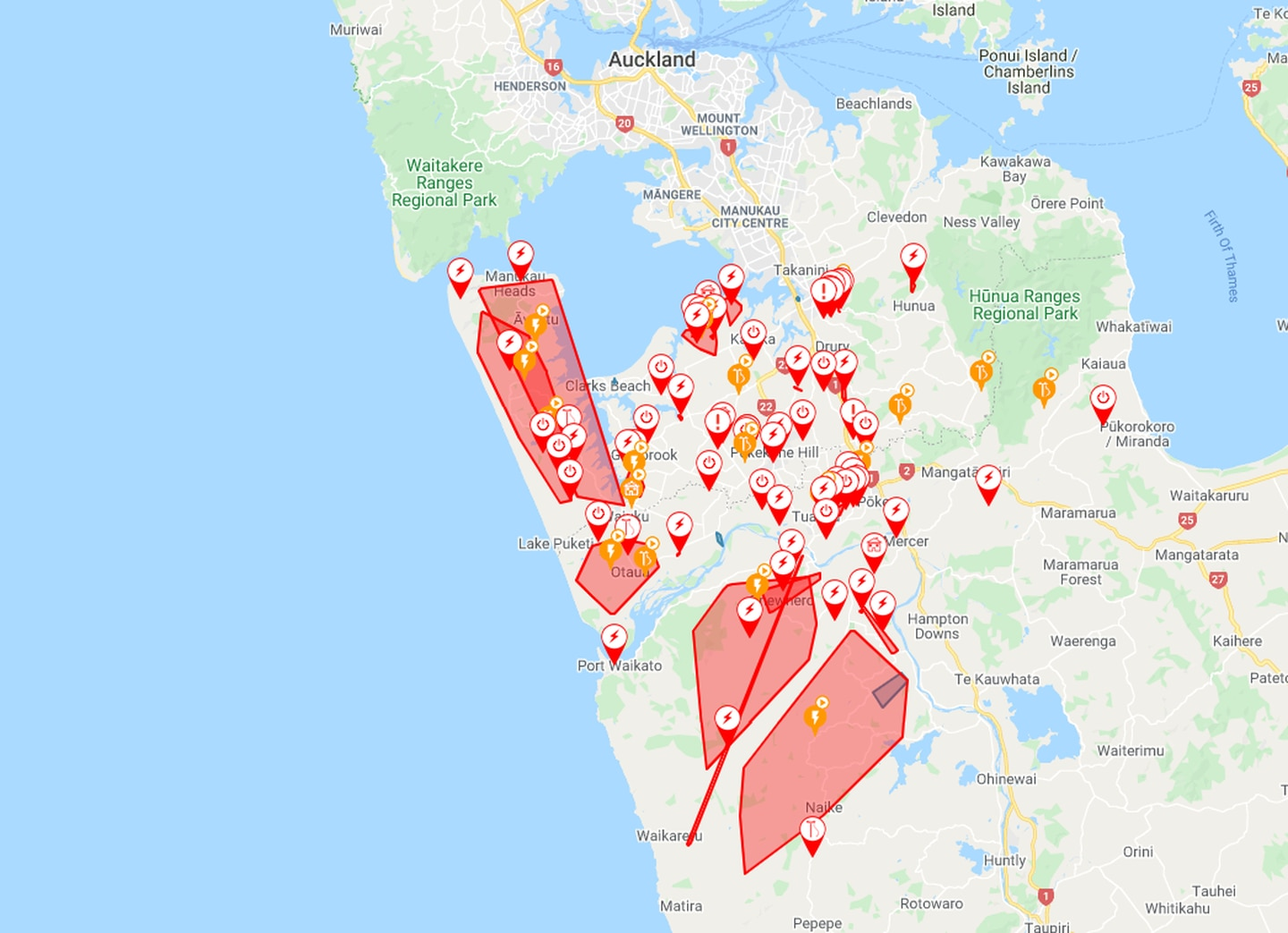 A map provided by Counties Power showing the outages in the Franklin region. Image / Supplied
Fire crews have been called out to over 100 weather-related incidents since the storm began at 3am.
Northern fire communications shift manager Paul Radden said most of the calls have been due to powerlines and trees coming down and roofs lifted.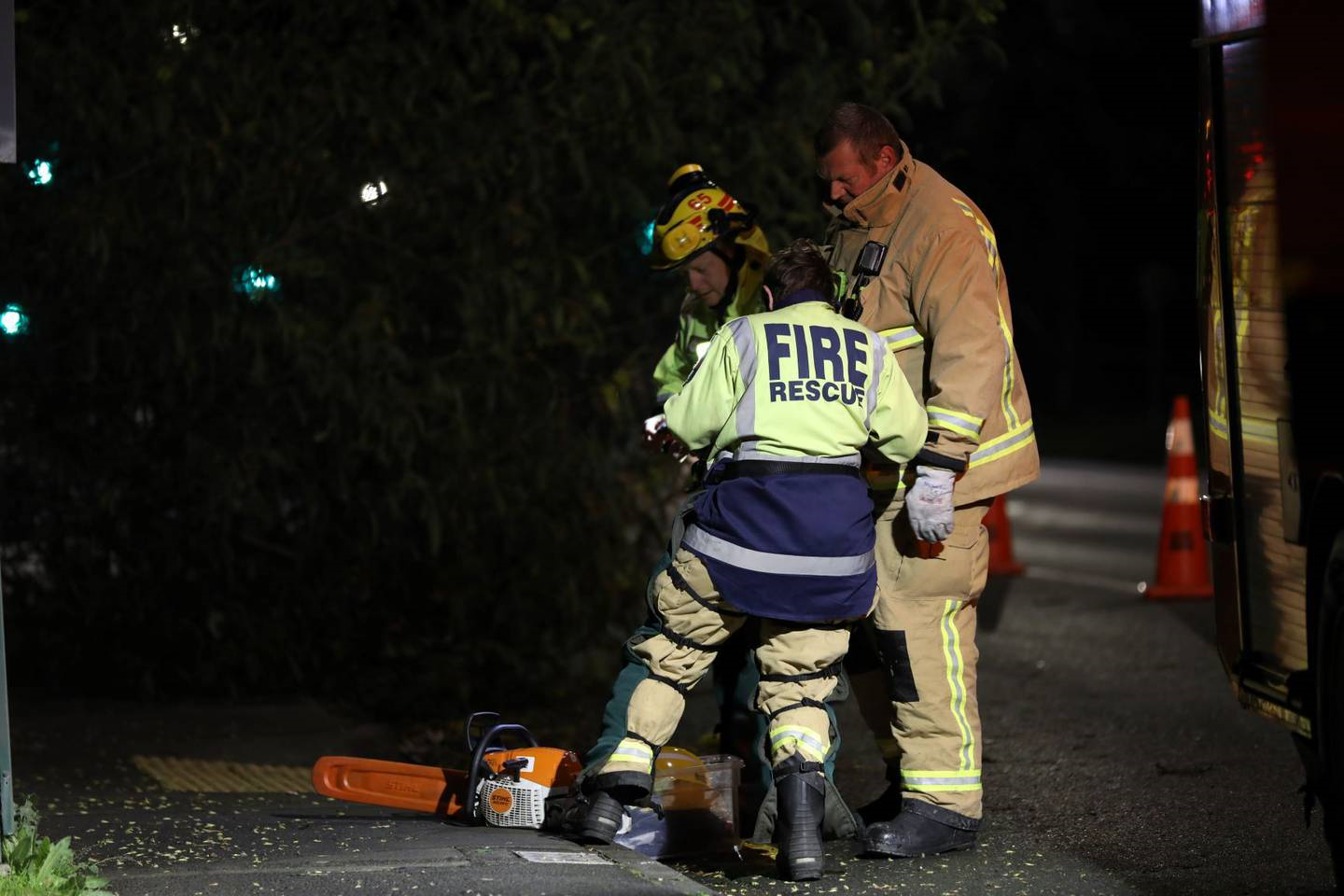 Fire and Emergency respond to trees down in Mt Roskill. Photo / Hayden Woodward
Firefighters were also called to a house fire in New Lynn, West Auckland, he said.
A SkyCity spokeswoman said their rigging team had been out early this morning to check for any potential damage to the Sky Tower. However, no damage was found.
"Thank goodness," she said.
The Sky Tower has been designed to withstand storms and winds gusting up to 200km/h, which can result in a sway at the top of the concrete shaft of about one metre, its website reads.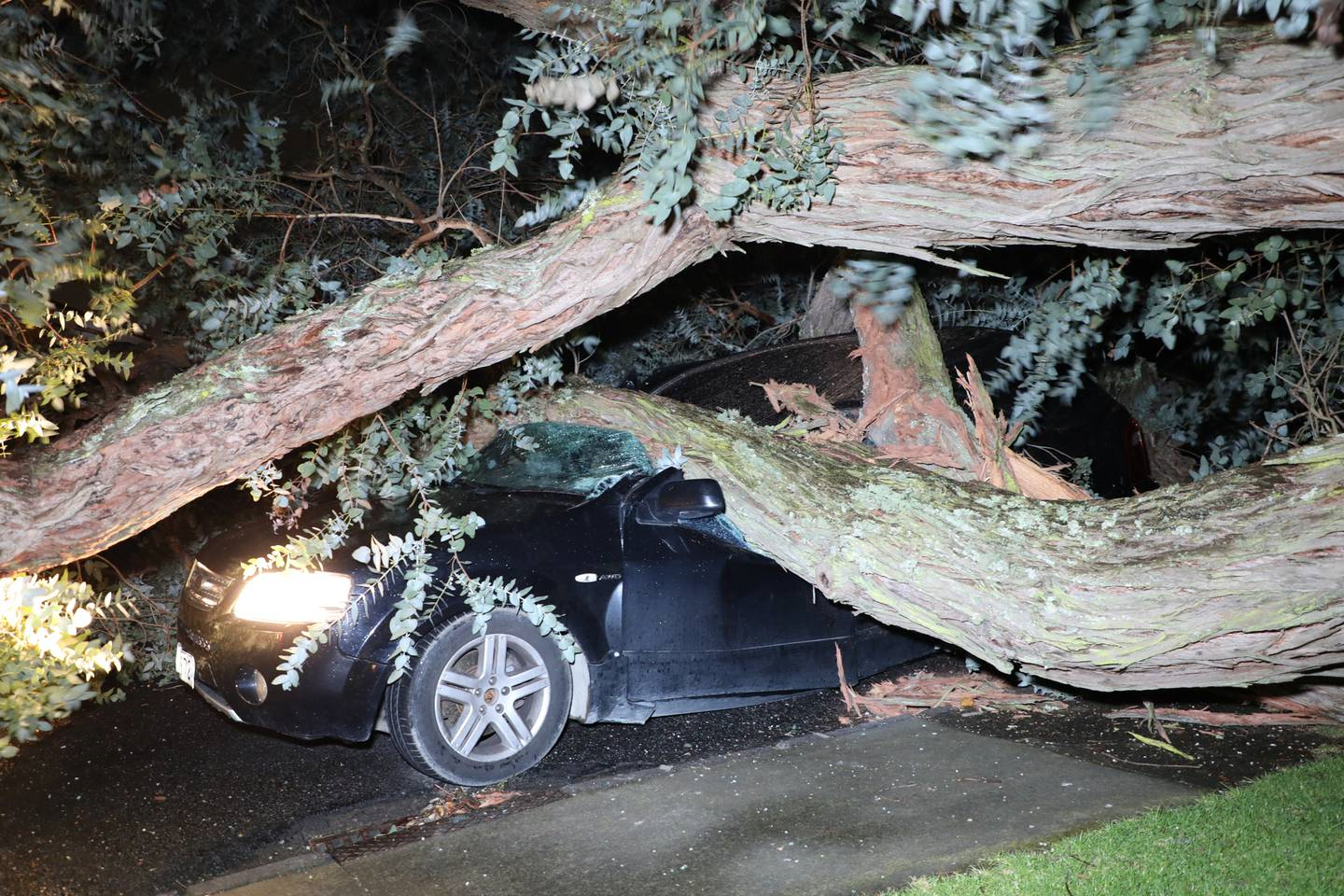 In Mt Roskill, a car was destroyed when a large tree smashed onto it. Photo / Hayden Woodward
A truck driver going past estimated about 30 containers had fallen over.
A large tree has fallen onto a vehicle on Glass Rd in Mt Roskill and trees have fallen through homes, on to decks and across roads.
Several suburbs are without electricity early on and include part of the Northwestern Motorway, which has no power between about Te Atatū and Western Springs.
Police said they were told about a truck and trailer unit that had blown over on its side on the Southwestern motorway, near Rimu Rd, about 3.40am.
No injuries were reported, a spokeswoman said. However, two of the three lanes were blocked for a time and all lanes were closed as the truck and trailer were moved off the road by authorities. All lanes are now open.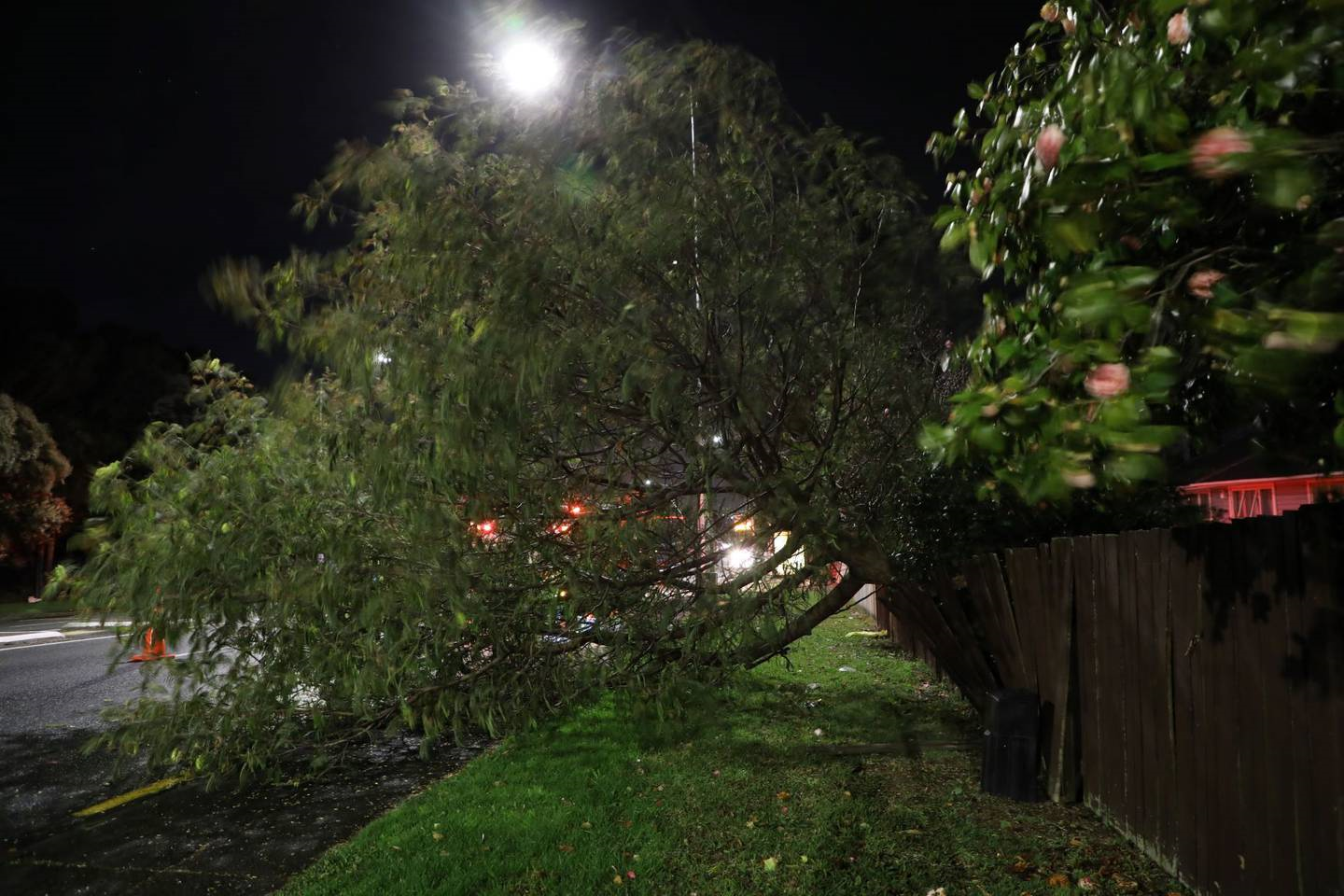 A tree fallen through a fence in Mt Roskill. Photo / Hayden Woodward
A "red alert" has been issued specifically for the Harbour Bridge where gusts could reach 90km/h between midnight and 3am, and up to 110km/h between 3am and midday.
MetService said at its peak, the strongest gusts around the city were on the Harbour Bridge, where it was gusting about 110km/h at 4am.
Meteorologist Alwyn Bakker said that had started to ease off and shortly after 6am, winds on the bridge were gusting about 90km/h.
A tree uprooted in Auckland's Domain during the storm. Photo / RNZ, Marika Khabazi
Motorists are being urged to obey speed signs and take extra care and where possible avoid the Harbour Bridge and use the Western Ring Route.
There were similar conditions around the Auckland Airport - with winds gusting up to 107km/h between 3am and 4am, Bakker said.
Overhead motorway signs are telling motorists heading to the Harbour Bridge to be "extra careful" - with a specific warning for high vehicles and motorcyclists.
A strong wind watch is currently in place for Northland, Auckland, Great Barrier Island and Coromandel Peninsula north of Thames and Tairua.
The MetService says the watch is in place from 2am until 2pm today.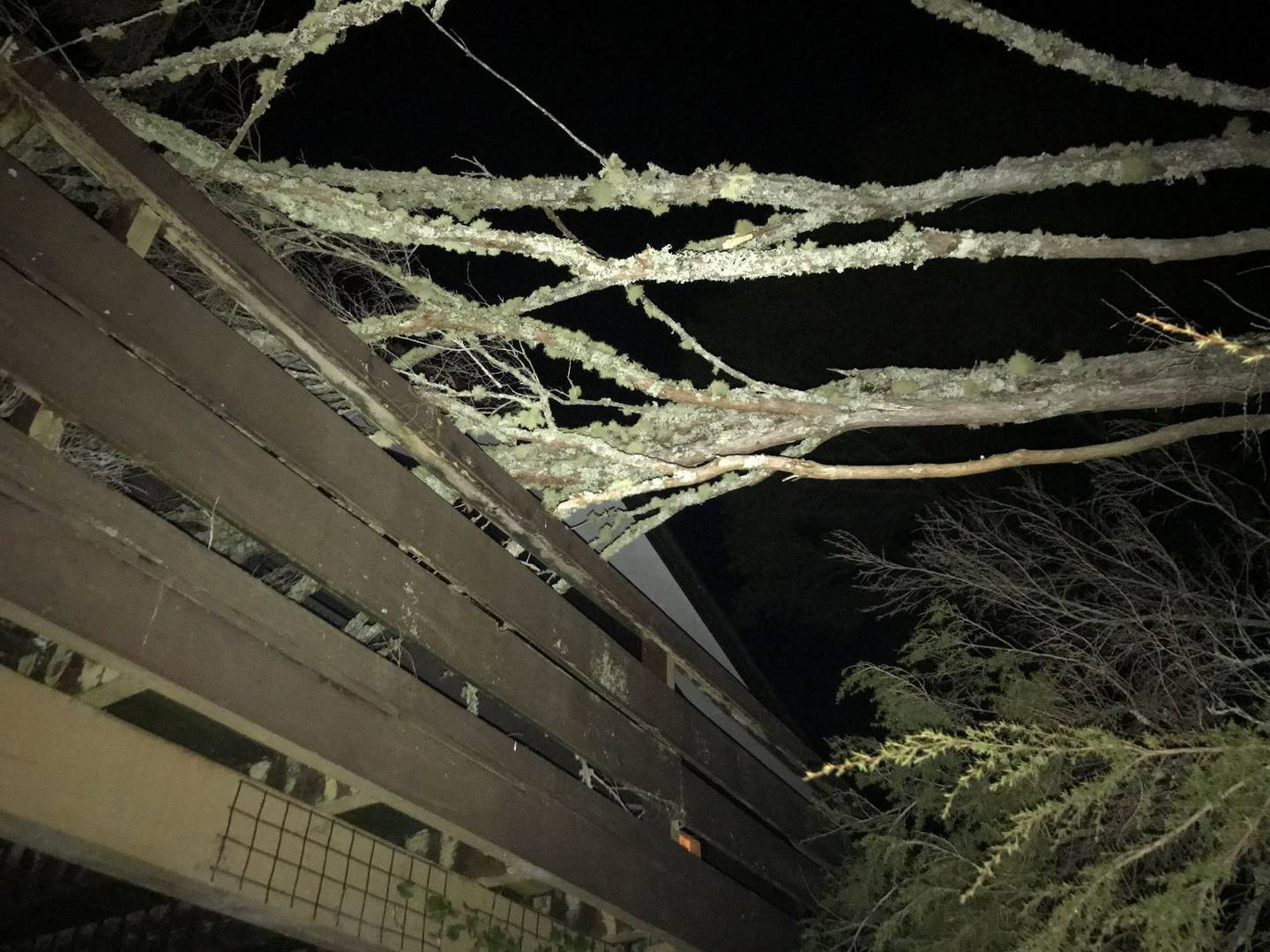 A tree down in a property in Glen Eden. Photo / Supplied
"Southwest winds may approach severe gale in exposed places, especially about the west of Auckland."
Work is under way to remove a large tree blocking Walmsley Rd between Mahunga Dr and the SH20 motorway interchange. Delays and diversions are expected for some time while response crews clear the tree.
NZTA Waka Kotahi said delays and cancellations to public transport services and disruptions across the city's highways were possible.
Motorists in Pakuranga are advised that Pakuranga Rd is blocked due to a fallen tree and a tree has fallen on Mill Road near the Mill Rd and Redoubt Road intersection in Papakura.
Auckland Transport said at 6.35am that a fallen tree was blocking west-bound lanes - towards Panmure Bridge - after Millen Avenue.
"East-bound lanes over Panmure Bridge towards Pakuranga remain open."
People travelling in the area are told to delay their journeys or allow for extra time this morning for diversions.
The agency said it would not hesitate to close the bridge on safety grounds if needed.
Auckland Transport has issued an alert on its social media channels warning people to expect disruptions this morning.
An alert said its operation room had received multiple reports of power outages and trees downed around the network.
Train and ferry services disrupted
Commuters are told to expect delays and cancellations this morning.
Road authorities said response crews were responding to multiple incidents relating to fallen trees and power outages affecting traffic signals.
Train users are facing disruptions with the Onehunga train line suspended as a result of overhead line issues near Penrose.
The line issues are also affecting southern line services from Papakura to Britomart which will now travel via Newmarket.
Just after 7am, Auckland Transport said all southern line train services are now suspended due to another overhead line issue at Ōtāhuhu.
Earlier this morning, the service between Papakura and Britomart had been detouring the area, but they are now cancelled.
One lane in each direction is now open on Pakuranga Road heading towards Panmure Bridge as contractors clear a tree that was earlier blocking the road.
Ferry commuters are also heavily affected this morning.
Auckland Transport says all Northcote Point services are cancelled until further notice due to weather conditions.
The 7.35am ferry service between Auckland to Birkenhead and the 7.55am service between Birkenhead to Auckland have been cancelled due to a mechanical issue. The Waiheke to Auckland ferry has also been delayed by 10 minutes this morning due to a vessel breakdown.
Lines company Vector is responding to outages in Whangaparāoa Peninsula, Torbay, Milford, Birkenhead, Pāremoremo and Murrays Bay in the north.
Much of Dairy Flat and Helensville, northwest of the city, are also in the dark.
Further north, a lot of Mahurangi is without power.
The Vector website shows most of Te Atatū Peninsula, in west Auckland is without power.
A witness told the Herald he spotted powerlines arcing in Te Atatū and debris from fallen trees in and around Te Atatū Peninsula.
He described the difficulty of driving down the Northwestern Motorway about 4am, saying: "I was driving straight and I could just feel the car being pushed."
Other parts of west Auckland badly affected are Massey West, Whenuapai West, Waimauku, Oratia, Laingholm, Titirangi, Huapai and Kumeu.
There are also power cuts in parts of Westmere, Henderson and Mt Wellington.
In the south, there are outages in parts of Ōtāhuhu and Māngere East.
And out east, there appear to be outages in Bucklands Beach, Shamrock Park, Maraetai, and the area south of Beachlands.
Vector says for safety, people should stay well away from downed lines, consider them live, and call 111.
It says it has response teams, including specialist arborists, responding to outages throughout the night, but they may stop work if conditions become dangerous.
Vector says anyone who loses power should report through Vector's website.
There is a tree blocking Tapu Coroglen Rd just 2km from Coroglen in the Coromandel making it tricky for most cars to get around.
Tree crashes into house
A tree has crashed through a kitchen in the Christchurch suburb of Cashmere.
Fire and Emergency say one crew was called out just after 5.30am to the property on Valley Road
Officers used spades to redirect water away from the house, after a small wall collapsed.
The crew was onsite for 15 minutes and no one was injured in the incident.
- more to come -