Truck drivers stage protest over fuel increases
Author

Section

Publish Date

Monday, 15 October 2018, 8:23a.m.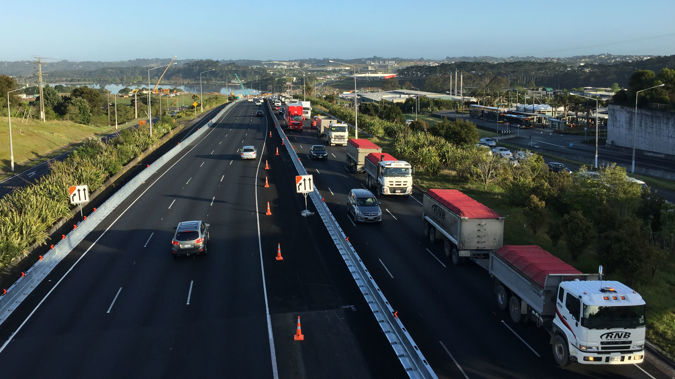 Truck drivers are heading into Auckland's city centre in convoy to protest against high petrol prices.
About 30 trucks have so far joined trucking company RNB Transport's protest after the first trucks left Silverdale, north of the city, at 7am.
Newstalk ZB reporter Jordan Bond says about 50 to 60 vehicles are involved.
"They're all flashing their lights and all tooting, they want to be respectful and let people in. They are creeping on the slow lane. Most of them are back to back but there are some cars in between."
Organiser Rob Ryan says the rally is designed to get the Government to sit up and take notice that taxes and fuel companies were sending petrol prices to high levels that were hurting businesses and Kiwi families.
"This is about our Government noticing us," he said on Facebook.
"There is power in numbers and if there is enough of us they will have to listen. If we have to do it again in another month we will. We have had enough of all these increases."
Petrol prices have hit record highs after the Government's latest 3.5c excise tax increase and Auckland Council's 11.5c regional fuel tax.
The impact of the taxes on prices have been compounded in recent weeks by a rise in the price of oil and fall in the New Zealand dollar
Ryan told Newstalk ZB that they want to keep disruption to a minimum, but they're running out of options to get their voices heard.
"All we're trying to do is get noticed. You've got to start listening to us some time or another, and it's not just us. There are people who couldn't take time off work to get here."
He says truckies have a range of concerns.
"Fuel increases, road user increases, taxes, just everything that's got out of control."
Prime Minister Jacinda Ardern last week said the Government was taking action on reining in high fuel prices by looking to pass a bill to give the Commerce Commission greater powers to conduct a market study to investigate how prices were set.
She said she thought "consumers are being fleeced" at the petrol pump.
But National Leader Simon Bridges said the Government fuel taxes were the reason petrol prices were going up.
"Unlike petrol, talk is cheap. And the Government is a big part of the reason why petrol prices are so high."