SkyPath gets resource consent
Author

Publish Date

Fri, 3 Jul 2015, 10:44AM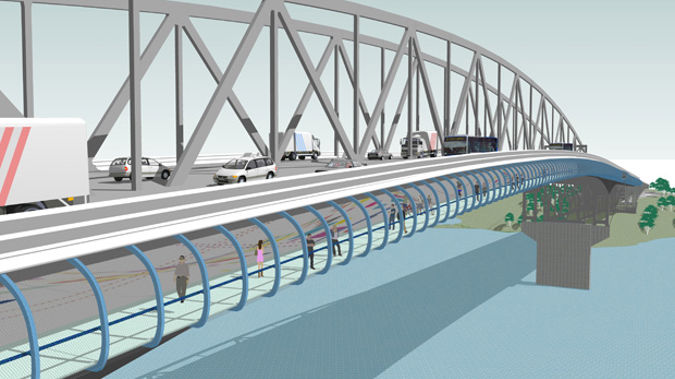 SkyPath gets resource consent
Author

Publish Date

Fri, 3 Jul 2015, 10:44AM
It's going to cost 33 million dollars to revolutionise the way Aucklanders commute to the big smoke.
The resource consent for project Skypath has been passed bringing regions surrounding the city a step closer to walking over the bridge on a daily basis.
The Harbour Bridge clip-on is 4 metres wide and promises to take a 'lanes worth' of traffic off the bridge.
Skypath Project Director Bevan Woodward says it's a congestion free alternative that will ease traffic in one of the busiest areas of the country's infrastructure.
Riders and walkers will enter the bridge from Northcote Point and travel past five observation decks overlooking the city before exiting via Westhaven Marina.
The Public Infrastructure Partnership Fund will pay for the addition which is expected to take around a year to complete.
Mr Woodward says the fund will be paid back from user admissions.
He says cyclists and walkers will be able to use their HOP cards on the bridge as they do on ferries and buses.
But there are opponents; the Northcote Residents Association has threatened to take the issue to the Environment Court.
Those who object have 15 days to lodge an appeal with the Environment Court.
Auckland Mayor Len Brown is calling it a game changer.
He claims that besides being of enormous benefit to cyclists, it's a fabulous opportunity for Aucklanders and visitors to the city to walk across and have great views of the spectacular harbour.
Brown said the next step is for council staff to complete a report on the proposed commercial arrangements and recommendations on how to proceed from here.
Among the vocal opponents to it is the Northcote Residents Association which has threatened to take the issue to the Environment Court.
Generation Zero spokesperson Dr Sudhvir Singh, who has been pushing for the project to go ahead, acknowledges that may be likely.
"There's always potential for that but I think this process has shown how much overwhelming support there is for this project. Over ninety nine percent of submissions, including a majority from Northcote, were in favour of Skypath."