Sky City blaze: Fire and Emergency NZ upscale blaze to 5th alarm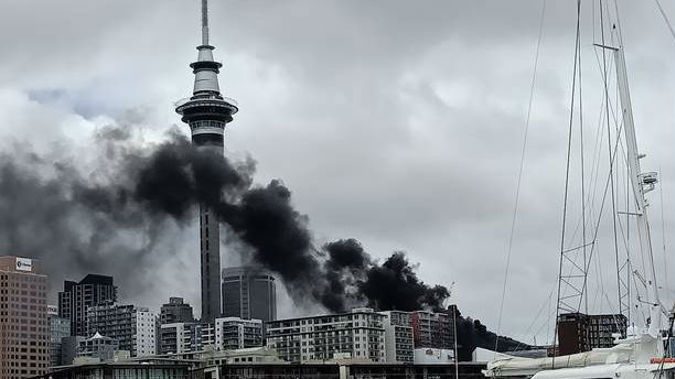 Sky City blaze: Fire and Emergency NZ upscale blaze to 5th alarm
More than 20 fire appliances are helping battle a massive blaze that has engulfed Sky City's International Convention Centre which is currently under construction.
Specialist vehicles are even being called in from around the region as the scale of the emergency hit the maximum "fifth alarm" level this afternoon, the highest an emergency can be classified by Fire and Emergency NZ.
Hundreds of people phoned 111 as flames could be seen leaping from the building top at about 1.15pm.
Workers have fled for their lives in the confusion. Some initially thought it was a drill.
The staffer at the scene said they suspected the fire had started on the roof of the top floor.
"Then people said run, run and we knew we needed to get out." He had not seen any smoke inside the building.
Mayor Phil Goff said the fire appears to be out of control - spreading "massively" in the 15 minutes he and council staff had been watching it.
"The line of flames is going from one side of the building on the West right through to the East."
People from all around the city have reported seeing the smoke, including residents in Bucklands Beach.
Access to Sky City carpark and the Sky Tower are closed, but the casino remains open.
Drivers in and around Auckland are being told to stay away from parts of downtown Auckland or expect massive delays.
A big section of Hobson St has been shut down, as well as Wellesley St - between Hobson and Nelson streets) and Nelson St - between Victoria and Wellesley streets.
The NZ Transport Agency is warning motorists to stay away.
"Avoid this area or expect delays and diversions,'' the NZTA said.
"Victoria St is also being closed, between Hobson St and Nelson St. Expect delays and diversions for bus services using any of these routes currently''.
People are being evacuated from Hobson St, downwind from the smoke.
There are unconfirmed reports that a worker went to lunch, leaving a blowtorch machine on.