SkyCity blaze: Fire crews abandon roof to contain the fire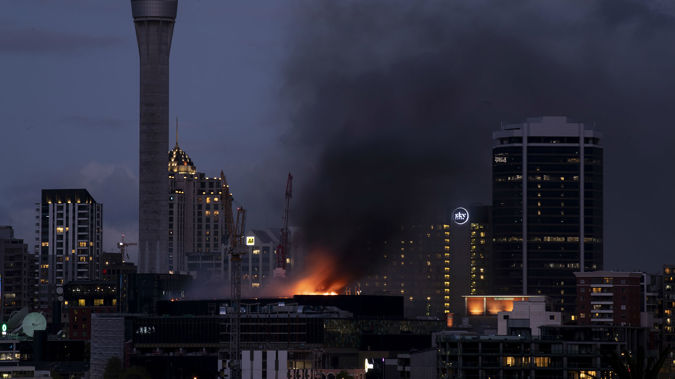 SkyCity blaze: Fire crews abandon roof to contain the fire
A massive SkyCity inferno continues to burn tonight but fire crews have sacrificed the Convention roof to try to save the $700 million building
One firefighter has been hospitalised as thick toxic smoke is still billowing across the CBD.
The inferno is expect to burn overnight.
Fire and Emergency Auckland Regional Manager Ron Devlin said the SkyCity fire was one of the "largest and most difficult structure fires in recent times".

"It is a complex fire. In the roof, involving bitumen, straw and plywood, is compact, and so we are having real difficulty getting into it.

"The roof is not safe to go onto, and the floors below are quite a distance below, so actually fighting and putting out the roof fire is very difficult.

"The plan was to cool and protect the area from surrounding parts of the building, but let the roof itself burn.
"It is the only safe way. It will take a while, 12 hours, maybe more.

"The fire is under control now, we are in a managed situation, we are just sacrificing the roof.
Firefighters have been diverted from as far afield as Hamilton to battle the blaze, believed to have been started by a worker's blowtorch on the roof of the new building. Sources say the fire ignited after the worker went on a smoko break about 1.15pm.
Fire and Emergency assistant area commander Dave Woon said St John transported one person in a serious condition to Auckland Hospital.
Auckland Mayor Phil Goff is reporting what he can see live on his official Twitter page.
"Fire is really building. People can be seen on the roof,'' he wrote.
The view from a nearby office.
Fire is really building. People can be seen on the roof. pic.twitter.com/EFgQBaMYCJ

— Phil Goff (@phil_goff) October 22, 2019
Thick black smoke can be seen across the city. Photo / Michael Craig
The SkyCity Convention Centre
• The $700m project is well underway, and is due to hold its first conference in October next year.
• Site: 1.4ha
• Floor space: 32,500sq m
• Equivalent to 4 rugby fields
• 33 meeting spaces of various sizes
• 5 times larger than existing NZ convention space
• Able to host events for up to 4000-plus people
• NZ's largest theatre, able to seat 2850 people
• NZICC designed by Warren and Mahoney, Woods Bagot, Moller Architects
• 303-room 12-level Horizon Hotel by Warren and Mahoney, Moller Architects