Large cycling group slows traffic on busy Auckland road
Author

Publish Date

Mon, 19 Nov 2018, 2:55PM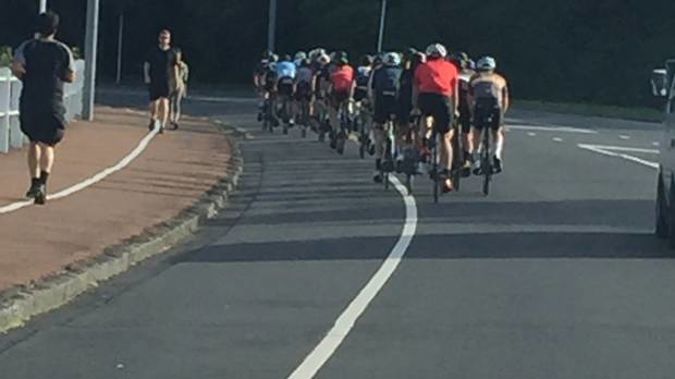 Large cycling group slows traffic on busy Auckland road
Author

Publish Date

Mon, 19 Nov 2018, 2:55PM
An Auckland motorist was left "peeved off" after a large group of cyclists took over Tamaki Dr without consideration.
But a cycling advocacy group is calling for motorists to show patience and share the roads with other users.
Lana Wood came across the 20 or so cyclists on Tamaki Dr in central Auckland on Saturday morning while trying to get to Mission Bay to walk her dogs.
However, the journey took longer than expected when she - and a long line of other cars - were held up by the cyclists who took over the left lane.
"We got stuck behind them just after the Ngapipi Rd intersection, all the way to Mission Bay.
"At times they were two up, but at others three to four up. They were taking up a good half of the lane and there was no way that the van that was in front of us could overtake them safely," she said.
As a cyclist herself, Wood said it "peeves her off" when she sees cyclists disrespect the road rules - giving others a bad name.
"No wonder motorists get shitty," she said.
"To be fair they weren't going slow, but still it was 30km/h in a 50km/h area, and there was a long line of cars behind them. They were definitely holding up traffic.
"They looked like they were professionals, all in the right gear and on the right bikes, so they should know better.
A group of cyclists enraged motorists on the weekend after they took up the left lane on Tamaki Dr in Auckland. Photo / Supplied
"They do have a bike lane along Tamaki Dr on the side of the road so they should have been using it, and if they were all single file they could've."
The NZ Transport Agency cyclist road code states that in order to be safe and courteous when cycling in groups, there must never be more than two cyclists cycling next to one another and they should take into account the keep left rule and not hold back traffic.
Three or more people cycling next to each other is illegal, except in the case of a road race that has been given traffic management approval from a road controlling authority.
The code also states that when the road is narrow or vehicles cannot pass, everyone should cycle in single file.
An Auckland Transport spokeswoman said Auckland's roads were used by many different road users, including people walking, driving and riding bikes.
"We all need to take care, drive to the conditions and give each other appropriate space and courtesy," she said.
"We want everyone to be safe on our roads. People walking, riding bikes and riding motorcycles are amongst the most vulnerable road users.
"If a person walking or riding a bike is hit by a vehicle travelling 50km/h, they have an 80 per cent chance of dying or being seriously injured.
"AT is committed to delivering a safe, connected cycling network and improving road safety for everyone who uses our roads."
Barbara Cuthbert, spokeswoman for Bike Auckland, said with summer on its way the groups asked motorists be prepared to share roads with sports cyclists.
"The photo was taken at 8.15am on a sunny Saturday morning when the shared path and pedestrian crossings would be busy with families with baby buggies, skate boarders, scooters of all kinds, and people in wheelchairs and motorised disability buggies.
"Plus cars would be stopping and doors opening into traffic. I doubt that it would be safe for anyone to travel much above 30km/hr," she said.
"We never want to repeat the ghastly year when five cyclists training for the Taupo cycling event were killed over five days using roads perfectly legally across NZ.
"Last weekend there were eight major vehicle crashes and six deaths on New Zealand roads. We think that appalling situation is where concern is best focused."