Auckland Council approves controversial new budget
Author

Section

Publish Date

Thursday, 25 June 2015, 6:55a.m.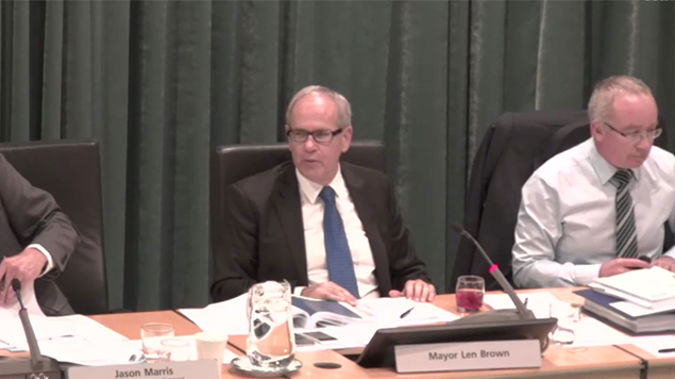 UPDATED 3.26pm: Auckland Council members have approved a controversial new budget preventing the council plunging into financial instability by a margin of 10-9. 
LISTEN: Auckland Council 10 year plan vote live stream
It means the overall rates bill will increase by 2.5% this year and 3.5% in future years.
Many households will face rate hikes of more than 10% a year.
Passing the budget means the council avoids breaking the law and undermining its credit rating.
But it also means the introduction of a transport levy of $114 per household and $183 per business.
Councillor John Watson said the public never agreed to the levies being introduced.
"Consultation was inadequate, there was a lot people weren't really consulted on."
Undecided councillors faced the choice of voting for a budget they don't like, cutting off the council's cash flow affecting its interest rates and credit rating.
Who voted which way?
Those to vote for the budget were Mayor Len Brown, Arthur Anae, Bill Cashmore, Linda Cooper, Chris Darby, Alf Filipaina, Mike Lee, Calum Penrose, Wayne Walker, Penny Webster.
Councillors to vote against the budget were Cameron Brewer, Cathy Casey, Ross Clow, Chris Fletcher, Denise Krum, Dick Quax, Sharon Stewart, John Watson and George Wood.
Decisions will also be made on:
- Holding a referendum on motorway tolls
- Extending the Rates Remission Scheme to the transport levies and UAGC of retirement villages and Maori social housing
- Adopting the Maunga authority operational plan
- Reviewing water and wastewater bylaws
- Passing a new traffic bylaw for parking on council land.
- Giving Auckland Transport control of parking currently controlled by Auckland Council
11 things you should know about today's Auckland Council budget vote
- There will be an average overall rates rise of 2.5%, an average residential rate rise of 4.2%. It will increase to 3.5% in future years.
- There will also be a new transport levy for "critical infrastructure projects" - $114 for households and $183 for businesses including GST.
- The 2.5% rates increase is exactly what Len Brown promised in the 2013 elections, but many households face a much greater share of the rates burden.
- Rates would have been higher if the council had not made spending cutbacks, increased efficiencies, and introduced a transport levy.
- Submissions and a survey suggest a majority of Aucklanders support motorway tolls or extra taxes to pay for critical infrastructure.
- However, councillor George Wood wants a public referendum on the issue, and many councillors support him.
- Crockers Property report shows more than three quarters of Auckland landlords will put in rents in response to higher rates and new levies.
- Council chief financial officer Sue Tindal says today's vote is a formality, because councillors and the Auditor-General have already approved the budget.
- However, one or two councillors could abstain to let the budget pass. Some commentators say if they do, they should resign.
- Len Brown says if the budget doesn't pass it will undermine the council's strong financial position, by cutting off its cash flow and pushing up its interest rates.
- About eleven councillors are likely to vote for the budget, eight are likely to vote against it, and one is undecided.