Council sells asset to pay for CRL start
Author

Publish Date

Tue, 2 Jun 2015, 6:08PM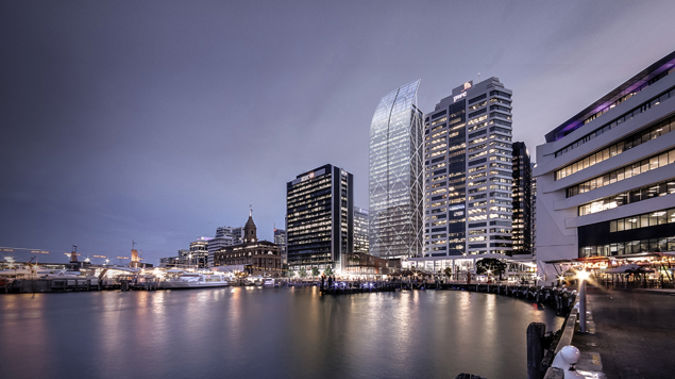 Council sells asset to pay for CRL start
Author

Publish Date

Tue, 2 Jun 2015, 6:08PM
Auckland Council has agreed to sell the Queen Elizabeth 2 Park in the Britomart area for $27.2 million to a private developer.
Precinct Properties is going to create a 39-level building on the site, with construction expected to begin in the middle of next year.
It's hoped the building will be completed by 2019.
Mayor Len Brown's excited - particularly about the inclusion of a public walkway through the building, which he's calling "Little Queen Street".
When the finances are done, the actual figure is a lot smaller than $27.2 million. Auckland Transport is paying $9 million in compensation to Precinct Properties for "loss of land" - the public walkway through the building - and $10.7 million for the additional construction costs of the tower because of the tunnels for the city rail loop which will run directly underneath it.
That means Auckland Council essentially sold a 1,900 square metre section in the central city for a net profit of $7.5 million to the first company who approached and wanted to buy it.
Mr Brown's refusing to be drawn in on whether or not the council has gotten value for the site.
"I'm not gonna be a part of that discussion. We could have got more, we could have got less, in the end this is about building a partnership," he says.
"It's not about that price, it's about what we can do together to deliver infrastructure."
Precinct Properties say it'll cost them $550 million to build the tower, which will consist of 28 office levels.
It'll also have three floors of retail space, a two-storey lobby area, three "plant rooms" - where infrastructure such as generators are housed - and three basement levels.
Both Mr Brown and Scott Pritchard from Precinct Properties are talking up the possibility of getting some big name brands from overseas in the retail section.
"I'd personally like to see some new international retailers, and take the opportunity to do that, but there's a lot of national and domestic retailers that we'd look to put into the centre," says Mr Pritchard.
But one local retailer who won't be along for the ride is The Warehouse.
The store which has occupied the shopping mall at the bottom of Queen Street for over 10 years hasn't been able to negotiate a spot in the new development.
"We're disappointed that we couldn't reach a position where we could be in there, because it could mean that there's not a Warehouse in the downtown area," chief executive Mark Powell says.
He believes there is a need for one of his stores in the CBD - offering low cost homeware and other products to students who live in the city's many apartments.
Mr Powell says because inner-city space is at a premium, it's unlikely they'll be able to find a spot for a new store.
Instead, The Warehouse is looking into the possibility of opening smaller stores mainly aimed at allowing customers to buy items online and pick them up in store.