Auckland's inner suburbs could get trams as part of a $10b rail package
Author

Publish Date

Sat, 28 Jul 2018, 8:17am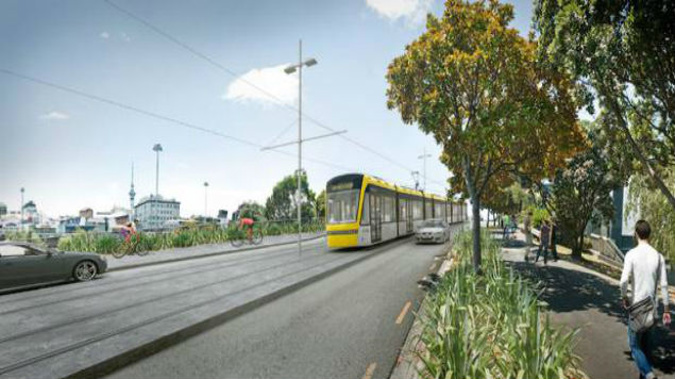 Auckland's inner suburbs could get trams as part of a $10b rail package
Author

Publish Date

Sat, 28 Jul 2018, 8:17am
Several suburban areas in central Auckland stand to get modern trams under a new route being considered by transport officials.
The Weekend Herald can reveal that the suburbs of Pt Chevalier, Grey Lynn, Arch Hill and Karangahape Rd are on the route being considered by the NZ Transport Agency.
The route is part of a light rail project - the modern day version of trams - from the CBD to West Auckland.
The option of taking trams off the northwestern motorway at Pt Chevalier and running them along Great North and Karangahape Rds is the third big change in as many weeks to a $10 billion public transport programme of 'Think Big' proportions in Auckland.
A few weeks ago, NZTA chief executive Fergus Gammie said the city's $6b light rail programme was likely to see trams from the CBD to Westgate extended to Kumeu.
This week, the Government and Auckland Council announced plans to expand capacity on the $3.4 billion city rail link.
Both projects will add hundreds of millions of dollars to the programme.
Artist impression of the light rail on Queen Street central Auckland.
NZTA has confirmed the option of running trams from Pt Chevalier to Karangahape Rd, where they could join a second tram line from the CBD to the airport at the intersection with Queen St.
A second option is to run trams all the way to the city along the northwestern motorway and thread dual lines through or around Spaghetti Junction to the CBD.
Work between NZTA and Auckland Transport is in the "very early stages of investigating light rail alignment options for the city centre to northwest route", a spokesman said.
Transport Minister Phil Twyford declined to comment about the Pt Chevalier option for the same reasons but said light rail not only provides high-quality rapid transit but is a magnet for investment in urban development - a view shared by Gammie.
For these reasons, the Pt Chevalier option is likely to appeal to Twyford and Gammie, who, between them, are overseeing Auckland's $10b rail renaissance.
Great North Rd, a popular tram route before being torn up in the 1950s, is already undergoing intensification. Work is under way on a vision to turn the section between Surrey Cres and Karangahape Rd into a great boulevard.
Downsides to the Pt Chevalier option are potentially longer travel times to the west and disruption to a $16 million cycleway and streetscape upgrade for Karangahape Rd.
An AT spokesman said it was working with NZTA on light rail to the West and possible impacts on the Karangahape Rd project, but at this stage it was sticking with plans to let a contract this year and begin work early next.
The idea of light rail on Great North Rd and Karangahape Rd is being greeted enthusiastically with community groups and local politicians.
Dan Salmon, who chairs the Grey Lynn Residents' Association, said light rail is certainly exciting and could be part of the vision for a boulevard on Great North Rd.
Salmon and another member, David Batten, who is working on a community project called 're-imagining Great North Rd', have concerns about how light rail would fit with other plans for bus lanes, cycleways, cars and pedestrians.
Karangahape Business Association manager Michael Richardson likes the idea of quiet trams with less impact on the environment bringing more people to K Rd.
Light rail could disrupt plans to upgrade Karangahape Rd with busways and cycleways.
One K Rd property owner, who did not want to be named, said the council should put plans for bike lanes and bus lanes on the backburner and focus on the bigger picture.
"I think light rail on Karangahape Rd is a smart idea. They should look strongly at it because it will get a lot of support," he said.
Waitematā and Gulf councillor Mike Lee said it made more sense to run trams along Great North Rd where people live and work rather than along the northwestern motorway.
He disagrees with the idea that public transport improvements should be a catalyst for property development, saying it should be about providing alternatives to cars, reducing congestion and boosting productivity.
Waitematā Local Board chairwoman Pippa Coom said the Great North Rd/K Rd ridge is already undergoing urban renewal with new apartments so it is likely that light rail will make it an even more attractive corridor for development.
Albert-Eden Local Board chairman Peter Haynes said, without seeing the details, light rail would be great for local people, saying intensification along the corridor would benefit the growing population of Point Chevalier and Mt Albert and the impact on congestion and climate change.
Said Waitākere councillor Linda Cooper: "I'm interested in having a service for West and North-west Aucklanders that is faster than the current options otherwise it's not worth wasting the time or money on the project."
Auckland's $10 billion public transport bonanza
City Rail Link - cost $3.4b
The CRL is a 3.5km twin rail line running up to 42m below ground between the Britomart transport centre and Mt Eden station. It includes new stations below Albert St, between Victoria and Wellesley Sts, and at Karangahape Rd. The Government and Auckland Council have announced plans this week to increase its capacity from 36,000 passengers an hour to 56,000 at an extra cost of the low hundreds of millions of dollars. It is due for completion in 2024.
Light rail from the CBD to Māngere (and airport) - cost $3.7b
The 13km line from Wynyard Quarter in the city to the airport includes 22 stops and will run via Queen St, Dominion Rd to Mt Roskill where it joins State Highway 20. With large tracts of Housing New Zealand land at Mt Roskill and Māngere it has a strong focus on urban renewal. Renamed CBD to Māngere, it will still run to the airport but the main connection for air passengers between the CBD to the airport will now be trains from Britomart to Puhinui and buses or light rail from there to the airport. Due for completion within 10 years.
Light rail from the CBD to Westgate and Kumeu - cost $2.3b plus
The 18km line from Wynyard Quarter to Westgate will largely run alongside the northwestern motorway. NZTA is looking at options at the city end, including taking trams off at Pt Chevalier and running them along Great North Rd to the city. Trams will probably be extended 8.6km from Westgate to Kumeu, but this section has not been costed. Due for completion within 10 years.