Arise, Sir John: Former PM officially a knight
Author

Publish Date

Wed, 16 Aug 2017, 10:58AM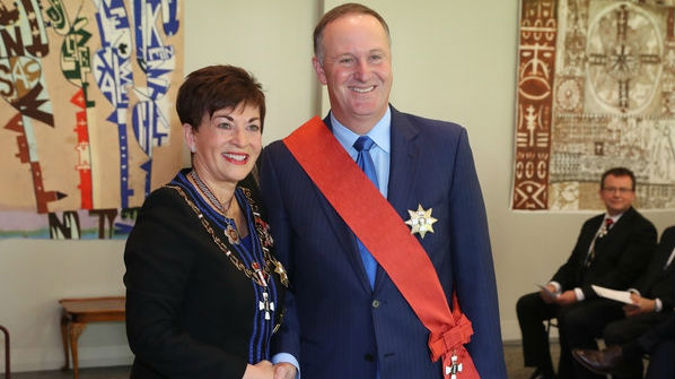 Arise, Sir John: Former PM officially a knight
Author

Publish Date

Wed, 16 Aug 2017, 10:58AM
John Key has officially been appointed a Knight of the New Zealand Order of Merit.

The former Prime Minister received the honour for services to the State at an investiture ceremony at Auckland's Government House this morning.

MC Hewitt Humphrey rattled off a list of Sir John's achievements as Prime Minister, including leading the country through a series of natural disasters and concluding key Treaty settlements.

Dressed in a plain blue suit, Key grinned from ear to ear as the badge was pinned on his blazer.

Sir John was supported by his wife Bronagh, son Max, other members of his family, and Prime Minister Bill English.
It is one of the many honours that Key has received since retiring from politics earlier this year.
Last month, he received an honorary Companion of the Order of Australia in recognition of his "service to Australia-New Zealand relations".
He will also receive an honorary Doctor of Commerce from the University of Canterbury in December.
Key quit as Prime Minister last December and left parliament in April. Next month, he will take up his new position on the Air New Zealand board of directors.
Speaking after the ceremony the former Prime Minister said it's a very special day for his family and so many other people who helped him in his role.
"I see it see it as recognition for Bronagh and the kids for the sacrifices they made... I hope everyone can take a bit of joy from it."
Sir John said he considers his leadership through the global financial crisis the greatest achievement as Prime Minister, but added there were a number of other things like the Christchurch earthquake and the Pike River disaster that also stuck in his mind.
"There were so many things that I look back on which were tough times for New Zealand but I hope, in some small part, I could provide leadership to help people through those crises."
When asked if he missed anything about being Prime Minister, he laughed saying he missed the VIP cars because "you can park anywhere and they're very convenient".
But Sir John continued to maintain he'd made the right decision in stepping down. 
"I just look back and think I'm really happy with the time I was there, I was proud to be in the roles I was in. I enjoyed it."
He said he met a remarkable number of people from around the world, and thousands of 'everyday Kiwis' who were always very kind to him.
"But no regrets in saying goodbye, you've got to know when you're time is up and I kind of had worked that out."