America's Cup blunder hands Team New Zealand race win over Artemis
Author

Publish Date

Tue, 30 May 2017, 9:31am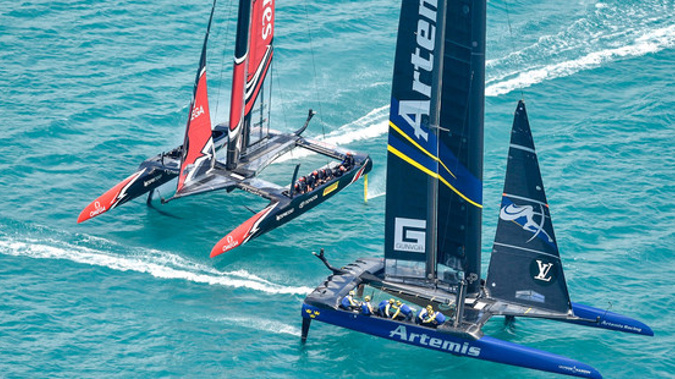 America's Cup blunder hands Team New Zealand race win over Artemis
Author

Publish Date

Tue, 30 May 2017, 9:31am
Team New Zealand's win over Artemis today has come under a cloud after America's Cup race management admitted they got it wrong in penalising the Swedish boat at the final mark rounding.
Artemis were charging towards certain victory on the final reach after an epic battle with Emirates Team New Zealand, which featured nine lead changes, until they received a penalty for a port-starboard incident at the final mark rounding.
The Swedish team were forced to slow their boat until Team NZ had gained a two boat-length advantage - handing the Kiwis the point.
The umpires have now admitted they got it wrong, however their decision on the race course stands and the result cannot be reversed.
"When they were coming down to the final gate mark, with the information we had at the time, we had Artemis Racing on port, as the keep clear boat, and Emirates Team New Zealand on starboard, and our job is to be certain that Artemis Racing were keeping clear, and we weren't at that time certain they were keeping clear," said chief umpire Richard Slater.
"We have had a discussion, we have looked at other evidence, information and data, and I think if we were to go back in time and make that call, we would green that call and not penalise Artemis."
The results of race 14 of Round Robin 1 in the Louis Vuitton America's Cup Qualifiers stand.
The admission from the umpires is unlikely to change the view of Team NZ helmsman Peter Burling, who told the commentators post-race that the New Zealand boat came close to capsizing in the incident.
The drama occurred at the final mark rounding as Artemis came flying in on the port side, while Team NZ had the starboard advantage. With the Swedish boat bearing down on them quickly, helmsman Peter Burling took evasive action, causing the boat to dig its bows in before rearing up again and coming to a complete halt.
"We were just turning the boat as hard as we could, we were lucky not to end up on our side, in these boats you need more room than that," he said in the post-race interview.
Artemis skipper Nathan Outteridge, had a divergent view on the decision, one which has now been vindicated by race management.
"We knew it would be a tight bottom mark, we set ourselves up to lay the middle...if they had enough of an overlap we could give them enough room. We just shaved the three length zone, we gave them plenty of room to make the gybe. We were a bit shocked when the blue light came on,"
"I don't know what the umpires based their decision on. With it being a left turn, we were just making sure they didn't have a piece of us at all. I haven't spoken to the umpires yet."
America's Cup standings (after round one of qualifying)
Oracle - 5 pts
Team NZ - 4 pts
Team BAR - 3 pts
Artemis - 2 pts
Team Japan - 2 pts
Team France - 2 pts