Mike Yardley: Wonderful Warwick and her castle
Author

Publish Date

Tue, 27 Oct 2015, 12:54pm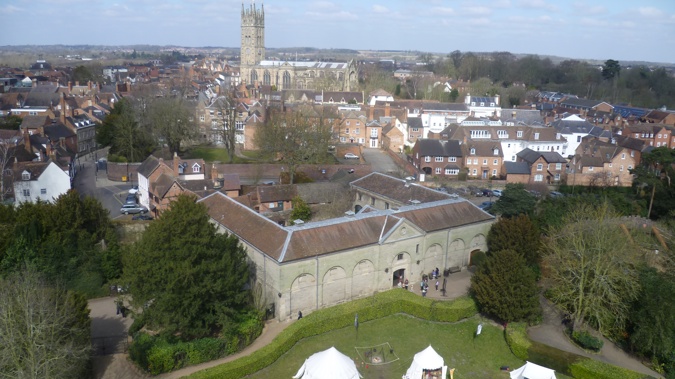 Mike Yardley: Wonderful Warwick and her castle
Author

Publish Date

Tue, 27 Oct 2015, 12:54pm
One of England's most atmospheric county towns, and a personal favourite of mine, is the bustling and eclectic town of Warwick.
In heart of Shakespeare Country, and just ten minutes from Stratford-upon-Avon, Warwick is an effortless day-trip from London, or a superb base to explore the regional delights of Warwickshire. 
Just as London had its Great Fire in 1666, Warwick was reduced to cinders in a devastating inferno, in 1694. A few traces of Warwick's medieval grandeur survived the disaster, notably Smith Street, which is crowned by the grand stone entrance of Eastgate.
Tootle under the arch to discover Smith Street's vibrant medley of restaurants and independent shops. (I half-expected to be served by Grenville in the grocery store.)
Try and time your visit for the weekend, to take in the carnival colour of the Saturday market, which spills across Market Place, as it has done for 300 hundred years. Another great survivor of the Great Fire is Lord Leycester Hospital.  You'll feel like you've stumbled on a medieval movie set, given the splendid condition of this absolutely divine cluster of 14th century timber-framed buildings. For two centuries, the buildings were the base for Warwick's medieval guilds before they were converted into a rest home for retired servicemen.  Over 500 hundred years later, these ancient buildings continue to serve that purpose. 
Post-fire, much of Warwick's centre was rebuilt in Georgian style. The 1725 Court House is a fine specimen of Georgian grace and is now home to the tourist information centre. Grab a self-guided walking map from the centre, to size up the town's attractions.  Are you a green-fingered fan? Bag some English country garden inspiration by popping into Hill Close Gardens. These hidden hedged gardens were developed by Victorians, who lived above their businesses, and escaped the crowded town at the weekend to tend to their plots in this gorgeous botanical refuge. The recently restored Victorian summerhouses complete the picture of bucolic English charm.
Horse racing has played a leading role as a recreational pastime in Warwick – the storied racecourse dates back to 1707. The course still hosts a full programme of races throughout the year, if you fancy a flutter. Warwick's loftiest skyline-scratcher is the magnificent Church of St Mary. The top drawer is the ornate stonework of the 15th century Beauchamp Chapel, the final resting place of many of Warwick's Earls.
A winning way to savour Warwick's traditional flavour is to spend a night or two at the Warwick Arms Hotel.  This 17th century building enjoys a central location and recently underwent a major refurbishment, providing plenty of contemporary comforts to the traditional characteristics of this boutique hotel. Free private parking, inexpensive accommodation, modern décor, lovely wooden furnishings, traditional Sunday dinners  and a fabulous new bar are just some of its winning attributes. www.warwickarmshotel.com
In a nation billowing with grand old piles, crenellated towers and symbols of conquest, all competing for attention,  castle-fatigue can soon creep up on you. But if there's one elaborate construction that you should  make a point of exploring, Warwick Castle gets my tick. Owned by the Tussauds Group , of Madam Tussauds fame,  this formidable fortress has been developed to become part-historic property, part-theme park. 
Showcasing the stately splendour of the Earls of Warwick for 800 years, Warwick Castle exemplifies the very best of castle-building in England.  Flanked by moats and the River Avon, this powerful structure was constructed shortly after the Norman Conquest in 1066. Strategically located to guard essential communication routes across the English countryside, its massive defences never faced an onslaught. During the English Civil War, its lord supported Parliament against Charles I, so the castle wasn't ruined, as many of its counterparts were. 
I was enthralled by the dreary dungeon that sits at the base of Caesar's Tower. Alongside the medieval torture devices, the windowless chamber ensured prisoners were detained in complete darkness, with barely enough room to lie down. 
But the central attraction is the Great Hall and State Rooms, where I marvelled at the magnificent vaulted ceilings, lavish furnishings, life-like mannequins and the dazzling collection of armour and heraldry. Boasting over 64 acres of glorious grounds, landscaped by "Capability" Brown, a medieval fun fair, jousting contests and hearty medieval food keep the crowds enthralled throughout the day.  The Brits adore their beloved Warwick. You will too.