Mike Yardley: Wild Times in Turangi
Author

Publish Date

Sat, 14 Nov 2020, 10:47AM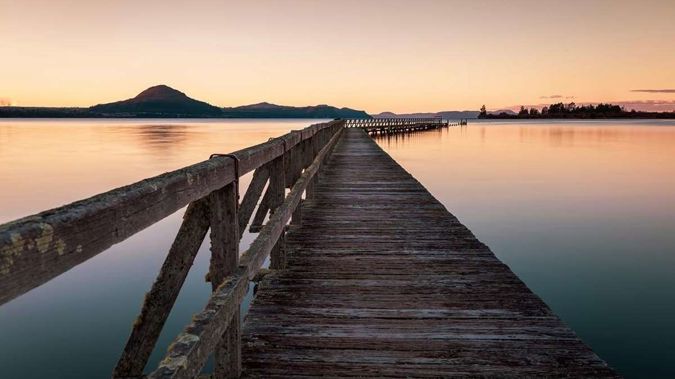 Mike Yardley: Wild Times in Turangi
Author

Publish Date

Sat, 14 Nov 2020, 10:47AM
From the tourist throb and twinkle of Taupō, I wended my way around to Turangi where the south side of the Great Lake throngs with a fresh smorgasbord of options. Backdropped  by the forest-clad Kaimanawa Ranges and Tongariro National Park, and gracing the shoreline of Lake Taupō, Turangi is a year-round basecamp for sublime outdoorsy adventure. It's home to one of the most iconic regional experiences, Tongariro River Rafting, owned and operated by Garth and Leigh Oakden. Garth has been a rafting guide on the Tongariro for over 30 years, he knows these waters and surrounding land like the back of his hand.
Alongside riding Tongariro's rapids, you can opt for the Blue Duck river tour, which gives you a first-hand insight into the triumphant rebound of the blue duck (whio) population on this river, who've been riding the rapids for thousands of years. They're the face of New Zealand's $10 notes and one of only three species worldwide who live year-round in fast-flowing rivers like the Tongariro. Their huge, oversized webbed feet allow them to navigate the Tongariro's rapids like Olympic champions. Unlike other endangered birds, they can't be relocated to predator-free sanctuary islands, because long, turbulent rivers are their prime habitat. They are the clean-freaks of New Zealand's bird world and very fussy about their living standards.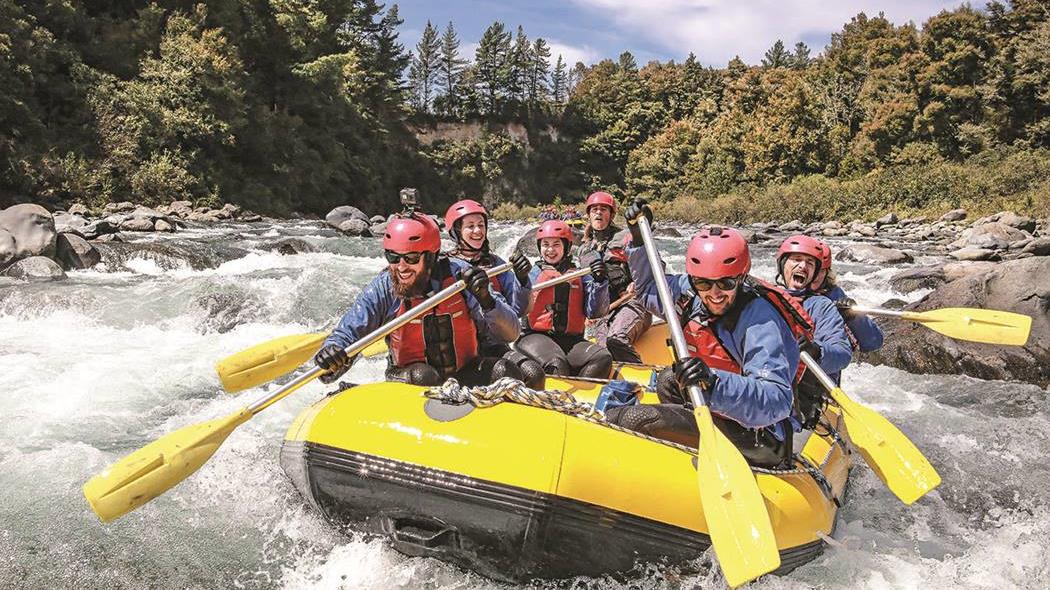 Only pristine, fast-flowing, crystal clear rivers will do, thank you very much. In 1945, they were labelled "functionally extinct." Increasingly concerned about their endangered status, Garth co-founded the Blue Duck Project in 2008, which has been a runaway success story in Turangi. It is dedicated to improving the whio's habitat by trapping its predators – most notably the stoat and rat. In the past 12 years, thanks to new styles of traps, more predators than ever are being caught, and the ducklings' survival rate has leapt from 30% to 90%. There's been a phenomenal 1200% increase in the whio population on the river, since 2008. You'll even see plenty of them in the river as it snakes through town. https://trr.co.nz/
For me, the white water would have to wait for another day. Time was short, so I didn't have the chance to ride the heart-stopping roller-coaster river rapids, because my chief assignment was to "road-test" Turangi's newest tourism offering. Garth's sister company, Tongariro Mountain Biking, delivers kick-ass MTB experiences across the region and their guided experiences blend fantastic tracks and trails with commanding local insights and hospitality. Their latest MTB product is being billed as the ultimate private e-bike wilderness adventure. Not only does this riveting pursuit zip you up and down rolling hills and the high plateaus of this mountainous backcountry. You'll be hosted for a night in a supremely secluded former hunting lodge, where the creature comforts are laid on thick, as you marvel over the escapist landscape in this 10,000 acre private block of verdant hinterland.
Despite clocking up considerable distances on MTB trails this year, I was a little anxious as to whether I'd be able to handle the high altitude and steep gradients that I'd be navigating. But my trusty ebike made light work of the formidable ascents. (Trying to ride this trail on a standard bike would have killed me.) It was the exhilarating steep descents as I hurtled down hillsides that required particular discipline, to stay in full control. As a useful guide, as long as you can manage intermediate trails in MTB parks, you'll be sweet. Designed to be highly-personalised, the experience is limited to a maximum of 8 people per trip. Only you, your family or mates and your expert guides will be sharing this exclusive adventure ride together.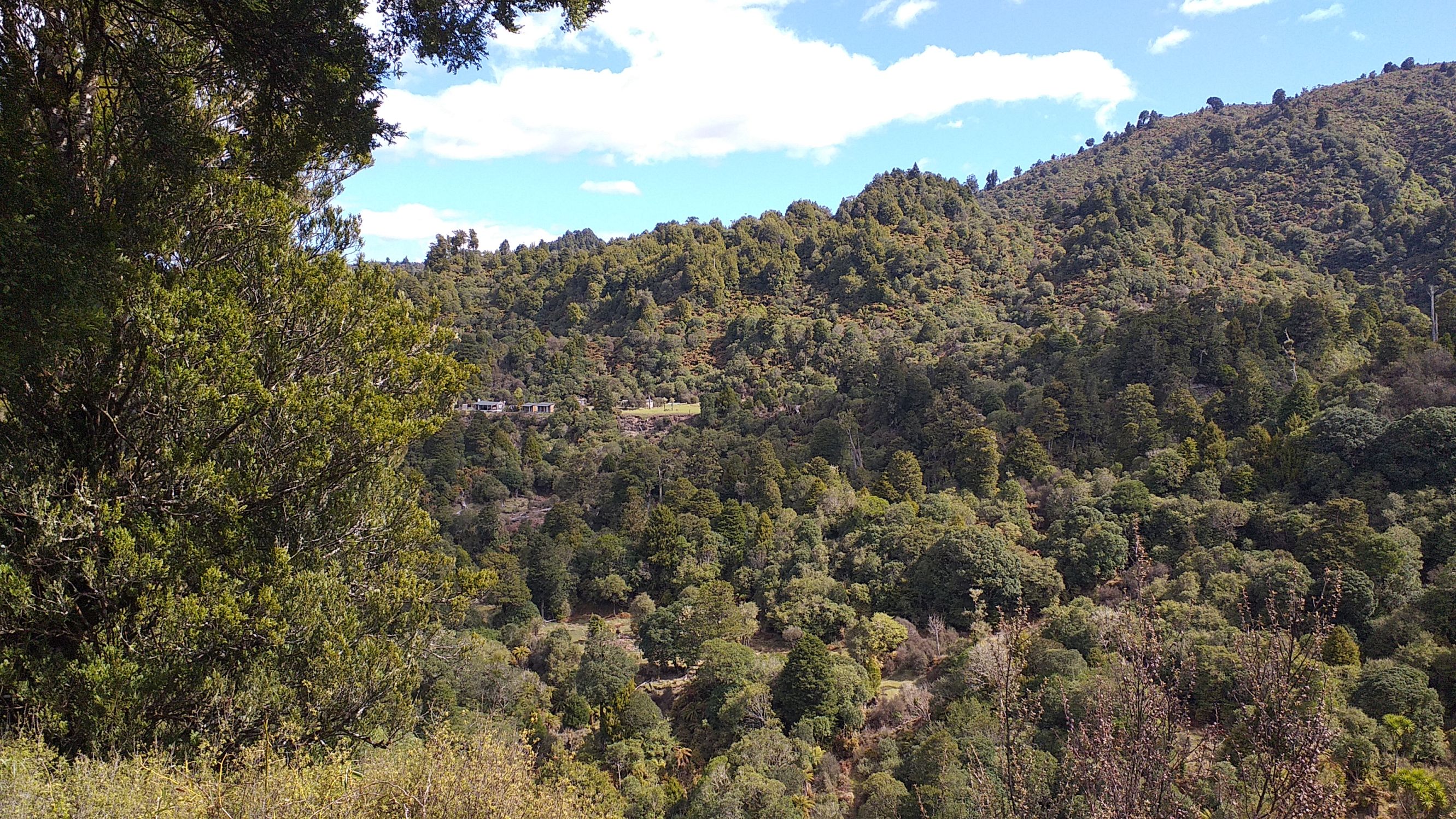 From Turangi, we arrived at this vast block of prime hinterland within 30 minutes. From start to finish, the views are beyond breath-taking, with the added amusement of hundreds of red deer free-roaming the land. Bambi and friends came into close view within minutes of setting off on the trail. The tracks you ride on are decades-old logging tracks, left untouched for years.  Needless to say, these are not purpose-built, well-groomed MTB tracks – I encountered a heady spectrum of surfaces including gravel, mud, rotten logs and grass, on the twisting and turning trails, complete with river crossings for an added frisson. From Baker's Ridge, the high and wide skyline panorama across to the volcanic peaks is sigh-inducing. Since the logging days, the forest has regenerated spectacularly. Native bush clings to the sides of the precipitous cliffs and walls of deeply riven valleys, while pristine water glides by in chatty streams and rivers.
In the higher reaches, I routinely found myself stopping to pause and listen. All around is a bush-covered silence, punctuated only by native bird-call. Kereru soar above the trees, melodious tui and bellbirds serenade all day and you'll hear the striking call of kiwi at night. Far from being impenetrable, there are areas where the bush has been cleared and grass sown, as is the case where the lodge is laid. It's a knock-out setting which seems to breathe easily with its wraparound grandeur. From the lodge, it's like a natural balcony as you can stare down the deep bush-clad ravine to the dramatic gorge.
The lodge boasts individual chalets and rooms, ensuring your own space, and a shared living area, kitchen, dining room and a wood burner for the cooler nights.  There's a large relaxing deck with plenty of seating and a prime spot for star-gazing. Garth cooked me up the most salivating venison burgers, as I reflected on my adrenalin-pumping wilderness ride. Off-the-grid, immersive adventure in excelsis. Turangi might only be half an hour away, but this truly feels like a world removed, as you savour 10,000 acres of blissed-out backcountry. The 2 day Wilderness E-Biking Adventure is priced at $385 per person, which includes accommodation, food and transportation. E-bike hire is also available. https://tongariromountainbikes.co.nz/
Another heart-stealing accommodation experience to savour in the Turangi area, is just around the lake at nearby Tokaanu. This picturesque little lakeside village is a geothermal gem, as is readily illustrated on the Tokaanu Thermal Walk. Steam rises from a dozen fizzing, simmering hot pools, creating an atmospheric, ephemeral scene. Like Rotorua in miniature, mud pools sputter and gurgle while the steam vents hiss. The first pool on the circuit is Matawai, which erupted violently for four months in 1992. Toretiti Pool is revered by local Māori as a medicinal marvel.
This is the pool that reputedly cured the ulcers of many Ngati Apakura warriors who migrated from the Waikato. Fancy a therapeutic soak after too much mountain biking? Tokaanu Thermal Pools is a god-send. Another gripping spectacle is the nearby Steaming Cliffs of Hipaua, where chimneys of steam rise up from from the bush-clad hillside, as harrier hawks cruise the warm air currents. A series of fumaroles in the cliff above are responsible for the release of steam creating an otherworldly scene, especially early in the morning when the steam rises from the land as first light dawns.
I love the long-limbed reach of Tokaanu Wharf, a hidden regional gem with a storied past. Built in the 1880s, goods were shipped across Lake Taupo from Tokaanu Wharf, until roads replaced the boat service in the 1920s. Beautifully restored with original beams and decking, it's a trusty perch for a spot of trout fishing, at magic hour as the sun goes down over the placid water, or for a dreamy picnic. 
 I spent the night at Braxmere Lodge, supremely set right on the southern edge of Lake Taupo with 10 individual and generously sized lakeside studios. The setting is serene, the ambience is blissed-out and the experience is priceless. Trust me – you won't want to leave. Flaxmere even has its own private boat ramp and jetty if you want to pootle about the lake. From your beautifully appointed abode, chic and contemporary with floor to ceiling windows, stroll across the impeccably-groomed lawn to a beacon of local dining, Lakeland House Restaurant. Open for a la carte dining at lunch and dinner, you can't go wrong with their salivating Thai Prawn & Scallop Salad. This generous platter of king prawns and scallops is complemented with cherry tomato, mesclun greens and splashed with a Thai chilli vinaigrette. Divine! http://braxmere.co.nz/
Taupō is the sparkling jewel in the crown of North Island, power-packed with outdoors adventure from trout fishing and mountain-biking, to the mesmerising spectacles of Huka Falls and the region's steaming geothermal treasures. Satisfy your love of nature and lust for adventure by packing your bags for a getaway to Great Lake Taupō. www.lovetaupo.com
I flew to Wellington with Jetstar to Auckland, when you can score even sweeter deals with a Club Jetstar membership. The programme offers travellers access to special 'member only' fares, 20% discount on baggage and seat selection products, and early access to the biggest sales. Bag a bargain fare deal and seat to suit at www.jetstar.co.nz
I picked up my Avis rental car from Wellington Airport to free-roam the central North Island. The Avis Safety Pledge allows customers to pick up and drop off vehicles with minimal contact. This has been complemented with the recent launch of the Digital Check In option, dramatically speeding-up time at the counter. For risk-free bookings, select the Pay at Counter option. You can change or cancel, without fees, any rental reservations in New Zealand due to start before 1 March 2021. Plus, get up to 10% off your rental for all prepay bookings made before 20 December and sign up to the Avis newsletter to score a free upgrade. www.avis.co.nz
Mike Yardley is our resident traveller on Jack Tame Saturday Mornings.