Mike Yardley: Waikiki Temptations
Author

Publish Date

Fri, 8 Apr 2016, 2:39pm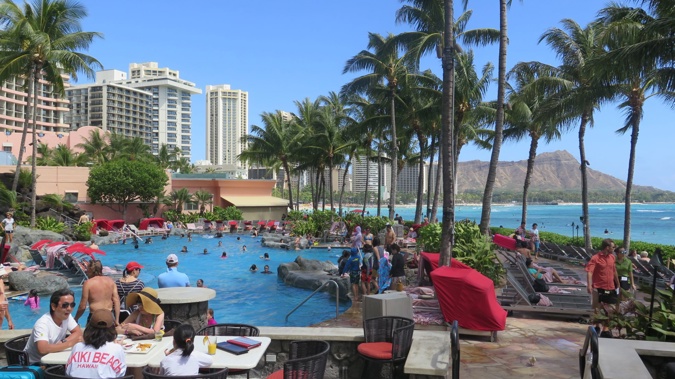 Mike Yardley: Waikiki Temptations
Author

Publish Date

Fri, 8 Apr 2016, 2:39pm
As the daily mercury starts to tumble and our nights' draw in, the allure of swaying palms, warm ocean breezes and poolside cocktails is top of mind for many Kiwis planning their next escape. And the golden sands of Waikiki maintain a siren's pull with holidaymakers. On a recent swing through Honolulu, I took it upon myself to stake out Waikiki's best beachfront cocktail stops for you, a truly thankless task, which unearthed these pet picks. Best in Show would still have to be the Mai Tai Bar at the Royal Hawaiian, the star-spangled hotel that made the drink famous. They've been toasting sunsets and celebrating romance with Mai Tai's at the Pink Palace for nearly sixty years. 
Right next door on Waikiki Beach's premium strip, Duke's Canoe Club and Barefoot Bar, at the Outrigger, is also fantastic. Stacked with memorabilia of the surfing god, Duke Kahanamoku, this place blends a proud history with conviviality, the food and drinks are good-valued, and the beachside vistas sensational.  And my third pick is one of the newer beachfront venues that's earning accolades for its local libations. Sedate by day, Rum Fire plays to a hip crowd, it parties long into the night, and it's a winning spot for inventive cocktails, comfort food and enchanting fire pits. You'll find Rum Fire at the Sheraton Waikiki, just along from their knock-out infinity pool. Recommended cocktail? Order up a Torch Lighter!
Few Waikiki experiences can beat the buzz of waking up and stepping outside onto the silken sands of Waikiki Beach. I had the pleasure of luxuriating within the bosom of a grand dame, Moana Surfrider by Westin, the landmark hotel that was the first to welcome the world to Hawaii. Uncannily reminiscent of Raffles Singapore, it's old-school grace and elegant colonial-style architecture is a welcome antidote to the splashy contemporary excesses of some of its luxurious neighbours. At the heart of the expansive property, the glorious banyan tree, planted a century ago, provides a stunning sanctuary of shade in the spacious courtyard, bracketed by verandahs lined with traditional rocking chairs.  
But despite her venerable bones the hotel isn't one to rest on its laurels, with a swirl of contemporary enticements and enhancements keeping the legendary property relevant and utterly inviting. But being a history-hound, I was drawn to the Moana Surfrider by its rich legacy, and the fact that she's turning 115 years old this year. Whether you're staying in-house or not, join one of the complimentary historical walking tours, which brings the hotel's illustrious past to life. 
Speaking of milestones, Oahu's premier attraction, the Pearl Harbour memorial site, marked the 70th anniversary of the Japanese surrender 8 months ago, signalling the end of World War II. And Pearl Harbour is gearing up to commemorate the 75th anniversary of the catastrophic attack by the Japanese, later this year.   Anniversary organisers tell me that President Obama will preside over the commemorations on December 7, alongside the President-elect, whomever that may be! (My hunch is it will be Hillary.)
If you haven't visited this powerful memorial site before, it's a must-do. The recently renovated visitors centre has rolled out a comprehensive range of artifacts, compelling newsreel footage and a slew of exhibits that artfully illustrate the events that preceded the shock attack. Take the short ferry ride out to the dove-white Arizona Memorial, built above the watery grave of the bombed battleship, as the fuel continues to eerily trickle up to the water's surface. But as Americans will tell you, the "crowning war experience" is to board "Mighty Mo", the Battleship Missouri. Walk the decks and see the site where General MacArthur signed the Japanese surrender, bringing the curtain down on World War II.
You'll notice that food tours are very en vogue in Honolulu and Waikiki, but if you want to dip into some trademark local tastes, you can easily do so, independently. So what should you stake out? Sta rt with a bowl of poke. When Barack Obama's in town, he binges on this stuff: cube-shaped chunks of yellow-fin tuna mixed up with all sorts of seasonings like chilli, seaweed and sesame oil, layered on a bed of rice. Delish!  Next up, wrap your laughing gear around loco moco, a rice and hamburger patty positively drowned in brown gravy and topped with a fried egg. The locals love their loco moco – it sort of serves as a fuss-free all-day breakfast. And it's really tasty!
You may also want to try your hand at ube pancakes, ridiculously purple in colour. Then there's that heat-busting icon of Hawaii, Shave Ice, universally adored and so soft, it's like eating fresh flavoured snow. Finally, ice-cream aficionados, cannot visit Oahu without devouring a Dole Whip, which is not actually ice-cream, but a dairy-free soft serve pineapple sorbet. It's widely on-sale across Waikiki, but if you want to sample this heavenly treat at its birthplace, the Dole Plantation, be warned that a scoop of this stuff will set you back NZ$8.
After all that gluttony – and too many loco mocos, some virtuous calorie-busting pursuits were required, so I hauled myself up Waikaki's postcard-perfect backdrop, Diamond Head. It's a two hour slog in total, requiring a moderate level of fitness, but the trail is punctuated with walk-through tunnels and the view from the top is stupendous. It's best undertaken early morning, before the heat sparks up.  If you'd prefer a cooler hike through lush rainforest, with a massive waterfall to climactically reward you, the Manoa Valley trail is a belter. And beyond the heavily-trafficked sands of Waikiki Beach, if you're up for a snorkel, take the fifteen minute hop to Hanauma Bay. Fringed by waving palms, this scallop-shaped bay is very shallow, super safe and swarming with tropical fish.
For more tips and advice on maximising your Hawaiian getaway, head to www.gohawaii.com/nz