Mike Yardley: Virtual touring the USA
Author

Publish Date

Sat, 4 Apr 2020, 11:46AM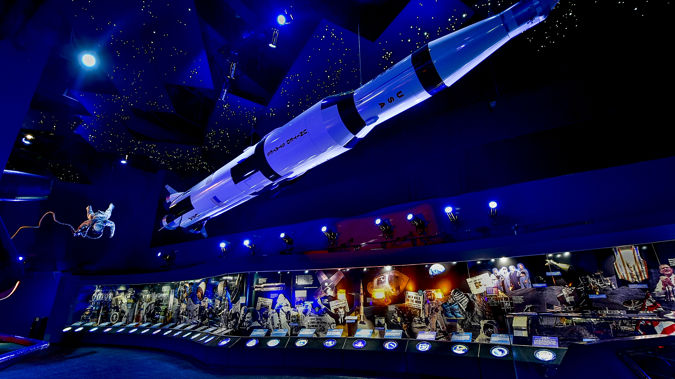 Mike Yardley: Virtual touring the USA
Author

Publish Date

Sat, 4 Apr 2020, 11:46AM
As New Zealand hunkers down in in lockdown-mode, we all hope four weeks at Alert Level 4 will be enough to break the chains of transmission and liberate our lives, at least on the domestic front. But whether the "stay at home" maxim remains in force for four weeks, six weeks or longer, domesticated cabin fever could be just as infectious. If you need a change of scenery from Netflix or your private collection of well-worn DVDs, and are pining for a burst of travel and exploration, we're here to help. Across the world, many premier city destinations would single out their museums and galleries as their most prized attractions. We've rounded up some of the best virtual tourism experiences from across the USA, to rev up your armchair adventures.
Virtually transport yourself to Washington, DC neighbourhood hot spots, awe-inspiring museums, and world famous landmarks on the 360 degree virtual tours. Experience what it's like to step foot inside the majestic Lincoln Memorial, walk through bustling Union Market or visit a free Smithsonian Institute museum. All 360 degree videos are best viewed through phone YouTube Apps, and can also be viewed from the YouTube playlist on the @washingtondc channel. Or visit https://washington.org/discover-dc-360
Walt Disney World: Set aside some time, because there's plenty to see here. Virtual tours you can take include Magic Kingdom, Animal Kingdom, and Epcot, just to name a few. There are also unofficial YouTube videos that feel just like you're on famous rides like the Frozen Ever After ride, It's a Small World, Monsters, Inc. Mike & Sulley to the Rescue! and Pirates of the Caribbean. https://lol.disney.com/virtual-worlds
Monterey Bay Aquarium, California: I adore this world-acclaimed aquarium and they are livestreaming many of its residents including waddling penguins, playful sea otters, techni-coloured jellyfish and other ocean creatures. A live cam of the crashing waves in the Monterey Bay itself is particularly calming. https://www.montereybayaquarium.org/animals/live-cams
San Diego Zoo: Whether you're an adult or a child, a trip to the zoo is never boring. Lift your mood by looking at cute giraffes, penguins, koalas and elephants on one of San Diego Zoo's live cameras. Considering you get to skip the crowds, it's arguably a better view than being there in person! – and it's feted as one of the world's best zoos. https://kids.sandiegozoo.org/videos
It's listening to the distraught phone messages left by people trapped in the twin towers of the stricken World Trade Center that really wrenched at my heart. Loving, frantic and frightened in tone, the fatalistic phone calls are a sobering encounter, when visiting the 9/11 Memorial Museum, in New York City. It was a searing New York moment on my last visit to the city that never sleeps – until now. Like much of the rest of the world, the bright lights and big sights of the Big Apple are off-limits to travellers, but it doesn't mean you have to kill-off your wanderlust. Fingers crossed, Air New Zealand's grand plans for a direct service to New York from Auckland will still commence in the not-too-distant future, but in the meantime, here's some amazing attractions you can take a virtual tour of.
The 9/11 Museum is no exception, with a riveting virtual tour on their website in video format. While you can't interact with exhibits, you can take a walk-through inside the museum and its layout as the slow-moving cameras glide down halls. Select exhibits are also available in the 9/11 Google Expeditions app, which is excellent for viewing the art and photographs on the walls of the museum, including the "In Memoriam" exhibit which has wall-to-wall photos of the victims. For something more uplifting, the Guggenheim is one of America's finest art museums. Google's Street View can transport you to the Guggenheim's famous spiral staircase with the chance to view everything from the Impressionist, Modern and Contemporary eras. Their online collection has 1,700 artworks by more than 625 artists, including masterpieces from Pablo Picasso, Piet Mondrian, Jeff Koons and Franz Marc.
The Museum of Modern Art (MOMA) has a library of photos from its permanent collections, featuring works by Vincent van Gogh and other contemporary artists. One of my favourite van Gogh masterpieces, "The Starry Night," is housed here. In partnership with Google Arts & Culture, the MoMA offers one free virtual "walk-through" exhibit, plus select photos of its permanent artwork collections. Meanwhile, the Metropolitan Museum of Art has a series of videos set to calming music showing stunning views of its buildings. Anyone who appreciates architecture will really enjoy The Met's series of YouTube videos that show its most famous buildings and exhibit spaces in a 360-degree format.
When the time is right to return to New York in the flesh, I still think the best way to survey Manhattan's architectural majesty, is to hop on board a New York Harbour cruise. Circle Line Cruises, not only serves up ravishing skyline vistas, but zips you across to Lady Liberty and Ellis Island. To accentuate the experience, commune with Lady Liberty, with a tour right up to the statue's lofty top. Back on land, head down 12th Avenue's Hudson River waterfront to delight in a treasure trove of big boys toys at the Intrepid Sea, Air & Space Museum. Home to the legendary Intrepid aircraft carrier, that survived multiple kamikaze attacks in World War II, the museum boasts over 30 restored aircraft, a wealth of interactive, high-tech, multi-sensory exhibits. All of these experiences can be lapped up with a New York CityPASS, saving 42% off the cost of purchasing the included tickets separately. Valid for 9 consecutive days, you'll have a heap of time to immerse yourself in the Big Apple's top sights, without having to rush. I purchased a New York CityPASS Mobile Ticket which made the admission process super-fast. www.citypass.com
I booked my last NYC stay through Hotels.com who operate an excellent loyalty programme. Book and stay 10 nights at more than 500,000 eligible properties and you'll get 1 reward night to redeem at another. Just sign up with a valid email address to start collecting. Secret Prices are also available to Hotels.com app users, Hotels.com Rewards members. www.hotels.com
Air New Zealand is still planning to launch direct services from Auckland to New York non-stop, although the planned launch of the service in October now looks likely to be pushed back. The audacious new route will be serviced by Air New Zealand's 787-9 Dreamliners, in a premium-focused configuration. There's something to look forward to, when we've kicked Covid-19 into touch. www.airnewzealand.co.nz
Mike Yardley is our Travel Correspondent on Jack Tame Saturday Mornings.