Mike Yardley: Urban safari in Christchurch
Author

Publish Date

Wed, 27 May 2020, 2:09PM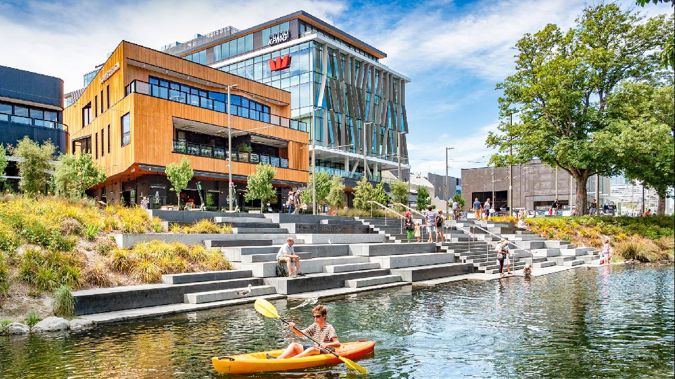 Mike Yardley: Urban safari in Christchurch
Author

Publish Date

Wed, 27 May 2020, 2:09PM
I found myself returning their time and time again while roaming Christchurch on a free-spirited urban safari. Riverside Market's cradle of temptation delivers in spades, a food emporium of goodness and decadence in equal measure. One of my favourite food hall merchants is The Butcher's Mistress, where the meat is so vividly red, you know it's fresh off the hoof. Don't miss Charing Cross Cheesery for their artisanal sheep milk delights, the Bohemian Bakery's pastries are heaven-scent and Cured excels in hand-crafted gourmet salami. Leave room for The Donut Dispensary – Krispy Crème don't have a patch on these tricked-up treats. Scoff a Boston Cream – and you'll agree with me.
There's a feast of ethnic food booths to expand the taste buds, like Dosa Kitchen. A dosa is a south Indian savoury pancake created from a fermented batter of soaked rice and lentils. They're Vegan and Gluten-free. But no matter how your palette rolls, you'll fall in love with its seductively sour, tangy flavour and airy, crisp texture. Don't miss the Kombucha Girls, a stellar little Maori business, fawned over for its vegetarian treats and flavour-hit Kombucha drinks, like pineapple mango, feijoa and ruby red (a blend of beetroot, red apple, lemon and ginger.) Snap up some bottles to go.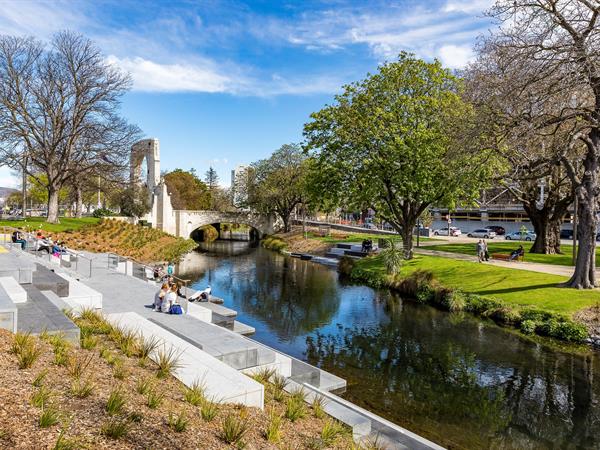 While the food hall is the central star, brimming with artisanal producers, purveyors and merchants, there's also a supporting cast of wraparound restaurants and surprise finds in the fabulous laneway stores like, Shopology. The homewares store is staunchly patriotic, an exemplar of the buy local ethos, where their creative collection of homegrown products spans jewellery, fashion, artisan food products, art and gifts. As is Kiwi Originals, another go-to for specialist New Zealand made gifts and homewares. Their native bird cushions are swoon-worthy. Another gem is Beehive Collective, a well-being store where the displayed wares of local creators promote personal well-being for the heart and home, and even your pets.
To get up to speed with Christchurch's post-quake redevelopment, take a city cycle tour with Stu Waddel from Chill. Stu's two hour long tour threads together a highlights reel of old and new Christchurch and his story-telling is masterly. www.chillout.co.nz
It's the street art, the public art that has really redefined the city centre's fabric with a distinct persona, from the spell-binding profusion of wall murals to the striking installations like Michael Parekowhai's powerful bronze sculpture of a bull standing on a piano. Called Chapman's Homer, it captured Christchurch's heart shortly after the quakes and takes pride of place outside the Christchurch Art Gallery. Despite living in Christchurch, I hadn't previously appreciated some of the hidden gems that Stu lustily incorporated into his touring route. Edging North Hagley Park in Park Terrace, Solidarity Grid is a public art installation of 21 street lamps from 21 cities, gifted to the city as a gesture of solidarity during the recovery.
Tootling through the Botanic Gardens, Stu led me to the urban treasure adjoining the Daffodil Woodland. 'Flora and Otto' is a throne-like stone armchair and ottoman, lovingly mosaicked with broken china, crowd-sourced from households during the quake. It weighs a whopping two tonnes! There's hidden finds aplenty like the large rock 'mani stone' placed at the foot of a Himalayan Pine tree that was planted by the 14th Dalai Lama of Tibet. Within the city centre, we also savoured some of the new pocket precincts that have sprung up in recent years like Salt District, a hive of mixed-use buildings with boutiques and boho eateries on the ground floor, while offices and apartments rise above – once again bedecked in eye-catching mural art. The lip-smacking Little High eatery emporium is in the same 'hood. A top foodie option is to pull up a seat at the bar of Eightgrains, admire the chefs at work, while you savour a teapot cocktail and nosh on some seriously delicious dumplings.
I also took a cultural and culinary meander along the City Promenade, flanking the Avon River, with Cate and Riwai Grace from Amiki Tours, dipping into the city's easily digestible multi-cultural narrative and meeting some of the creative Maori businesses in the city centre like the Kombucha Girls at Riverside Market. And the night time kai safari is a progressive dinner, threading together a string of eateries with seasonal shared plates of local produce from fabulous venues like Inati, where you're seated around the open kitchen. A walkabout with Amiki also a great way to decipher the plethora of Maori design elements that now enrich the city centre's fabric. www.amikitours.com
The glittering giant of Te Pae, the city's glittering new convention centre, is nearing completion. Its sheer heft is being artfully softened by the 40,000 herring bone tiles, fashioned in braided river patterns, taking shape on its curvaceous façade. In spring, waka tours will be launched in the Avon River, while many of the city's old-standards, like Punting on the Avon, the tram and gondola are about to purr back into life. If you're travelling with kids, Orana Wildlife Park, Willowbank and the brand new hot saltwater pools at New Brighton are sure-bet family hits.
I headed for the heritage-wreathed Port Hills, joining Nicole Ellwood from Crater Rim Walks, for a personal guided hike on the Godley Head Loop Track, complete with drinks and eats. Nicole runs a variety of bespoke tours on the walkway network, atop the caldera of this ancient shield volcano. Rest assured, it last blew 5 million years ago. From the exalted coastal promontory of Godley Head, at the eastern end of the walkway, soak up the vista across Lyttleton Harbour's bright cerulean waters. Backed by the light-tanned expanse of Banks Peninsula's crumpled landscape, scalloped with bays and pronged by rugged peaks, the ruffled tussocks and basalt rock all make for a painterly landscape. It's a massage for the eyes. To the west, the panorama takes the golden sands of Taylor's Mistake, lofty Scarborough and the city's sprawling patchwork. But Nicole really brought the headland to life with so many anecdotes and insights as we strolled the trail. www.craterrimwalks.co.nz
Gazing down on the harbour's entrance, where Hector's dolphins frequently frolic, German-laid mines still lurk in the vast depths of the seabed. Despite numerous attempts to identify their specific location, the mines continue to elude our navy divers. Dove-tailing with the 75th anniversary of the end of WWII, the gun emplacements of the coastal defence battery at Godley Head have just been refreshed with some superb wall murals by Wongi Wilson, in tribute to the home guard, particularly to the women who operated the whole compound.
The sirens to the past continue with a stirring relic from Captain Scott's ill-fated polar expedition at Godley Head. One of the pre-fabricated huts that travelled to and from Antarctica on the Terra Nova, is now permanently located on the headland. Climb the stairs onto the roof balcony for even more elevated views. After the Terra Nova returned to Lyttelton, Scott's grieving wife Kathleen actually stayed in the hut after it was first assembled in Sumner, as did Scott's dog handler. Kathleen learned of her husband's death on her voyage out here. Soon after arriving, she was commissioned to sculpt his magnificent memorial statue, which you can admire on the City Promenade by Worcester Blvd.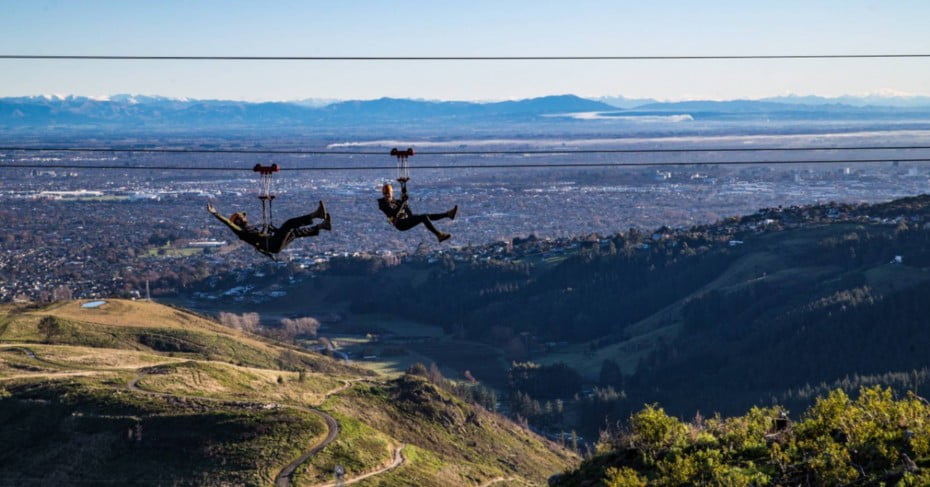 My runaway soft-adventure highlight was also on the Port Hills, at the Christchurch Adventure Park. Alongside the plethora of high-octane mountain bike and walking trails, and New Zealand's longest chairlift, the park also boasts a 4 zipline adventure tour, including the nation's highest and longest lines. I opted to do the stand-alone Long Ride, which spans 1.1km. Hurtling down to the floor of Cashmere Valley from just below the Sign of the Kiwi and flying over the pine forest canopy with an eagle's view across the city it's a blow-your-hair back, catch-your-breath ride to remember. Expertly guided by Ollie and Ralph, the rush of air is exhilarating as you charge down the line at speeds up to 100km! Perhaps I'd weighed myself down with too many Boston Creams – my speed averaged 85km. But it's exhilaration unplugged - my body was positively pulsing with adrenaline for the rest of the day. www.christchurchadventurepark.com
For more tips and insider recommendations on exploring Christchurch, check out the official website. www.christchurchnz.com
Mike Yardley is our Travel Correspondent on Jack Tame Saturday Mornings.