Mike Yardley: Time-warped in Tombstone, Arizona
Author

Publish Date

Wed, 10 Apr 2019, 3:26PM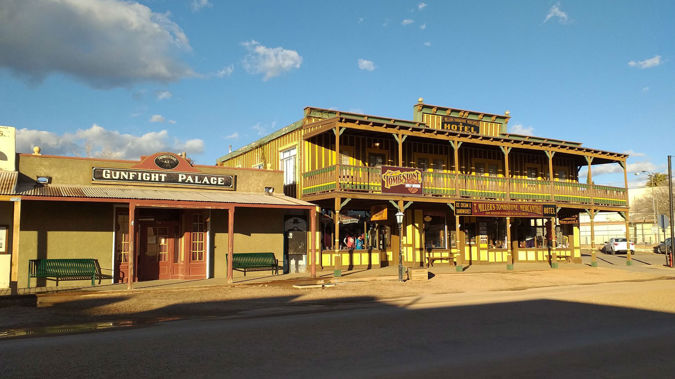 Mike Yardley: Time-warped in Tombstone, Arizona
Author

Publish Date

Wed, 10 Apr 2019, 3:26PM
In southern Arizona's high desert, Tombstone beckons as an unrivalled encounter with the Old West, its frontiersmen and gunslingers. Not only is the historic township safeguarded like a giant museum, but it's a museum that doubles as a fully functioning township. At first, I assumed Tombstone might be an American equivalent of visiting Hokitika's Shanty Town, where the buildings are largely stage-props, purpose-built to titillate the tourist with the mocked-up flavour of the Gold Rush era. Not so in Tombstone, where the old town is your real-deal warts and all experience. Evoking the spirit of the Old West comes naturally in this once booming silver-mining town, which is widely considered as America's star specimen of 1880s western heritage.
In case you're wondering, Tombstone's catchy name was conceived by the mining prospector who founded the settlement in 1877. Venturing out in the Arizonan wilderness, where native Apaches roamed, soldiers warned Ed Schieffelin that "the only stone you will find out there will be your tombstone." Ed discovered silver - vast ledges of it. In honour of the soldiers' cautionary advice, he named his mine Tombstone which duly became the name of the town. Word spread like wildfire of his silver strike and thousands descended on Tombstone in search of their fortune. Prospectors, cowboys, homesteaders, lawyers, gunmen, soiled doves (prostitutes) and business people flocked there in their droves.
I spent a night in Tombstone and there's a plethora of ways you can sample the town, from horse drawn wagon and stagecoach tours to paranormal walks and backcountry jeep tours. Top of the list should be the O.K Corral, the old saddlery, feed store and stables, which now stages a dramatic re-enactment of the infamous gunfight, on the very spot where it occurred in 1881. The shoot-out was the inevitable climax to months of growing tensions between the police and a band of cowboys who had been involved in cattle-rustling and stagecoach robberies. Romantic rivalries were also in the mix. Police Chief Virgil Earp had deputised his brothers Wyatt and Morgan along with Doc Holliday to disarm the Clanton and McLaury cowboys. 24 seconds and 30 shots later, Billy Clanton, Tom and Frank McLaury were all mortally wounded. It was that one event that has arguably kept Tombstone alive and kicking today.
The gunfight is superbly re-enacted several times a day, fusing the right mix of entertainment and historic insight. The corral neighboured Fly's Boarding House and Portrait Studio. Both buildings have been preserved and are packed with history. C S Fly's collection of photographs on display are magnificently instructive, particularly of the town and his portraits of the Apache, including Geronimo. Doc Holliday was renting a room in the boarding house at the time of the showdown and one of the town's prostitutes, Big Nose Kate, witnessed the shootout from his room. The corral showcases some of the prostitutes' cribs, from where they plied their trade. Admission to the corral also provides you access to the Historama, a 25-minute multi-media spectacle, complete with animated figures and rotating scenes, narrated by Vincent Price.
Two major fires swept through Tombstone during the 1880's, razing the downtown business district, only for it to be hastily rebuilt twice. It gave rise to the enduring mantra that Tombstone was a town that was "too good to die." As the silver mining continued the mineshafts were dug deeper and deeper to get the precious ore, until disaster struck and the mines were flooded, 520 feet underground. Attempts to pump out the water worked tenuously for a few years, before it became cost prohibitive. But not before US$37 million worth of silver had been extracted from the ground.
As you'd expect time-honoured saloons, steeped in legend, continue doing a roaring trade in historic Tombstone. The Longhorn was previously named the Bucket of Blood Saloon because Virgil Earp was shot here from the 2nd floor. There's the Crystal Palace, Doc Holliday's Saloon (which was Wells Fargo's office in 1881), and best of all Big Nose Kate's Saloon, formerly known as the Grand Hotel. Named in honour of the Hungarian-born prostitute who became Doc Holliday's wife, this saloon of yesterday, with many of its original trappings, is widely lauded as the best cowboy bar in the west. Abuzz with live music, mining boom artefacts and a convivial atmosphere, the food is fittingly indecent, like the foot-long all-beef hot dog. Wash it down with a Big Nose Kate's Private Reserve Pilsner, an 1880s-style pilsner that has been recreated by Bisbee Brewing Company.
Tombstone was never short of entertainment, best exemplified by the Bird Cage Theatre. It was an all-in-one saloon, theatre, gambling hall and brothel. Legend has it that no self-respecting woman in town would even walk on the same side of the street as the Bird Cage. Opening its doors on Christmas Day 1881, it ran 24 hours a day, 7 days a week during the height of the mining boom. It was a wild, wicked and lusty den of iniquity, evidenced by the fact that there are 140 bullet holes in the walls and ceiling. The Bird Cage was so named for the cage style crib compartments suspended from the ceiling, dangling over the gaming tables. It was in these bird cages that the "ladies of the night", plied their trade entertained and enticed their customers. The longest recorded poker game in history took place here, a house game that ran continually for 8 years and 5 months.
That poker table still stands as it was left, with its chairs on the dirt floor. Much of the venue has been frozen in time from the late 19th century, like the coin operated juke box that still plays today, one hundred forty years on. Or the sumptuous 9 feet high painting of Fatima in the back bar, riddled with the scars of 6 bullet points. The chandeliers, lavish drapes, gaming tables and cherrywood bar all offer an indelible taste of the Old West, left untouched since the heydays of the 1880s. Now a preserved national landmark of the American West, when disaster struck Tombstone and the mines flooded, the Bird Cage was boarded up and left undisturbed for decades, enabling you to savour this authentic encounter with the past. For more touring tips on Arizona, jump to the official tourism website, www.visittheusa.com.au
Where to stay? Cheap and cheerful, with a prime location in the old town, the Sagebrush Inn is an old-school charmer, with its compact motel-style units. The property was frequently booked out by Hollywood production houses, when shooting on-location in Tombstone, with movies including Red River and McLintock. When John Wayne resided here, he insisted the owners construct a barbeque area, so he could entertain his friends. Maureen O'Hara wasn't fussed with the small steel shower units, insisting her room being fitted out with a bath. It promptly was. I scored my Tombstone accommodation through Booking.com who don't just list your stock-standard hotels, but all manner of characterful finds like Sagebrush Inn. Booking.com recently commissioned some research called Property Hunter, which found that nearly a third of Kiwis prefer to stay in unique and quirky accommodations while on vacation. Sagebrush Inn fits the bill perfectly. And it's cheap as chips through www.booking.com
I flew to Arizona with Hawaiian Airlines, jetting from Auckland to Phoenix via Honolulu. The full-service carrier operates onward from Honolulu to 13 U.S mainland destinations. Kiwis love the airline's Extra Comfort upgrade, which provides more legroom, priority boarding, a personal power outlet and amenity kit. Purchase Extra Comfort for just $139 NZD. Book early to avoid disappointment- it's very popular! Clearing border security in Honolulu makes your onward connection to the mainland far less stressful, given it's considered a domestic flight. Book directly at www.HawaiianAirlines.co.nz
Mike Yardley is our Travel Correspondent on Jack Tame Saturday Mornings.