Mike Yardley: The world's greatest airport attractions
Author

Publish Date

Fri, 8 Jul 2016, 2:46pm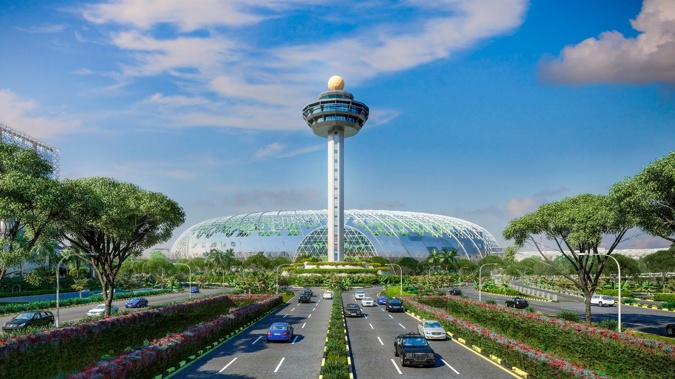 Mike Yardley: The world's greatest airport attractions
Author

Publish Date

Fri, 8 Jul 2016, 2:46pm
Most of us wouldn't normally consider airports as destinations in their own right. Generally, we view airports as utilitarian means to an end, uninspiring nodes of human cattle forming tiresome queues for tedious processing processing and invasive security screening. But some airports do go out of the way to blow-torch the humdrum with state-of-the-art entertainment, time-killing gimmicks, top-end eateries and retail offerings, and ever-evolving relaxation features.  The world's best airports, particularly the top-tier hubs, are locked in a competitive battle as they rise above the crowd and becoming increasingly adventurous in a bid to win over travellers.
Singapore's Changi Airport is repeatedly showered with awards for its world-leading arsenal of on-site enticements. More than just a transit hub, Changi would have you believe it's a tourist attraction in its own right. From the rooftop pool and cinema to the engaging art and butterfly garden with its plunging waterfall, Changi absolutely leads the pack. I used to think the soothing flowers and plants that festoon the terminals were fake. But the airport's 150-strong workforce of gardeners will attest they are definitely real.  The themed displays include a sunflower garden, cactus garden, orchid garden, and water lily garden.
Changi's trademark freebee is the two-hour long Singapore sightseeing tour for passengers in transit.  As long as you have at least five hours spare before your connecting flight, it's free to board. My favourite artwork is in Terminal 1, Kinetic Rain. Created by German design company Art+Com, it's the world's largest kinetic sculpture. This gently moving piece features copper-plated aluminium raindrops, suspended from a thin wire, that are programmed to form a variety of shapes including kites and planes. I could watch it for hours. It's meditative magic.
If shopping is on your transit agenda, you've got over 350 stores on-tap at Changi and in Terminal 3, you cans hop and slide.  Every $S10 spent earns you a ride on the world's tallest airport slide – a 12metre, four-storey structure in Terminal 3. But Changi never sleeps, and if you've breezed through the airport in recent months, you'll have noticed the gigantic construction of a fourth terminal and what is being called The Jewel complex. Set to open in 2019, the Jewel will feature a five-storey indoor forest and 40metre-high rain vortex that transforms with a night-time sound and light show.
Many Kiwis will be familiar with Seoul's Incheon Airport, home base for Korean Airlines. Incheon offers a slew of amenities but its biggest claim to fame is Ice Forest, an indoor ice skating rink that's ideal for families in transit, hungry for some cheap thrills. Another big draw is the Traditional Korean Cultural Experience Zone, showcasing many crafts. The demonstrations include making fans, kites, macramé and paper art, along with performances featuring traditional dances and instruments like bamboo flutes, harps and drums.
Not to be outdone, Taipei Airport is legendary for its love affair with Hello Kitty. Hello Kitty obsessives flock to the airport, because a huge swathe of the departures terminal has plastered with a Hello Kitty motif. From the chairs and wall decorations to a massive children's playground and Hello Kitty merchandise shop.
In-line skating is also a popular airport pastime at Zurich Airport, one of Europe's biggest hubs. But the experience is au natural, with grassy meadows and woodlands right outside the door. Bikes, in-line skates are available for hire, for a small fee. Many other European airports are embracing signature national experiences into their airport offerings. If you ever find yourself at Helsinki Airport, the most popular way to unwind before your flight is to enjoy a soak in a real Finnish sauna.  Meanwhile it's all about beer at Munich Airport, with the award-winning microbrewery, Airbrau, doing a brisk trade. It brews its beer in accordance with 1516 Purity Decree standards, you can take a brewmaster-led tour or just chill out in the beer garden.
But my favourite European airport would be Amsterdam's Schiphol Airport. Artfully integrated into the European railway network, its ease of access and connectivity is masterful.  But if you find yourself killing time at Schiphol, there's two headline sights. Schiphol is renowned for its rotating exhibitions of Golden Age masterpiece paintings from the Rijksmuseum. They've also established a complimentary library in the international terminal with a collection of 1200 books translated into 29 languages. It's a restful space to while away your wait.
If you listen to Donald Trump, he often rails out at what he calls the USA's "third-world airports." "They're dumps," he routinely decries. Navigating your way through the TSA screening routine would exhaust the patience of a saint, but many US airports are trying to lift their game, beyond the basic amenities.  Since Air New Zealand shifted into the substantially refreshed Tom Bradley Terminal at LAX, Kiwis will have noticed the retail and leisure offerings have improved out of sight.
Charlotte, North Carolina pioneered the rollout of hundreds of white wooden rocking chairs into airport terminals, in the spirit of the South. Dozens of airports across the USA have replicated Charlotte's move. The big trend at the moment is yoga rooms. San Francisco and Dallas kicked it off and it's spreading like wild fire. But LAX made a big splash with its dog therapy programme. For the past couple of years, 30 trained dogs and handlers have roamed the departure lounges, interacting with passengers, offering comfort and cuddle time, in a bid to de-stress the airport experience. It's proven to be a winner.
If you've landed in Sin City by plane, you'll know that McCarran Airport greets you with its vast bank of 1300 slot machines. Yes, you could play on the pokies until you're bust, without even leaving the airport. And many do, because the airport rakes in over $30 million a year from the machines. But there's some serious jackpots at stake on these airport slots. When I swung through Las Vegas recently, a local woman had just won a million dollar jackpot on the terminal pokies. She wasn't even flying anywhere.
But amongst all of the competing amusements airports deploy around the world, Sao Paulo would get my gong for offering the most unorthodox attraction. Cut-price dentistry. Just inside the main departures terminal, a spotless clinic houses a small team of licensed dentists. They'll do everything from quick cavity fillings, scale and polish cleanings and teeth whitening. All of the services are done at a tenth of the standard cost in the USA, so it's ridiculously popular with American travellers.