Mike Yardley: The soul of St. Petersburg
Author

Publish Date

Thu, 10 Nov 2016, 7:31pm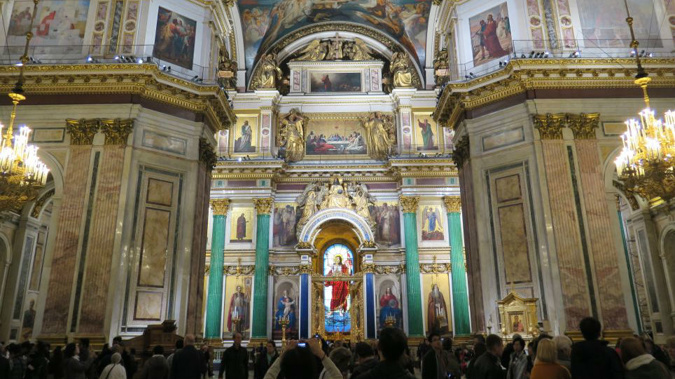 Mike Yardley: The soul of St. Petersburg
Author

Publish Date

Thu, 10 Nov 2016, 7:31pm
For a taste of St. Petersburg's soul, there are two churches that must appear on any self-respecting cultural check-list. Introducing, St. Isaac's Cathedral, the world's fourth largest cathedral with a gilded dome covered in 100 kilograms of pure gold. Piercing the city skyline, the interior is equally astonishing, swathed in precious stones, with many locals considering the wrap-around opulence quite indecent.
Tsar Alexander I commissioned its construction in 1818 to celebrate his triumph over Napoléon, but it took more than four decades to complete. The building sits on 10,000 tree trunks that were sunk into the swampy land to sure up its foundation, by hundreds of workers. Tragically, historical data suggests 20,000 of the 400,000 workers who worked on this behemoth actually died on the job – many were killed the vapours emitted by the toxic mercury that were used in the gilding process.  The church has played witness to some remarkable turns in history.
A Foucault pendulum once hung here to demonstrate the axial rotation of the earth, but it was removed in the late 20th century. After the 1917 Revolution, the cathedral was swiftly closed to worshippers and not re-opened until 1931 as a museum. During World War II, the cathedral suffered from Nazi shelling and you can still see some damage and bullet holes on the columns. The gold dome was painted black to try and minimise the threat of it being targeted by enemy fire. To help residents survive the 900-day Nazi blockade of the city, the grounds were planted with cabbages.
Post-communism, St. Isaac's is once again a working Orthodox church. My local Trafalgar specialist, Deena, poignantly remarked that one of her abiding childhood memories during the Soviet years was what happened during Easter time. Coming from a proud Orthodox family, she recalled how the State TV channels would always play the very best movies over the Easter period, to try and distract people's attention from their spiritual thoughts. "Cynical mind control," she huffed. 
Across the road from the church, Deena pointed out the unassuming canal-side building from where Russia signed the agreement to give Alaska to the United States. The Russians described Alaska as "a hopeless block of ice." History slaps you in the face at every turn. Across the other side of the church is Hotel Astoria. This was the hotel that Hitler had planned to hold his party, to celebrate Germany's victory over Russia. The invitations were printed and sent out – but Hitler failed to seal the deal by taking St. Petersburg.
Similarly wreathed in historic drama, the Church on Spilled Blood is another essential experience. The highly ornate, medieval-Russian style, with its mountain colourfully swirling cupolas topped by golden crosses may look familiar. The architect, Alfred Parland, was consciously aiming to copy the frenzy of Moscow's St. Basil's. The churches inception is steeped in tragedy, commissioned by Alexander III to memorialize his father's death, Alexander II, who was killed on the site in 1881 by a terrorist's bomb, prompting locals to come up with the Spilled Blood reference.
The soaring height of the cathedral, 81 meters, symbolises Alexander II's year of death. Opened in 1907, it was promptly closed by Stalin in the 1930s and suffered extensive damage during World War II. A bomb became lodged in the central dome during the war, but miraculously it didn't detonate. Meticulously restored and reopened in the 1990s, glittering mosaics stretch from floor to ceiling, over a mouth-watering 70,000 square feet.
Gold leaf and elaborate stone carvings and gold leaf adorn the walls, pink Italian marble paves the floor, and the stupendous altar is built entirely of semiprecious gems and supported by four jasper columns. Exalted by this all-consuming splendour, Deena pointed out how amongst the painted scenes of martyrdom, there is one that draws a parallel between the tsar's death and the crucifixion of Christ. It is a wondrous church in an equally wondrous metropolis.
As an optional excursion with Trafalgar, I visited Yusupov Palace to learn about the plot to murder Rasputin.  This mystic was a wandering peasant who ultimately came to exert great power over Nicholas II, Russia's last tsar. The royal family fell under his spell when, claiming to have visions of the future and special healing powers, he began to work his magic on Alexei, Nicholas's young son. Alexei suffered from haemophilia, but when Rasputin prayed over the child, the story goes that haemorrhaging mysteriously stopped.
The tsarina, Alexandra, strongly believe that without Rasputin, her son wouldn't live, so Rasputin became a regular palace visitor, which created much consternation. He was accused of scandalous misdeeds, including rape, and exerting too much political control over the royal family. A number of people eventually tired of Rasputin's influence and conspired to murder him. In December 1916, Rasputin was lured to the palace of Prince Felix Yusupov, where he was fed cakes and drinks laced with cyanide. To the shock of his would-be assassins, Rasputin was unaffected by the poisoning.
In blind desperation, they shot him several times and beat him before dumping him into the Neva River's frigid waters. When his body was later retrieved and autopsied; the results purportedly showed that he died of hypothermia, not cyanide or gunshot wounds.  Yusupov Palace has been restored with period furnishings to preserve the historic setting of one of St. Petersburg's most dramatic and tragic stories, leading up to the Russian Revolution. Walking through the evocative rooms of the palace and seeing where Rasputin was poisoned is an intriguing encounter with raw history.
One of my biggest takeaways from visiting St. Petersburg was the sobering appreciation of how battle-scarred Russians are. Sacrifice and hardship is in their DNA. A century of war and conflict has badly mangled the gender mix. Even now, there are 10 million more Russian women than men. And it will take another century to fully correct that imbalance.
Russia's economy is like a rollercoaster too. It is a surprisingly more affordable destination than I had envisaged. The ruble has cratered in recent years – you'll double bang for your buck compared to just two years ago.
Ahead of Russia hosting the FIFA World Cup in 2018, you'll notice some colossal infrastructure projects taking shape, including a new highway connecting St. Petersburg with Moscow. Currently, a road trip between the two cities is a soul-sapping 2 day affair. My Trafalgar trip opted for the new high-speed trains, which now zip between Moscow and St. Petersburg in just four hours. On arrival at St. Petersburg Airport, you'll notice the old and austere looking Stalin-esque terminal, alongside the shiny new international terminal. It was like a snapshot of a nation in heady transition, wrestling with its past while building for tomorrow.
Travelling with Trafalgar is the ideal way to dip into Russia for the first time. Alongside the exceptional local specialists, my travel director was equally illuminating and entertaining. Kiwi-born, Malcolm Macrae, has been navigating Trafalgar groups for twenty years. Originally from Wellington and married to a Belarusian, Malcolm is now based in Minsk. With a wry humour he remarked that Belarus is more authoritarian than Russia and a source of much inspiration for Vladimir Putin.
Mike Yardley is Newstalk ZB's Travel Correspondent on Saturday Mornings with Jack Tame.