Mike Yardley: The great New Zealand summer
Author

Publish Date

Sat, 28 Oct 2017, 3:11pm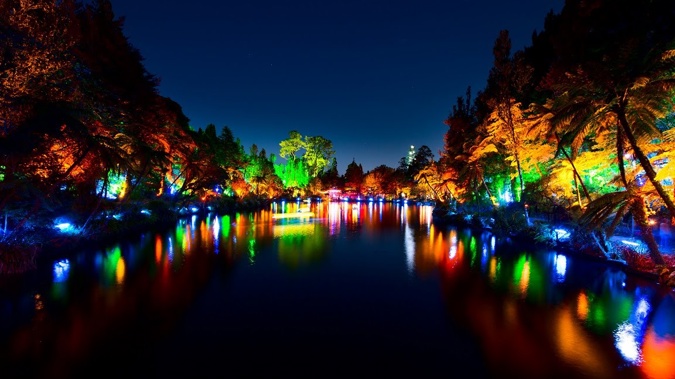 Mike Yardley: The great New Zealand summer
Author

Publish Date

Sat, 28 Oct 2017, 3:11pm
New Zealand is back up in lights in the Lonely Planet universe, lauded as one of the best countries to visit in 2018. Remember that patriotic rallying cry from years ago, "Don't Leave Home 'til you've seen the country?' It seems just as apt today. From top to toe, we're a blessed little nation, brimming with sightseeing possibilities, knock-out scenery and unrivalled wilderness experiences.
So as we wallow in the warm marketing glow of Lonely Planet's cleavage, what's on the radar this summer to add extra zing to a great Kiwi getaway? Enclosed is a selection of stand-out events and exhibitions, strung across the length of the country, that you may well want to thread into your domestic holiday plans this summer.
If you're looking for a flavourful pre-Christmas break, wing your way to the radiantly elegant Whitestone City, where people swooned over its impeccable Victorian architecture and steam punk love affair.  The Victorian Celebration Festival runs from Nov 15-19 in Oamaru, with a chocca programme of activities. Penny Farthings, period costumes on parade, lavish balls, walking tours, vintage steam trains, extravagant retail window displays…Charles Dickens would feel right at home in this unabashed orgy of Victoriana.
The theme of this year's festival is Crime & Punishment and the fabulous Forrester Gallery features an interactive exhibition called Rogues Gallery.  It showcases the invention of mugshots and the history of their use in New Zealand. It's been created with the support of the New Zealand Police Museum. www.vhc.co.nz
Rotorua's inaugural festival, Mudtopia, made quite a splash several months ago – arguably for all of the wrong reasons, when the proverbial hit the fan over the council's plans to import mud from South Korea to go on display at the Rotorua event. Given its geothermal wonders, with all that boiling, hissing and steaming mud, the festival is a perfect fit for Rotorua, which was inspired by the fiendishly popular Boryeong mud festival in Korea, which has been a global crowd-puller for 20 years.
Rotorua's inaugural Mudtopia Festival will be a three-day bash, kicking off on December 1 with a stack of mud-related activities, spa and wellness experiences, a mud market and concerts. You can get really down and dirty in the mud wrestling competitions or try your hand at the horizontal mud bungy. Some serious public coin has been lavished on developing this festival, so let's hope the ratepayer doesn't take a bath, financially speaking. www.mudtopia.com
After the ill-fated purchase of the Ellerslie flower show brand by the Christchurch City Council and its subsequent axing, it's been quite some time since New Zealand staged an internationally-recognised botanical show. So it's great that the New Zealand Flower & Garden Show will premiere late next month in Auckland. Brimming with international display gardens and all of the fun, interactive features you'd associate with the Ellerslie of old, whether you're a hobby gardener or horticulture professional, make a date with the show. It's on from November 29 to December 3 at Trusts Arena, Waitakere. http://nzflowergardenshow.co.nz/
Te Papa has cultivated a strong reputation for turning on a summer blockbuster and this year's banner attraction is all about LEGO. Let's go Build is a LEGO festival for all ages, running right across the summer months from December 9. One of only fourteen LEGO Certified Professionals globally, Ryan McNaught (aka Brickman), will bring some of the world's most iconic landmarks and masterpieces made exclusively from LEGO bricks to Te Papa this summer.
Ryan's team have spent a gob-smacking 4,944 hours building the 50 LEGO masterpieces including the Taj Mahal, Michelangelo's Statue of David, The Great Wall of China, the Empire State Building (complete with King Kong), the Leaning Tower of Pisa and the Arc de Triomphe. It will be super interactive with LEGO fanatics able to complement the masterpieces with add-ons, like building cars for the traffic jam around the Arc de Triomphe. The event was a runaway success in Australia and is destined to be a major hit in Wellington. Tickets go on sale November 6 from Ticketek. www.tepapa.govt.nz
Just as those coloured building blocks continue to capture the inter-generational imagination, so do ancient beasts. If you're heading down south, Otago Museum invites you to step back in time, a mere 290 million years, when bizarre-looking animals dominated life on land and sea. Life before Dinosaurs: Permian Monsters, recently opened at the Otago Museum and runs until the end of February. This unique international touring exhibition, produced by Gondwana Studios, brings the past back to life with fossilised skeletons and life-size animatronic models of the animals that ruled the world millions of years before the age of dinosaurs, in a time known as the Permian.
The Permian period ended with the largest extinction Earth ever experienced, which wiped out 90 percent of all species on the planet. A recent discovery shed new light on the cause of this catastrophe – global warming. Started by a huge volcanic eruption, it set off a chain of events that led to the greatest extinction on Earth. View fossilised skeletons and reconstructed models of these strange and amazing creatures, and dig and identify fossils in the interactive dig pits throughout the exhibition. http://otagomuseum.nz
Back in Wellington, the clock is ticking on two landmark exhibitions that were crafted in memory of World War One. Open since 2015, it's the last summer for Gallipoli: The scale of our war, at Te Papa. Bringing together the award-winning craftsmanship of Weta Workshop and the storytelling expertise of our national museum, the exhibition will close on April 30, 2018. Meanwhile, The Great War Exhibition, at the Pukeahu National War Memorial Park, will close on New Year's Eve.
Created by Sir Peter Jackson, the stunning array of movie-like sets depicts the war; scene by scene; year by year. From the massive 10-tonne tank and 11-tonne gun to the 5,000 tiny hand-painted figurines which re-enact the battle of Chunuk Bair, the artefacts are rare and the presentation is compelling. But it's the hundreds of photographs from the era, which have been painstakingly colourised, that really melt away the last 100 years. Don't miss this truly world-class exhibition.
It might well be my favourite Kiwi summer headliner, the TSB Festival of Lights, which transforms New Plymouth's Pukekura Park into a lavishly illuminated night-time wonderland. Opening on December 16 and running until early February, over 100,000 visitors flocked to last year's starry-eyed spectacle. http://www.festivaloflights.nz/
I also have a major soft-spot for one of New Zealand's oldest summer beach carnivals, the Caroline Bay Carnival. Timaru's big bash celebrates its 107th outing this summer, running from Boxing day for a fortnight, with a daily and nightly programme of family fun, live entertainment, fairground rides talent quests and  competitions. There's a timeless, old-fashioned vibe to the carnival. A Kiwi classic. http://www.carolinebay.org.nz