Mike Yardley: The Bounty of Bologna
Author

Publish Date

Tue, 20 Oct 2015, 3:58PM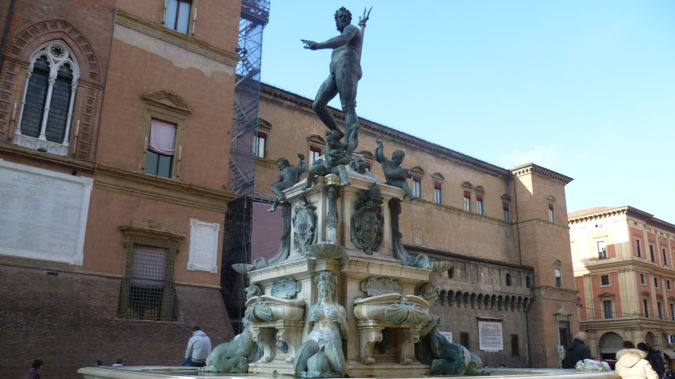 Mike Yardley: The Bounty of Bologna
Author

Publish Date

Tue, 20 Oct 2015, 3:58PM
Do you know what the most shoplifted grocery item is in Italy? Parmesan cheese! This was just one of the myriad morsels of enlightenment I gleaned, when touring Italy, wending my way north from the toasted farmhouses and harmonious landscapes of Tuscany, to the epicurean mecca of Emilia-Romagna. 
The capital of this bountiful region is Bologna, a city that has a grittier urban edge than some of the more trafficked tourist hot-spots like Florence, studded with redbrick towers and a 40km-long network of arcades.  Nicknamed  " La Rossa",  on account of its red roofs and reddish porticoed architecture, it's also the colour of Bologna's greatest gift to students across the world - spaghetti Bolognese. The city's red-tiled roofs tumble out before you like a red carpet from the 12th-century leaning Tower of the Asinelli. 
All roads lead to the city's buzzing hub, Piazza Maggiore, dominated by the unfinished Basilica di San Petronio.  It's been that way since the 16th century, when the pope halted work to stop it outdoing St. Peter's Basilica in Rome. The Piazza Maggiore is the centre of the Bolognese universe or  "the belly-button of the cosmos". As Belinda pointed out, locals like to claim that tortellini are modelled on Venus' navel.
A charming superstition lives on at the fountain of Neptune, which was built in 1566. You'll often notice young people circumnavigating the fountain deep in thought. Apparently it's an order to pass an important exam, as many students practice the centuries-old tradition of running two counter-clockwise laps around the fountain. 
But it's the mouth-watering cuisine and gastronomic artistry that will command your attention. Scratch beneath Bologna's surface  and you will discover a city of very old bones,  riddled with atmospheric nooks and crannies, ripe for exploration.  If it's raining outside, take cover under Bologna's sprawling network of intricately decorated porticoes, spanning the historic city centre. Dip into the Bolognesi gourmet obsession and marvel at the city's sublime hole-in-the-wall delicatessens. 
Mercato di Mezzo and Mercato delle Erbe are the city's biggest food markets. Mezzo, is handily located behind Piazza Maggiore, within a network of old Roman cobblestoned streets.  Via Drapperie, Via Clavature, Via Pecherie  and the surrounding pedestrian alleys are lined from end to end with exuberant displays of produce, cured meats, cheeses, specialty items and seafood. Do not miss Tamburini , at Via Caprarie 1 , one of Italy's celebrated food shops. You can choose from an dizzying array of gastronomic delights, including meats and fish, soups and salads, vegetables, sweets and fresh pasta. Made in-house, the crescentine (fried flat bread) stuffed with prosciutto or olives— is a smash-hit.
Bologna loves its nicknames and another widely used city epithet is "la grassa", which translates as the fat lady. Emilia-Romagna is replete with celebrated produce, the key signatures being prosciutto ham, balsamic vinegar, parmesan cheese and tortellini. My palette delighted in sampling these authentic flavours in artisanal settings, all over Bologna.
Head to La Baita, the ultimate formaggeria, which does its own version of Parmesan called Sua Maestà il Nero, as well as the delicate squacquerone, a soft and creamy dairy milk cheese with a mild flavour and a pleasant acidic tinge. A profusion of exquisite breads, cakes, pasta, and pastries makes Paolo Atti & Figli, appointment viewing in Via Caprarie.  If you want chocolate, head to Majani, Via Carbonesi 5, which claims to be Italy's oldest sweets shop, a confectionary purveyor since 1796. And stop by Rosa Rose, a legendary spot for an aperitivo. Locals flock here to play cards, share snacks and enjoy a glass of wine. It's also one of the so-called "posti da struscio" —a place to go, to see and be seen.
If you head to Mercato delle Erbe, located on Via Ugo Bassi, there is a divine hand-made pasta shop, Le Sfogline, that the locals swear by. Their tortellini dishes are heart-stealers. There's the standard tortellini stuffed with spinach and ricotta and seasonal vegetables.  And then there's the tortellino, which is filled with mortadella, prosciutto, egg, buttery pork loin, and Parmesan. It's flavoured with nutmeg, a common Bolognese spice, and traditionally served in broth. Lip-smackingly divine.
Accessing Bologna is now decidedly easier, with Emirates connecting Kiwis to Italy's epicurean mecca, with direct flights from Dubai, commencing early November.
Mike Yardley is Newstalk ZB's Travel Correspondent on Jack Tame Saturdays. 11.20am