Mike Yardley: The Artisans of Geraldine
Author

Publish Date

Fri, 17 Jul 2015, 3:28pm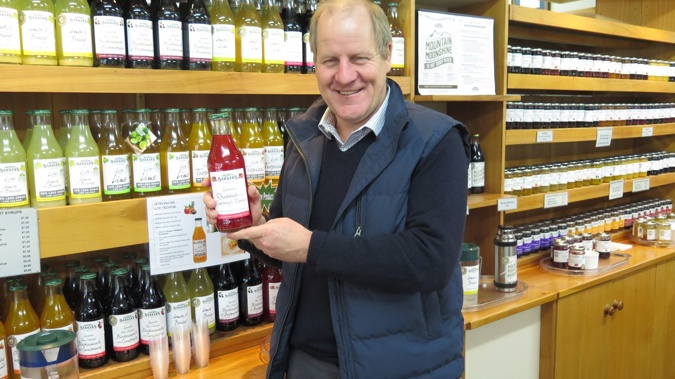 Mike Yardley: The Artisans of Geraldine
Author

Publish Date

Fri, 17 Jul 2015, 3:28pm
It's a blessed and bucolic little beauty, nestled at the eastern foot of the Southern Alps. Pint-sized Geraldine continues to nourish and nurture its gold-star status for gourmet produce and artisanal prowess. Punching well above its weight, the goodness of Geraldine is flourishing.
Fortuitously located on the main tourist route for South Island road-trippers from Christchurch to Queenstown, the South Canterbury village has long-been a familiar pit stop for travellers. It's a routine morning coffee stop for many a coach tour and independent traveller. But what can you achieve in a fleeting thirty minute refresher? Grab a coffee, answer a call of nature and perhaps duck in to the Barker's shop to swiftly snap up some famed fruit preserves and juice. 
But Geraldine is a classic case in point of why slow travel rewards the unrushed. Something recent that is fast taking root across town is the Incredible Edibles movement, skippered by Sam and Rebecca Lees.
All across Geraldine, edible beds are being established in public spaces or private gardens, growing fresh produce, which  people are free to pick, whether they have tended the plants or not. Schools have latched onto the movement, growing seedlings which are then planted in the garden beds. It is literally growing the sense of community.
It's diminutive size belies its surprising spoil of offerings - natural, handcrafted and historically preserved, to share with the world. It was the artisanal draws that I focused my sights on, on my last outing to Geraldine, but first I staked our some historic nuggets. Housed in a storybook-pretty stone building, circa 1885, which was previously the Town Board Office, Geraldine Museum is an old-school classic, with drawers to rifle through, chocca with meticulously presented memorabilia.
The gorgeous little museum does an impressive job in narrating you through the town's fascinating history and its early roots as a timber production and sheep farming town. One of the nuggets I gleaned from the museum was local linen flax was produced into ropes that supplied the British Navy in World War II. Amongst the electic mix of exhibits are the treasured photos of the changing townscape, a pump organ which you're welcome to play, and the brilliantly preserved telephone exchange, with its spaghetti junction of slots, switches and chords, which was only retired from service in 1987, after 84 years.
Around the corner, head down Talbot Street and marvel at the 90 year old Hansel and Gretel-style style theatre, the Geraldine Cinema. Built by voluntary labour, the playful heritage building screens a diverse appetite of blockbusters and arthouse flicks, and you just pull up a sofa, when choosing where to sit! Further down Talbot Street, I had arranged to meet Allan Coker and David Falconer, two of the 60-strong team of volunteers who are the power behind the Geraldine Vintage Car and Machinery Museum. Salt-of-the-earth chaps, with that classic country charm, I was guided around the museum's staggering trove of  wheeled and winged treasures.  
Amongst the 2000 exhibits, admire the only surviving 1929 Spartan biplane in the world( which was used as an air taxi across the Cook Strait); John Britten's campervan; the Royal Daimler that spirited a young Queen Elizabeth II around New Zealand in 1953 on her first royal tour; a Delage bought by Robert Morrison ( who founded the museum)  from the Paris Motor Show in 1923; a 1925 Harley Davidson Hearse sidecar; and the oldest car on show, a 1907 De Dion-Bouton, which remains in untouched condition. Allan remarked to me that most Asian visitors are fascinated by the machinery, because most Asian countries didn't experience the Industrial Revolution. Steadfastly focused  on preserving the district's heritage, this vast cornucopia of vintage machines certainly lives up to its reputation as one of the finest such collections in the Southern Hemisphere. The museum is open daily from September to May, and through the winter months on the weekends, or by appointment. 
Another singular Geraldine experience can be found at The Giant Jersey shop, in Wilson St. As the name would suggest, this handcraft knitwear store, run by Michael and Gillian Linton, possesses a very large jumper. Measuring 16ft from wrist to wrist, and 7ft high, the 5.5kilogram jersey was officially recognised by Guinness World Records, in 1999, as the planet's largest jersey. At the rear of the premises, Michael and his daughter, Rachael, spent two decades creating another striking Guinness-recognised artwork. They recreated the famous medieval mosaic, the Bayeux Tapestry, which depicts the Norman conquest of England in 1066 and the Battle of Hastings. Comprising over two million tiny steel pieces, discarded from knitting machine patterns, the Guinness folk recognised the pain-staking work of art's 42 metres of panels, as the world's largest steel mosaic.
Beyond these remarkable handcrafted feats, the Giant Jersey stocks a fabulous range of merino and mohair wool jerseys, and they will even make you one to measure. Next door, pop into Pauline's appealing emporium of baking supplies and giftware in the Cottage Pantry.  The shelves are stocked with brown paper bags containing a plethora of baking supplies, where the accent is on preservative and additive free ingredients, specialist flours, organic and gluten-free products, grains and pulses.  Pauline's supplies are distributed all over the South Island.
Four Peaks Plaza has become a foodie nirvana, a one-stop-shop for many of Geraldine's signature tastes. This is where you can nibble on some divine cheeses from Talbot Forest Cheese. Head cheese maker, Paul Fitzsimons, passionately shares his skills at local cheese making sources.  The cheese company takes its name from the last remaining remnant of ancient podocarp forest, that once covered all of Geraldine.
The forest is just a 5 minute walk from the town centre. Much of the podocarp forest was destroyed in just 25 years, supplying the timber to first build Timaru, Ashburton and Christchurch. Talbot Forest Cheese pays homage to the region's geography in its brand names, like the Mt Peel blue, Castle Rock and cheekily named Canter-brie.
Four Peak's Plaza is also where you will find the Barker's Shop and tasting room. The fruit-products emporium sells wines, juices, sauces, preserves, chutneys, smoothies and jams. Barker's is of course a barn-storming Kiwi success story, with 46 years of family-run production under its belt. This signature Geraldine brand, in no small part, underpins the vitality and esteem of the town's artisanal credentials. 
I had the pleasure of meeting up with Michael Barker in the shop, for some fresh insights into the enduring success of the family firm.  Passionate, driven and utterly charming, Michael waxs lyrical about the manifold health benefits of blackcurrents. The fruit syrup remains a blazing big-seller for Barker's, who also produce a lite version, with 50% less sugar. Not one to rest on his laurels, Michael explains that the company is always striving to make the very best products, that remain "vibrant and relevant". It is quite clear that Barker's has been ahead of the curve, with its concerted effort to reduce the sugar content from much of its range. In fact, many of their delicious jams can no longer legally be called jams, because they have replaced so much sugar with added fruit content. 
The Kiwi palette for hot and spicy sauces is on fire, and six new sauces will soon be unveiled, to complement current favourites, like Jamaican Jerk Sauce. One of their hottest new fruit syrups is Squeezed Rhubarb with Raspberry & Rosehip. It will be a quintessential drop for garden parties this summer. Ladies, just add soda to this light and lovely mix. With a mind-boggling product range of 600 items, the Barker's Shop is a hive of complimentary sippings and tastings. And the staff are only to happy to enhance the experience with their expertise. You won't find such  a comprehensive range of Barker's products in the local supermarket. If you run out of room in the car for your fresh stocks, gift-packs can be couriered, and you can order online. 
Finally, I headed out of town, for the short ten minute hop through to the Gapes Valley for a spot of lunch and beer tasting at the Valley Brewery Company Café. Celebrating its third birthday this month, this finely crafted beer business is owned and operated by Raewyn and Philip Olde-Olthof. When I mentioned to some locals I was heading there for lunch, their drooling lips exhorted me to order the battered blue cod. They couldn't have been more right. Philiip is not just a distinguished craft brewer, but his family have a long legacy in the fish and chips trade. The beautifully flavoured pale ale batter, like a slinky golden skin encasing the cod, was divine.  Offering a diverse menu of good honest fare, where everything is baked or cooked in the kitchen, is open from breakfast to late in the afternoon, 7 days a week. Hours are extended on Friday and Saturday nights, when the place really buzzes. Good places attract good people.
Recently, during the severe snow storms, many of the valley locals found refuge in the café, which has a self-sufficient generator – and a cracking log fire. But the top draw is unquestionably the fabulous craft beers. A Tasting Paddle will cost you just $8, allowing you to sample six craft brews with enticingly named Harvest, Wheat, Amber, Pale Ale, Red October and Jinja Beer. 
The latter is their fiendishly popular non-alcoholic ginger beer, "just like Grandma used to make." Plus you can also sample their silverware-winning beers, Muster ( a traditional red ale) and Blackberry Porter ( a winter brew with a vibrant berry finish.) Needless to say, Philip and Raewyn do a brisk takeaway bottle store trade.