Mike Yardley: Taking a punt on Cambridge
Author

Publish Date

Fri, 2 Dec 2016, 4:00pm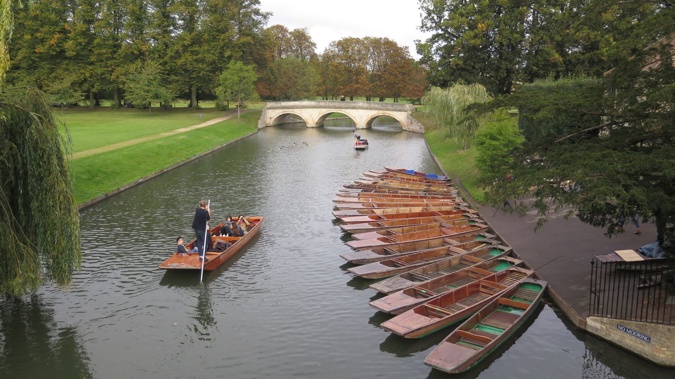 Mike Yardley: Taking a punt on Cambridge
Author

Publish Date

Fri, 2 Dec 2016, 4:00pm
For a quick and easy antidote from London's big-city buzz, take the one hour train trip north to time-honoured Cambridge. The northern sprawl of London empties out into the pastoral countryside of East Anglia – and before you know it, the train rolls into Cambridge. The intermingling of academic elitism and unswerving tradition wafts through the cobbled streets of Cambridge.
Like Oxford, this most English of English cities is anchored by its sprawling scholarly mecca. Cambridge is the second oldest university in the English speaking world, founded in 1209 when a group of Oxford scholars had a tiff with local townsfolk, upped sticks and established their own prestigious university. With an alumni roster second to none, the university has produced more than 80 Nobel Prize winners and some of the world's greatest thinkers.  Needless to say, getting a taste of these hallowed halls, where you can walk in the footsteps of Charles Darwin, Francis Bacon and Isaac Newton is central to the essence of Cambridge.
As is soaking up the majestic architecture, inside and out, where young scholars disappear from view behind gigantic oak doors and medieval entrance gates, straight out of a storybook.  Cambridge University comprises 31 colleges, all exuding their own distinctive qualities, from the lavish grandeur of King's, Corpus Christi and Trinity to the more imitate halls of learning, like the Tudor charmer of Queens' College.  Take a tour of the colleges and indulge in the eye-ball feast of architectural splendour, spanning 700 years. Each college has its own admission policy, however most are welcoming with hospitable porters.
Trinity College is a stand-out, established in 1546 by Henry VIII, following the merger of several older colleges, including Michaelhouse and King's Hall. Beyond King Edward's Gate, Trinity Great Court, is Cambridge's largest court, laid out in 1600. It featured in Chariots of Fire. Christopher Wren added the library, with its old oak bookcases and fine lime wood carving. Exhibits include Sir Isaac Newton's walking stick, a lock of his hair and a first edition copy of his famous Mathematical Principles of Natural Philosophy.  Not to be confused, Trinity Hall is also a highlight. Founded in 1350, Trinity Hall has an impeccably preserved Elizabethan era library, complete with books chained to shelves.
The sublime photogenic glory of King's College gave my camera a solid work-out, but the prize draw is King's College Chapel. Henry Vi started building the chapel in 1446 which is renowned for its 12-bay Perpendicular style interior, the world's largest fan vaulting, medieval stained glass and the alter-piece, Rubens' Adoration of the Magi. For free entrance and to soak up the college choir in full voice, attend evensong at the chapel.
In a city not short on curious scientific contraptions and instruments, a quirky attraction is the Queens' College Moon Dial. Painted on an exterior wall of the college in 1733, the timepiece has an accompanying table that can be used to read the shadow cast by the light of the moon. Even with the table, however, a series of four mathematical calculations has to be carried out by anyone wanting to know the time. Oh, the effort! Then there a clock that is only accurate every five minutes, perhaps because it has neither hands nor numbers. You can find this timepiece, the Corpus Clock, at Corpus Christi College.
The pleasure of river punting began as a gentle Edwardian pursuit on the Thames. Introduced to Cambridge and the River Cam in 1902, the love-affair has never ebbed. Today, there are more punts on the Cam than on any other British river, underscoring Cambridge's bragging rights as the "Home of Punting.  It's a leisurely way to take in Cambridge's landmarks, as you glide past the "Backs" – the grassy river banks at the rear of the colleges. You'll encounter the Bridge of Sighs of St. John's College, named after the famous arch in Venice. There's also the lovely old Mathematical Bridge, who some claim was built by Newton from nothing else but wood. No nuts, no bolts. It was actually built by James Essex in 1749. Plump for a punt with Scudamore's Punting Company, the oldest operator on the Cam, founded in the early 20th Century and staffed by preppy undergraduates, providing first-hand insights on Cambridge life.
 There's a swathe of museums worth musing in Cambridge, starting with the exceptional finery of the Fitzwilliam Museum. Within this monumental neo-classical palace, admire a vast stash of Renaissance  and Golden Age Dutch masterpieces, collected by Viscount Fitzwilliam, who also funded the construction of the museum. It also boasts a magnificent collection of English pottery and china; Greek, Roman and Egyptian antiquities, and English works by Hogarth, Gainsborough and Turner.
Another top attraction is the Polar Museum, which will particularly resonate with Kiwis, because of its extensive focus on the ill-fated expedition of Captain Scott.  The poignant last letters written by members of Scott's team to their loved ones tug at your heart.  Amongst the variety of exhibits is Captain Oates's sleeping bag, slit open so he could manoeuvre his badly frostbitten feet in and out.
Another famous figure whose legacy abounds all over Cambridge is Charles Darwin. From his time at King's College, to the various collections of rocks and plants he brought back from his ground-breaking expeditions on HMS Beagle, Darwin's story is lustily showcased at several museums, including the Sedgwick and the Zoology Museum.
Keen to try some of Britain's best buns? Take tea and buns at Fitzbillies, a Cambridge institution. With its beautiful art nouveau shop front, Fitzbillies is famed for its sticky Chelsea buns, produced on-site for 85 years. They regularly scoop awards for producing Britain's best Chelsea buns.
Another unmissable old time hangout is The Eagle, which mixes frothy ales with scientific tales. Dating back to the 14th century, it's one of the town's oldest inns and just a few blocks from Corpus Christi College. For seven hundred years, the pub, which is owned by the college, has been a favourite "local" for scientific scholars. It was here in 1953 that James Watson and Francis Crick announced to fellow lunch patrons that they had discovered "the secret of life" or DNA as we know it today. You'll also notice the ceiling and walls of the rear bar, nicknamed the RAF Bar, are covered with signatures of WWII airmen, adding to the pub's infectious character.
Whether you take in Cambridge as a day-trip from London or longer, take the train. If you're planning to trip around the UK, make tracks with a Brit Rail Pass. Reservations are not required on British services, so you can automatically board with your Brit Rail pass. Book a pass option that best suits your needs, before you leave home through Rail Plus. www.railplus.co.nz
Mike Yardley is Newstalk ZB's Travel Correspondent on Saturday Mornings with Jack Tame.