Mike Yardley: Take time in Geneva
Author

Publish Date

Wed, 10 Jan 2018, 3:58pm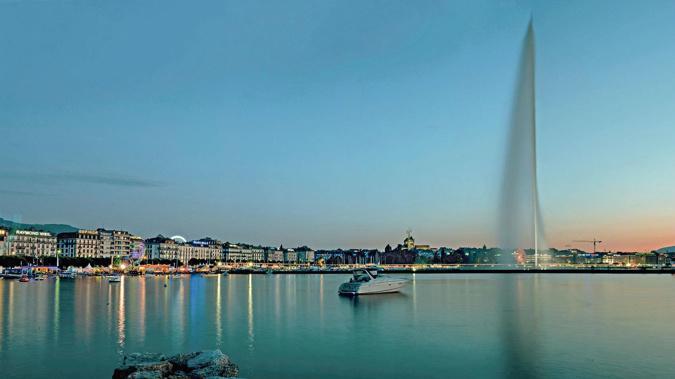 Mike Yardley: Take time in Geneva
Author

Publish Date

Wed, 10 Jan 2018, 3:58pm
Time doesn't stand still on Rue du Rhone. There I was, window-shopping on this celebrated, centuries-old street, immersed in ticking timepieces in the world capital of watch-making. Geneva's Rue du Rhône is a revelation, with its dazzling parade of diamond-encrusted watchmaker shops. A star specimen is Bucherer, one of the real old-timers, who stock the world's biggest selection of Rolexes.
I gazed incredulously at a limited edition platinum Rolex, glinting at me through the window, with a price-tag of NZ$60,000. Gulp. Further up the time-honoured street, I swooned over the wondrous, over-the-top timepieces at the funky boutique watchmaker, Marconi. Willy Wonka would approve. Draping the immaculate Jardin Anglais on the lakefront, Geneva's enormous Flower Clock is an essential selfie stop – and true to Swiss form, it never misses a beat.
Unlike her glittery Swiss siblings, like Lucerne, Geneva remains a largely under-the-radar destination for Kiwis. But this very compact low-rise city can be easily conquered in a day or two, packed with quirk and medieval character, slung around a stunning lake, with the Alps floating on the horizon. It's also residence to some global heavyweights, like the Red Cross and the United Nations' European headquarters.
I sauntered through both complexes, swooning over the enormity of the UN's Assembly Hall. Being the city that founded the Red Cross, the museum was particularly illuminating about their global reach and mighty deeds. Make a date with the fountain – Jet d'Eau, Geneva's gushing icon, that has inspired plenty of imitation efforts. Yes, hello Canberra. A gob-smacking seven tonnes of water is airborne at any one time at Jet d'Eau.
To fully appreciate its immensity, walk along the breakwater from the lakeside and stand under this monstrous shaft of spritzing water. It looks particularly impressive come nightfall, when it's radiantly illuminated. Aside from its lavish aesthetic value, the fountain began life in the 19th century, as a safety valve for Geneva's hydraulic power network. Most hotels will give you a free transport pass which includes the chic little yellow taxi-boats, called mouettes.  
And then there's the retro paddle-steamers, gliding the waters as gracefully as swans, that will take you deep out into the lake, as Mont Blanc looms ever larger. Lake Geneva is actually Western Europe's largest lake, so if you have the time, there's a spoil of neighbouring villages and sights to discover.  There's no avoiding the lure of Geneva's insatiable chocolate shops.
One of my all-time Swiss favourites is Laderach who sell their chocolate in a headswirl of flavours, in ridiculously big sheets, the size of A3 paper.  Sweetzerland is trending, given it's all organic affair, with no palm oil, no preserving agents. They do a great line in chocolate truffles, with flavours like forest honey and a ginger and whisky blend - great for pesky head colds.
Hungry for some cultural servings – aside from chocolate? The airy Musée d'Art et d'Histoire is rainy-day-perfect, showcasing some exceptional works by Monet, Renoir, Van Gogh, Cézanne and Picasso. I actually enjoyed the second-floor galleries more, where I got lost in the Genevoise landscapes of the Swiss painters François Diday and Alexandre Calame. You'll also enjoy exploring the Patek Philippe Museum, whisking you through the history of measuring time.
Across three floors, you'll see how Geneva became a watch-making powerhouse. Some most extraordinary watches are on display, like the Garden of Eden, a watch with a second-by-second counting snake. The charming  district of Carouge, giving the city a distinctly bohemian splash, is well worth an exploratory, as is the undulating Old Town, with its imposing medieval ramparts, atmospheric cobbled lanes, sprawling staircases and architectural flourishes.
The Cathédrale St-Pierre serves up unparalleled views from its twin towers. Within the church's austere interior, it was here that John Calvin preached reform in the 16th century, and his uncompromising chair still takes pride of place. Calvin and John Knox found refuge in Geneva, creating their "Protestant Rome."  When in the Old Town, stake out the Promenade de la Treille, an elevated terrace facing out towards the Jura Mountains, laying claim the world's longest wooden bench, at 126 metres.
A great go-to for fondue, Switzerland's cheesy national pastime, is Café du Soleil. What makes their bubbling cheesy cauldrons so good is they only use hand-selected gruyere, giving the fondue a creamy consistency. And when you're finished with the pot, the waiter will perfectly scrape out the crust of toasted cheese at the base of the pot, or the nun, as fondue fanatics call it. Restaurant les Armures is another prized fondue institution. This wood-beamed restaurant with muskets on the wall crowns the Old Town. Bill and Hillary Clinton gorged themselves here in 1994.
Overlooking the lakeside-hugging Jardin Anglais and Jet d'Eau, Hotel Metropole is idyllically positioned to maximise your time in Geneva. The grand old building reaches back to the 1850s, but its proud heritage boldly mingles with ultra-contemporary comforts. I stayed in a freshly redesigned junior lakeside suite, resplendent, stylish and restful, with some spectacular state-of-the-art touches, like the giant mirror TV. I want one!
My bed was like sleeping on a cloud, I had an in-room Nespresso machine and my Spa-style bathroom was the personification of re-energising indulgence, with a steam shower and bathtub. Beyond the supreme breakfast experience, a feast of dining options can be enjoyed, whether you're staying in-house or not. Head to the Mirror Bar for all day dining and cocktails, the glamorous rooftop experience at 5 Lounge Bar and inventive Italian cuisine with a French twist at Gusto.
I enjoyed Gusto's Sunday buffet lunch, which is a smash-hit, swooned over by visitors and locals in equal measure. Hotel Metropole is a proud member of Preferred Hotels & Resorts. For the very best deals and seasonal specials, check out the iPrefer app, which includes member rates and rewards, or book direct at www.preferredhotels.com
I tripped to Europe with Cathay Pacific who operate ultra-contemporary A350-900s, the newest aircraft in the world, from both Auckland and Christchurch. The cabin air quality is decidedly better, I experienced minimal jet-lag, the refreshed CX Entertainment system kept me suitably engaged with excellent movie selections and live news channels, plus in-flight WiFi. www.cathaypacific.com
I zipped my way across Europe's railway tracks with a Eurail Flexi-pass, in Switzerland, Germany and Austria. It's the comfortable, hassle-free and reliable way to get about. Sort your rail plans in advance, by booking tickets or a rail pass to suit with the experts on the tracks, Rail Europe. www.raileurope.co.nz
Mike Yardley is our Travel Correspondent on Jack Tame Saturday Mornings.