Mike Yardley: Take me to Masterton
Author

Publish Date

Fri, 12 Jun 2020, 3:32PM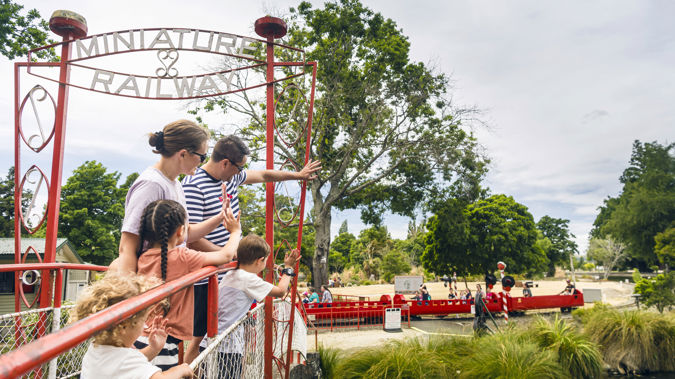 Mike Yardley: Take me to Masterton
Author

Publish Date

Fri, 12 Jun 2020, 3:32PM
A road-trip through the Wairarapa is a refreshing and restorative affair at any time of year, with its fabled platter of food and wine to discover, chocolate-box villages, boutique shopping, scenic outdoorsy offerings and sublime wildlife. I was a little taken aback to mooch into Masterton over Queen's Birthday Weekend, to discover the heart of town was absolutely pumping, heaving with Auckland-sized traffic and milling crowds. And it wasn't just because they have the biggest Paper Plus store in the country. Every hotel and motel was fully booked! Thankfully, I had pre-arranged my accommodation. Now don't get me wrong, I'm not dissing Masterton's credentials as a visitor magnet, but I hadn't previously appreciated why it is such an evergreen family favourite.
For starters, Masterton confidently lays claim to boasting New Zealand's best family park. Queen Elizabeth Park is fawned over by families. Studded with hundreds of old specimen trees, you can ride on the classic miniature train, or the pedal boats on the lake on a pedal boat, there's mini golf, a swing bridge walk to visit the deer and a huge flying fox. It really is a cracker park. Just across the road, Masterton's cultural hub with Aratoi boasting a wealth of historic and cultural taonga. Right next door, I was enthralled by ConArt. As the name suggest, a cluster of containers have been recast as gallery spaces and a local art studio space, where you can interact with a variety of local artists exhibiting and selling original artworks across a range of disciplines, from paintings and photography to sculpture and ceramics. It's constantly evolving with fresh exhibitions.
Proudly home to the Golden Shears, staged every March, Masterton showcases our nation's proud history with wool at The Wool Shed. I love this hands-on attraction, equal parts informative and entertaining – and unique. You can experience the ambience and smells of two authentic old wool sheds, trucked into town from local farms. Videos, models, photos, wool handling and shearing equipment combine to tell the story of the 160 years of shearing history that have resulted in New Zealand being so globally renowned for its premium wool industry.
For a complete change of scenery, and just 15 minutes from Masterton, Pukaha Mount Bruce has cultivated a reputation of being New Zealand's most established and successful wildlife and captive breeding centre. Set across 942 hectares of ancient podocarp forest, it's a national ark for so many endangered species including the takahe, kokako, kaka and the kiwi. A huge draw is the novelty of seeing a little white kiwi, Manukura – due to her rare recessive white gene. Manukura can be viewed in the Kiwi House, although she has to be kept apart from other kiwi, because she has a territorial tendency to pin them down. Don't mess with Manukura! North Island brown kiwi are released into the unfenced forest, but as you may recall, during lockdown, the inability to reset the traps allowed a ferret to wreak havoc in the forest, killing five kiwi.
I enjoyed a walk through Pukaha with my guide, Kylie, who's passion, commanding knowledge and keen humour about her vast menagerie was enthralling. A fun fact I learnt while admiring that gigantic weta sculpture is that weta ears are located on the knees of their two front legs. A masterstroke in the Pukaha experience is the variety of talk and feed sessions, sprinkled throughout the day, which encompasses all of the exhibits, from the timeless tuatara, to hand-feeding the voracious long-finned eels and the birdlife. I met Hawkeye the kereru, so named because he incurred a permanent head injury after repeatedly hitting his head when scared by a passing a hawk. He received plastic surgery.
Then there is Kahurangi the 14 year old kokako. She's a natural diva who prefers the company of humans, particularly men with beards and glasses. Fussy bird! A huge highlight is the Kaka Talk, which should probably be renamed the Kaka circus, because these ridiculously intelligent parrots sure know how to work a crowd and play the clown. Just before feeding time, a cluster of kaka hang out in the trees, buzzing the onlookers with some close-shave dive-bombing. Totally harmless, but irresistibly rascally, their aerial acrobatics are worthy of contention for Wings over Wairarapa! I was staggered to learn from Kylie that these birds are so smart that the kaka at Zealandia in Wellington will often fly in for feeding-time, before heading home.
But if it's your first visit to Pukaha, or haven't been for a while, the runaway blockbuster attraction is the Free Flight Aviary. Costing over a million dollars and opened four years ago, the aviary has been ingeniously designed as a snapshot of restored native forest and it certainly makes you realise how starkly quiet our forests have become. A vast flock of native birds perch, preen, chortle, warble and fly above your head. A feathery fiesta of tui, kakariki, fantails, the rifleman, bellbirds and kereru. Nikau the naughty kaka is in the process of being coerced out of the aviary, after deciding its great fun landing and sitting on people's heads.
The aviary is part of Pukaha's wider mission to bring back the birdsong, through extensive predator control and restoration work up in the forest. Rangitane iwi are actively involved in Pukaha's conservation work, as the forest is the last remaining remnant of the 70 Mile Bush and of major cultural significance. You can join Rangitāne on a 2 hour walk, a Hikoi, to learn about the ancient stories of the Pukaha forest from the iwi perpsective, while enjoying some shared kai and kawakawa tea. Admission charges to Pukaha go directly to the conservation programmes. It's an essential slice of the Wairarapa. www.pukaha.org.nz
Great Masterton eats? Hot-foot it to Don Luciano Café and Roastery. This colourful, charismatic café sports a tantalising menu, irrepressibly cosmopolitan with a strong suit being the South American inspired dishes, although I plumped for a Sri Lankan chicken curry which was spectacular. The onsite coffee roastery imports beans from Honduras, the homeland of the café's delightfully hands-on owner, Marvin. www.donluciano.co.nz
I absolutely adored Saint Sebastian, Masterton's newest restaurant, which serves casual, local, seasonal food and kai moana, with a homestyle menu designed for sharing that accentuates locality, sub-divided into Sea, Earth and Pasture. It's a thriving social hub with a variety of seating options including dining at the bar or alongside the theatre of the open-kitchen. The traffic-stopping building that Saint Sebastian is based in boasts a fascinating back-story. Built in 1926 a Masonic Lodge, the heritage building is fully restored and bathed in a powder blue paint job. www.saintsebastian.co.nz
Another lip-smacking option is The Screening Room, Masterton's boutique contemporary cinema complex and eatery. This contemporary, purpose built building combines two 60-seat boutique cinemas and The Eatery. Sporting a large outdoor veranda and smaller intimate alcoves, it's the prime spot to enjoy a coffee or cake before or after a movie. For more extensive dining, Chef Travis Clive Griffin has crafted afresh and punchy menu based around small sharing plates. www.thescreeningroom.co.nz
Book a stay at Copthorne Hotel and Resort Solway Park, one of Wairarapa's most distinguished hotels, a seasoned hospitality operator for decades. Set in 24 acres of landscaped parklands, native bush and fragrant gardens, the sprawling property boasts 102 bedrooms, leisure and business facilities including The Grill restaurant and bars, gym, swimming and spa pools, tennis and squash court, conference rooms and business centre. Whether you're travelling for business or pleasure, all bases are covered. And like much in Masterton, it's a family favourite. www.millenniumhotels.com
I grazed from Wairarapa's abundance on a self-drive trip after picking up a rental car from Avis at Wellington Airport. The Avis Safety Pledge has been deployed across all of its New Zealand locations, in the wake of domestic tourism's restart, allowing customers to pick up and drop off vehicles with minimal contact. Avis has unveiled a range of sizzling rental deals to celebrate the lockdown era being consigned to the rear mirror, including 20% off all pre-paid rentals until the end of August, complimentary upgrades and score the fourth day free when booking for three. www.avis.co.nz For more tips on exploring this wonderful region, head to www.wairarapanz.com
Mike Yardley is our Travel Correspondent on Jack Tame Saturday Mornings.