Mike Yardley: Sunshine Coast for Families
Author

Publish Date

Wed, 16 Aug 2017, 11:51am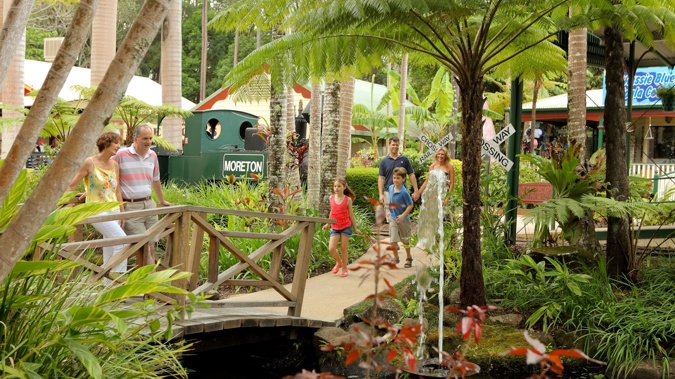 Mike Yardley: Sunshine Coast for Families
Author

Publish Date

Wed, 16 Aug 2017, 11:51am
Queensland's Sunshine Coast offers a flavourful spoil of family-friendly experiences, albeit at a far more relaxed pace than the head-rush of the Gold Coast. Hop-scotch your way around the compact region's assortment of sights on a self-drive family roadie. The legacy of Steve Irwin palpably lives on at Australia Zoo, where his wife Terri and children, Bindi and Robert, live and work.
I had the pleasure of interviewing Steve and Terri several times on Newstalk ZB before tragedy struck a decade ago. His larger-than-life TV persona wasn't a case of playing for the cameras. In person, that exuberant charm and passion was just as infectiously electric. From humble beginnings in the 1990s, the Irwin family have worked hard to make Australia Zoo a world class conservation facility, in addition to its magnetic appeal as a tourist attraction.
Set across 100 acres of tropical parkland, over 1200 native and exotic animals call Australia Zoo home. And you'll struggle to do justice to its mind-blowing magnificence in just one day. It's the intimacy of the animal encounters which makes Australia Zoo such a novel wildlife experience.  Look all good Aussie wildlife parks, you can hand-feed kangaroos and cuddle a koala. Then there's the up-close experiences with red pandas, otters, wombats, giraffes and spiky echidnas.
The Australia Zoo roving wildlife team also serves up spontaneous photo-posing opportunities, with a veritable menagerie of wildlife, including dingoes, blue tongue lizards, skinks, pythons, alligators, macaws and cockatoos. You can be a zoo keeper for a day and go behind-the-scenes to get up close with the animals. But the ultimate walk on the wild side would have to be the opportunity to take a cheetah or a tiger for a walk.
Australia Zoo's Tiger Temple is a class act, dedicated to conserving the majestic Sumatran tigers. There's less than 4000 tigers left in the wild, so eye-balling these big cats and their cubs up close is a thrill. But being photographed taking a tiger for a walk really is the money shot at Australia Zoo.  Book a hands-on encounter and you'll be contributing to the zoo's various projects geared at protecting wildlife, from the jungles of Sumatra to the savannahs of Africa.
I love the wide open plains of the African Savannah, inspired by Steve's dream to develop a safari park where the animals mix, mingle and roam free. And that's exactly what you can see, with rhinos, giraffes and zebras grazing together.  The newest attraction is Bindi's Island, built around her three-storey treehouse, where the ring-tailed lemurs are the big show-stealer. Steve had just started the excavation work for Bindi's dream treehouse, when he passed away.
But the iconic, showpiece attraction is Australia Zoo Wildlife Warriors, which roars into life at midday in the Crocoseum. It begins with the free-flight birds of prey that wheel and swoop around the arena before the jaw-snapping drama of the ginormous saltwater crocodiles steal the show. Crikey! It's instructive, enlightening and utterly enthralling. Just like Steve himself, whose spirit seems to live on loudly and proudly throughout this wondrous celebration of wildlife. www.australiazoo.com.au
If you're travelling with kids, treat them to the delights of Yandina, a charming subtropical town and home to The Ginger Factory. In 1941, Buderim Ginger set about producing confectionary ginger and  75 years on, they remain the world's biggest producer. Alongside the production, the Ginger Factory is swooned over by families for its boutique theme park-style assortment of attractions. I joined a Factory Tour which was brilliantly led by Kelly, bringing to life Buderim Ginger's backstory and concluding with a fabulous product tasting session.
Don't miss the Ice Creamery and a scoop or two of Ginger biscuit and Ginger cinnamon! I hopped on board "Moreton", the factory's beloved 115-year old ginger train which tootles through the property's lush, leafy and impeccably maintained tropical gardens. The Ginger Factory has also branched out and embraced honeybee production, and their Super Bee educational tours are absolutely riveting, complete with honey tasting.
They stock a stunning Tasmanian honey which tastes like maple syrup. Kids love getting up close with the hives, spotting the Queen, and discovering all of the factual errors that the Bee Movie trotted out. It's a cut-throat world being a bee. After the boys mate with the Queen, they die. The girls actually do all of the work collecting nectar and pollen. And if the hive isn't running well, the Queen will be killed by the other bees.
I finished my frolic through the Ginger Factory by joining the signature family ride, Overboard, which follows the Gingerbread man, around the world. This meandering water adventure ride, which is unmistakeably reminiscent of Disney's It's a Small World ride, is delightfully presented and even includes animatronic rugby players performing a haka. www.gingerfactory.com.au
As the name suggests, the Yandina-Coolum Road provides a short hop from the Ginger Factory to the sun-splashed, seaside haven of Coolum.  Book-ended by rocky headlands and secluded coves, Coolum Beach is a magnet for water lovers, with its long stretch of golden sand and rolling surf. If your family is up for a sweaty work-out, follow David Low Way south of town, and hike up Mt Coolum, for celestial views across the coastline.
Another splendid stroll leads you along the coastal trail between Point Arkwright and Coolum. The café society is buzzy in Coolum, with some sizzling beachfront nosh spots, none more so than the Coolum Surf Club. The Mooloolaba Prawn & Avocado Salad is my pick.  Directly across the road, the Coolum Caprice is a supreme holiday roost, with ultra-spacious self-contained apartments, overlooking the Norfolk Palms fringing the patrolled area of Coolum Beach. 
All apartments are equipped with private balconies and those sublime ocean views. Fully self-contained with open-plan living and dining areas, cook up a storm in your fully equipped kitchen, while the in-room laundry facilities are another welcome attribute. Coolum Caprice also features a fabulous heated swimming pool, paddling pool, spa and sauna, fitness centre and a games room.
The on-site tropical gardens are equipped with barbeque areas that you're welcome to use when you want.  The friendly, outgoing staff, on-site tour desk, complimentary wifi and complimentary undercover parking all help to create a blissful beachfront holiday base, in the irresistible heart of the Sunshine Coast.  www.coolumcaprice.com.au
JUCY, a stunning family-owned Kiwi success story, boasts an innovative range of campervans, or 'campas', alongside an excellent range of cars, which is what plumped for on my Sunshine Coast roadie. JUCY's customer service is fast, reliable and friendly with exceptional hire rates and special deals to sweeten your roadie adventure. Ph 0800 399 736 or jump to www.jucy.co.nz 
Mike Yardley is our Travel Correspondent on Jack Tame Saturday Mornings.