Mike Yardley: Stepping out in Interlaken
Author

Publish Date

Wed, 31 Jan 2018, 3:46pm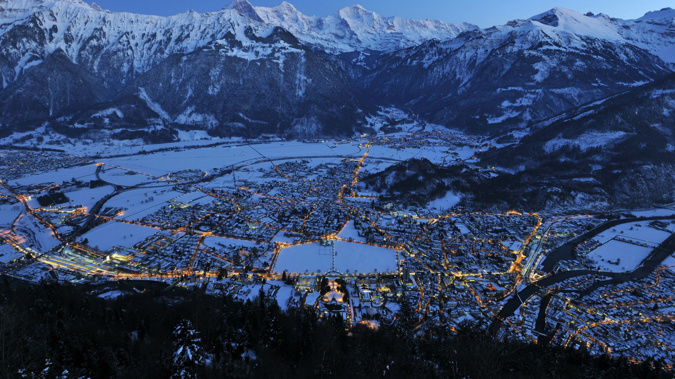 Mike Yardley: Stepping out in Interlaken
Author

Publish Date

Wed, 31 Jan 2018, 3:46pm
Strolling along the stylish Hoheweg, Interlaken's answer to the Champs Elysees, her chiselled surrounds were gilded by the pale early winter sunlight. This grand boulevard is edged by the faded splendour of ornate Belle Epoque hotels, an historic casino and the usual assortment of shops, bars and eateries you'd expect to spawn in a tourist honey-pot. Horse-drawn carriages cheerily clopped by, as I scoffed pastries and sipped coffee at a pavement cafe. Excited groups of Chinese tourists were frenetically taking selfies, electrified by the stirring alpine backdrop.
Hemmed in by those shimmering turquoise lakes, Thun and Brienz, (replete with castles to ogle on a boat trip) it is that superstar trio of alpine turrets, Eiger, Monch and Jungfrau that all visitors swoon over – towering over Interlaken. In the old town, after admiring the dainty English and immaculate Japanese gardens, and soaking up the gentle trickling of the Aare River, I stopped the medieval century church and monastery.
The nuns are credited with bestowing the three giant peaks with such awe-inspiring and enduring names. In English, they translate as Monk, Ogre and Virgin. In such a premier visitor enclave, you may well want to pop into the Museum of Tourism, which engagingly charts the exponential rise of the tourism trade, from the fledgling days of wealthy Victorians taking a Grand Tour of Europe. A self-guided City Walking Tour leads you along a designated path, with 40 points of interest and information panels, sprinkled along the way.
Being one of the world's most prized adventure-sports hubs, there's no denying Interlaken's launch-pad stature for heart-stopping alpine thrills. But before you hit the wilderness, whether it's to ski the slopes around Grindelwald, savour a heady hike in Kleine Scheidegg or merely to commune with nature's raw drama at Jungfraujoch, there are some fabulously leisurely pursuits to relish, right on Interlaken's back door.
Just a few minutes' walk from Interlaken Ost railway station, follow the signs to Harderkulm funicular. Harderkulm is Interlaken's home mountain which you can scale it on foot, via the gut-busting walking trail. But given my abiding affection for funiculars, I was quite content to mount this peak via the venerable cliff-riding contraption. At the summit, the Two-lake Footbridge affords a mesmerising wraparound view of the entire valley floor and the shimmering lakes, all under the watchful eye of those daunting alpine rockstars, Eiger, Monch and Jungfrau. You could not wish for a more picture-perfect perspective.
Another nearby mountain to Interlaken, that makes for a tingling day-trip, is steeped in James Bond folklore. Schilthorn took a starring role in the 1969 Bond classic, On Her Majesty's Secret Service.    Overlooking the Lauterbrunnen Valley, take the train from Interlaken to Murren and a series of cable cars will hoist you up to Birg and the summit of Schilthorn. Warning: this excursion includes dangerously high levels of gob-stopping scenery.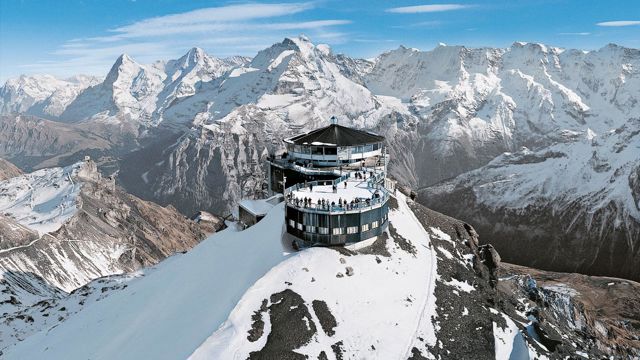 Soaring nearly 3000 metres high, the summit  vantage point serves up a sprawling alpine tableau, studded with 200 peaks, stretching from as far as Mont Blanc to Titlis, and across to the Black Forest.  If the panoramic revolving restaurant at the summit, Piz Gloria, looks familiar, you'd be right. This alpine Shangri-La was cast as the lair of supervillain, Blofeld.  The stalled construction of the sports bar atop the Schilthorn was chosen when the film's producer financed the completion of the famous revolving platform, on the condition that the facility could be used for the movie. 
It was the first and only Bond film starring George Lazenby – and the only Bond flick in which he has a bride, Tracy, who is killed by Blofeld. A number of scenes in the film were photographed by cameraman John Jordan hanging below a speeding helicopter. Jordan had previously lost a foot to a helicopter rotor while shooting the previous Bond movie, You Only Live Twice. Within a year of shooting at Schilthorn, Jordan lost his footing and fell 600 metres to his death when filming similar aerial shots for the film, Catch-22.
With Monty Norman's iconic James Bond theme playing on the speaker at Piz Gloria, I zipped outside on the large terrace, to surrender to those toothy ivory peaks serrated the skyline, under crystal skies. Back inside the restaurant, seated in red-cushion chairs in a wood-panelled interior, the eye-popping 360-degree spectacle is all-consuming as you slowly rotate above the clouds. You can also enter Bond World, an interactive movie museum, where you can learn about the film's on-location production and simulate bobsled and chopper shootouts, like a wannabe 007.
If you want to ramp up the adventure dial, you can even ski the famous James Bond Run, a single black diamond steep pitch directly below the restaurant, which also marks the start of the world's longest downhill ski race, the annual Inferno. This hell-for-leather ski run has just celebrated its 90th anniversary. But it's the spell-binding mountain panoramics that left me stirred, not shaken. It is tour de force scenery licensed to kill.
While staying in Interlaken, my characterful lodging was Hotel Carlton Europe. This historical art nouveau has welcomed the world since the pioneering days of tourism. Centrally located, just 200 metres from the train station, rooms are individually furnished with an unmistakable Swiss alpine aesthetic.  The buffet breakfast fortified me for my day's adventures, and I dined on French gourmet cuisine at Chez Pierre restaurant. The hotel kindly gave me a booklet of in-house regional recipes, as I checked-out.  For best rates and specials, head to www.carltoneurope.ch
To help you maximise your time in Interlaken, with a wondrous array of alpine sightseeing options, check out the official tourism websites. www.interlaken.ch  www.myswitzerland.com
I zipped my way around Switzerland and Austria with a Eurail pass. It's the comfortable, hassle-free and reliable way to get about. Sort your rail plans in advance, by booking tickets or a rail pass to suit with the experts on the tracks, Rail Europe. www.raileurope.co.nz
Fly to Zurich with Cathay Pacific who operate ultra-contemporary A350-900s, the newest aircraft in the world, from both Auckland and Christchurch. The cabin air quality is decidedly better, I experienced minimal jet-lag, the refreshed CX Entertainment system kept me suitably engaged with excellent movie selections and live news channels, plus in-flight WiFi. www.cathaypacific.com
Mike Yardley is our Travel Correspondent on Jack Tame Saturday Mornings.