Mike Yardley: Spring brilliance in Buller
Author

Publish Date

Sat, 23 Sep 2023, 12:52PM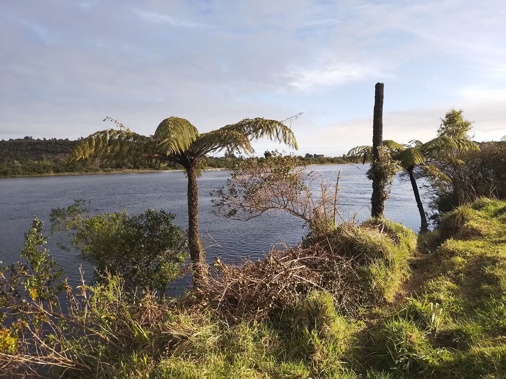 Mike Yardley: Spring brilliance in Buller
Author

Publish Date

Sat, 23 Sep 2023, 12:52PM
The brilliance of Buller is ablaze in spring, as the sun-splashed countryside and lush pastures positively vibe with the vivid lime greens of new and verdant growth. Like a frisky spring lamb, I was itching to frolic far and wide, while exploring the wonderful West Coast. Point the car north from Westport and venture over the vast bush-clad heights of the twists and turns of Karamea Bluff, thickly robed in rimu and matai forests.  
It's like entering another realm, untethered from the daily grind, where time slows down and nature's full splendour rules supreme. Expansive vistas of the pounding Tasman Sea unfurled before me, before I descended into the coastal lowlands of Little Wanganui. Velvety green pastures, backdropped by jagged ranges, thickly carpeted in native forest, is my kind of paradise. It's so far north, Karamea's subtropical maritime climate is warmer and drier than what most Coasters are served up. It shares the same latitude as Nelson and is even further north than Wellington. 
Photo / Mike Yardley
Before arriving in the West Coast's most northerly township, I stretched the legs on a short and sweet walk to Lake Hanlon, from the main highway. This 30 minute return track is a scenic treat, climbing over a forested ridge to a lakeside viewing area, with kahikatea at the water's edge, backed by beech forest, with occasional podocarp species and southern rātā. Strike it lucky with a clear sky and the forest reflections in the mirror-smooth water accentuate the serenity. 
Another great leg-stretcher is the Big Rimu Walk. 8km from Karamea, on Umere Road, the track leads through regenerated forest dotted with nīkau palms, posing like honour guards, culminating with the soaring sight of a 36 metre-high rimu tree. Believed to be about 1000 years old, it escaped being felled by loggers in the 1940s. 
Relaxed and unhurried Karamea amplifies the sweeping sense of idyllic, blissed-out solitude. A smattering of art and craft studios grace the West Coast's northernmost settlement, along with a fabulous new Market Place precinct on the main street. Surrounded by the Kahurangi National Park on three sides, Karamea's soul-soothing natural landscapes are a trusty font for artistic inspiration. 
With some of the oldest known cave systems in the country, the district was once the domain of giant moa and Haast's eagles. The local caves at Honeycomb Hill have been a treasure trove of eagle bones. (Guided tours are available.) More Haast's eagle bones have been salvaged from these caves than anywhere else in New Zealand. Don't miss the extraordinary Haast's eagle sculpture, that adorns Waverly St, with it's three-metre wingspan. This enormous bird had claws as big as a tiger's, and could strike its prey with the force of a concrete block dropped from the top of an eight-storey building. Unveiled two years ago, by iwi and locals in Karamea, the life-sized bronze sculpture of an extinct hōkioi or Haast's eagle, (the largest eagle in the world prior to its extinction) is considered the spiritual guardian of the Karamea Estuary. Overhunting of its moa prey by early Māori was the main cause of its extinction, in addition to habitat destruction, about 500 years ago.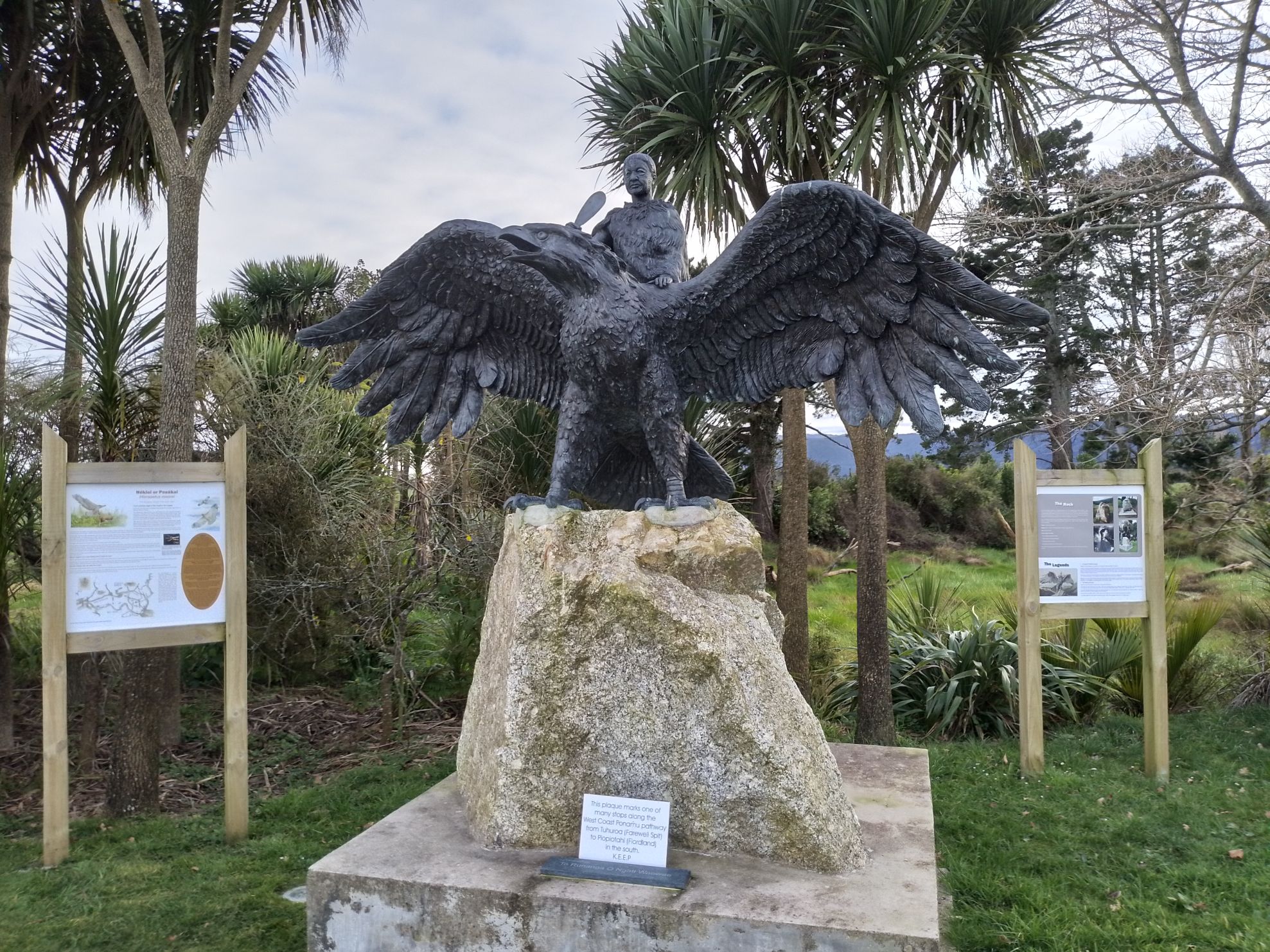 Photo / Mike Yardley
As the warm spring sun blazed down, I took the short drive to the Karamea end of the Heaphy Track. A sublime little taster of one of our Great Walks can be enjoyed by taking the Nikau Grove walk. Starting from the fabulous swing bridge that ushers you over the Kōhaihai River, the 40 minute walk ushers you into a lush heart-stealing forest of palms, headlined by thousands of Nikau palms. With rigid fronds forming a uniform fluted shape, they're my all-time favourite New Zealand tree.  
An additional spectacular walking option is the two-hour return romp to sun-kissed Scott's Beach, delivering a splendid taste of the Heaphy track's coastal section. From the Kōhaihai River, continue over the Kōhaihai Bluff to the first palm-fringed beach. A short side track at the top of the bluff leads you to a sizzling viewpoint. Karamea locals are particularly excited that the full traverse of the Heaphy Track, one of the country's Great Walks, is about to reopen after sustaining colossal storm damage in February 2022, destroying three bridges including the Heaphy River bridge. Finally the repairs are nearing completion, with considerable built-in resilience, and the multi-day track will be back in business for Labour weekend. Hut bookings can now be made.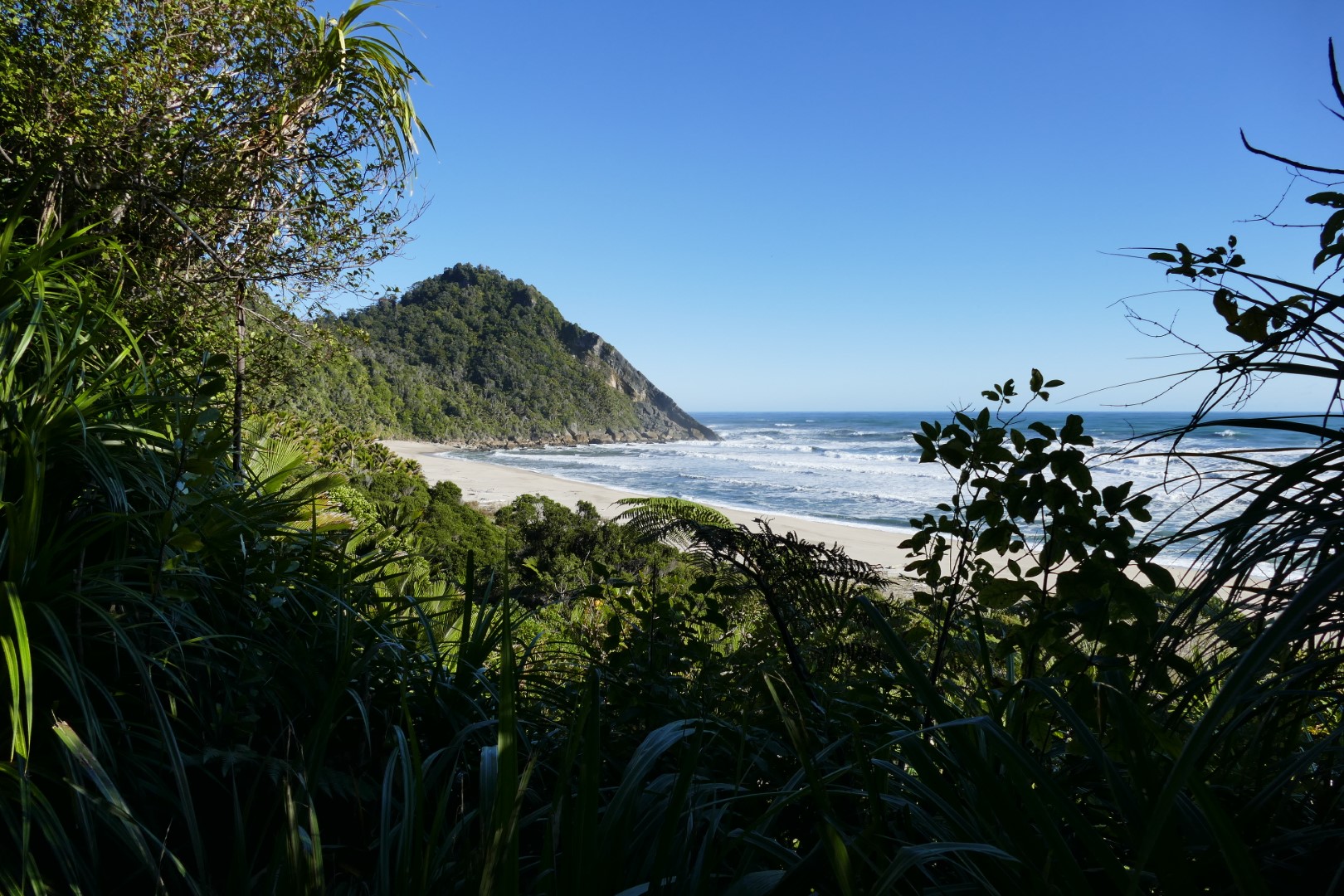 Photo / karamea.nz
Another essential experience to add to the hiking check-list is a rendezvous with the world-acclaimed Ōpārara Basin. Close to the Heaphy Track carpark, McCallum's Mill Rd is the route you'll need to take. The 15km-long access road has been receiving a very welcome upgrade. Vehicle access is subject to restrictions while the work continues, particularly on weekdays, so check with the information centre about access – otherwise join a guided tour. 
The surrounding karst landscape is mantled in primeval rainforest and is home to a beguiling network of caves and spectacular limestone arches. From the carpark, an easy 45 minute return leads you to the big-gun attraction, the Ōpārara Arch, New Zealand's largest natural arch, spanning 200 metres in length and 37 metres in height. It's a celestial spectacle, dry and roomy inside, with stalactites and stalagmites. This glorious limestone creation towers above its namesake river, which slinks through its wondrous limestone landscape, wrapped in magnificent podocarp forest, particularly kahikatea trees - the food basket of the forest, prized by native birds for its fruit and seeds.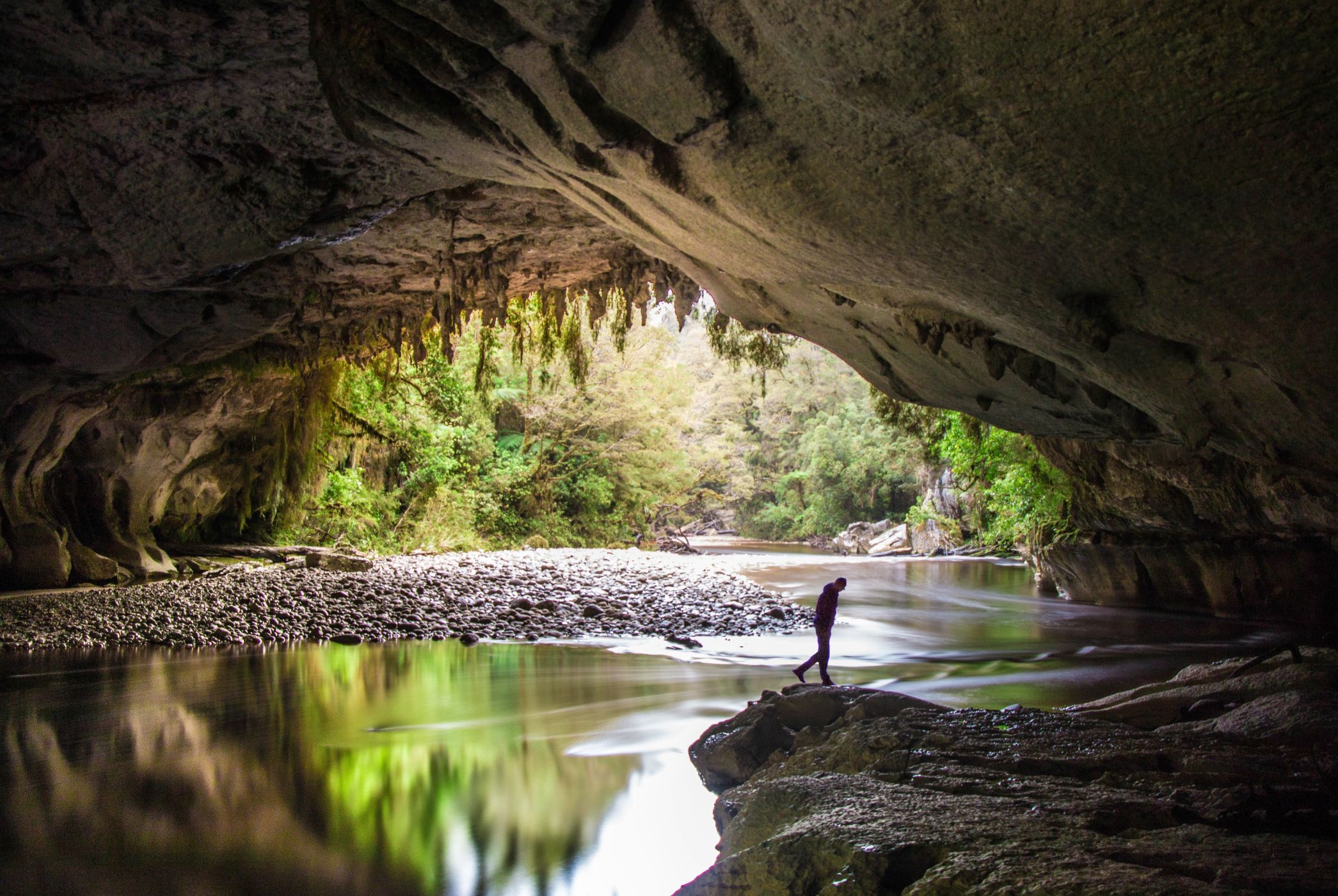 Photo / Tourism West Coast
The walk along the fertile limestone terraces also features matai, red beech and silver beech trees, towering above a mossy, fern-filled understorey. Rata, kamahi and rimu are also present in this drop-dead gorgeous valley. The native birdsong is diverse, cacophonous and notably louder than what you typically hear. The valley is also home the giant snail, Powelliphanta. Like the Kōhaihai River, the Ōpārara's water is a tea-stained, due to the tannin leaching from decomposed leaves on the forest floor. It's a common feature in forest areas that incur high rainfall. Additional short walks take in the Moria Gate Arch (taking its name from the Lord of the Rings trilogy) and the Box Canyon Caves. 
Where to stay? The Last Resort Karamea is a delightful retreat, with an extensive selection of great-value accommodation options, from fully self-contained cottages and en-suite studios to a backpackers dorm. Qualmark-rated and magnificently landscaped with room to roam, the resort edges the banks of the Karamea River. As I was drinking in the expansive views from the mountains to the sea, three gorgeous kererū flapped their wings, flying around me, before frolicking in the resort's 25 metre-high rimu tree. How very Karamea. With a fully licenced restaurant, cafe and bar, whether you're staying in-house or not, definitely tuck into their superb dining, from delicious breakfasts to stylish dinners. How could you possibly say no to a plate of super-fresh, hyper-local whitebait fritters, to celebrate the season? www.lastresortkaramea.co.nz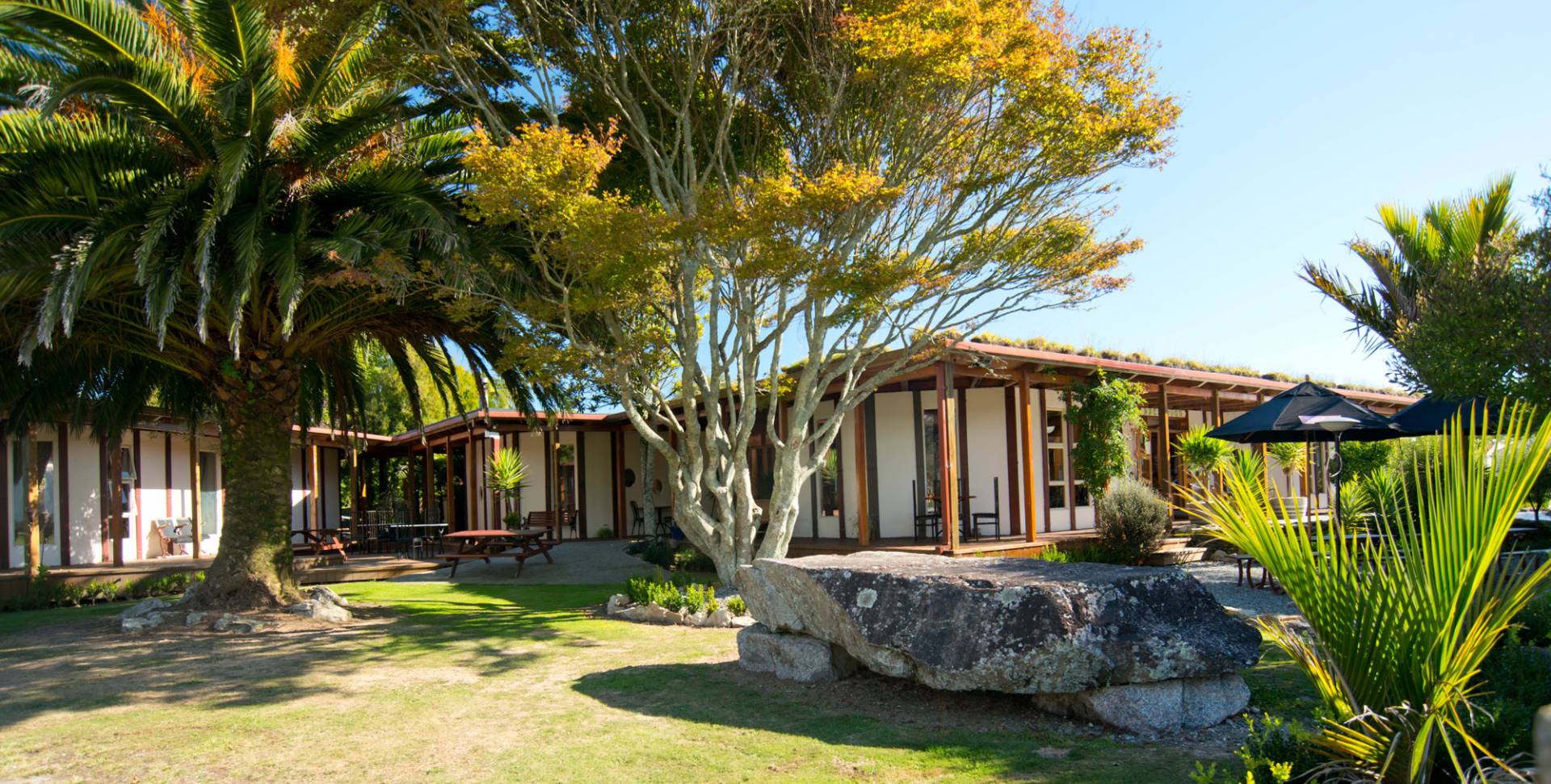 Photo / Supplied
If you're heading to the West Coast via Lewis Pass, you'll love the section of State Highway 7 between Springs Junction and the Buller gateway town of Reefton. The road threads through the verdant beech forest finery of Victoria Forest Park, New Zealand's largest conservation park of its type, spanning 180,000 hectares, centred on the Victoria and Brunner Ranges. There are gold mining and quartz mining relics in the area, with a variety of sublime hikes, from short strolls to epic, multi day tramps. Eye-catching Reefton, with its vast stash of magnificently restored historic buildings and colourful shopfronts, is proudly home to the runaway success story of the Reefton Distilling Company, housed in one of the historic town's original buildings.  
Just four years old, the tasting bar and retail store will enthral you as you sample their local botanical gins, vodka and fruit liqueurs. (Tayberry Liqueur is a knock-out – a cross between a blackberry and a raspberry.) Little Biddy Gin is the headliner, continuing to scoop a swag of industry awards. To cope with the insatiable demand and to enhance the visitor experience, a new distillery with even more stills has been developed, on the outskirts of town. Opened a year ago, the expansion dovetailed with the first casks being filled with Moonlight Creek Single Malt Whisky.  
The first release will be at a minimum of 3 years maturation. Crafted from grain to glass at the distillery from the finest New Zealand barley, master distiller, Andrew Nairn, brings a wealth of whisky making expertise from his Scottish homeland. Reefton Distilling Company has already signed an initial three-year contract with Scotland's Scotch Malt Whisky Society, supplying them with Moonlight Creek – a true "coals to Newcastle" story! Moonlight Creek Single Malt Whisky is named in honour of George Fairweather Moonlight, a legendary West Coast gold prospector who made a very successful strike at Moonlight Creek, a tributary of the Grey River. The site eventually yielded New Zealand's largest nugget, the 'Pessini' in 1917. His method was to discover major gold areas rapidly and repeatedly, then abandon them to the hundreds of diggers that inevitably swarmed in. 
Strike out on a wonderful escape to the untamed natural wilderness of the West Coast this spring and summer. For more trip inspiration, head to https://westcoast.co.nz 
Mike Yardley is our resident traveller on Jack Tame Saturday Mornings. 
Take your Radio, Podcasts and Music with you