Mike Yardley: Sound encounters in Queen Charlotte
Author

Publish Date

Sat, 18 Jun 2022, 10:40am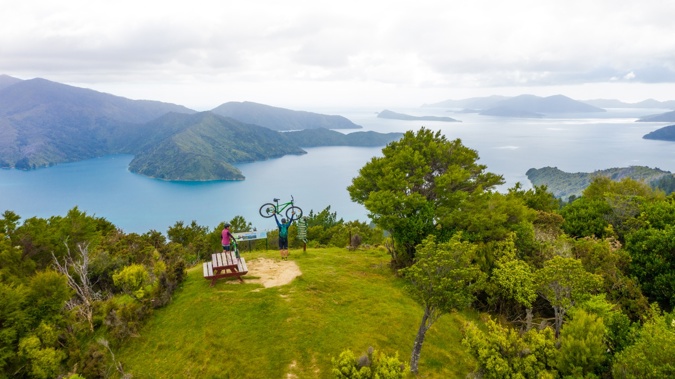 Mike Yardley: Sound encounters in Queen Charlotte
Author

Publish Date

Sat, 18 Jun 2022, 10:40am
They were your typical group of teenagers out cruising. Frisky, playful, and rather shameless attention-seekers. A large pod of juvenile bottle-nose dolphins turned on quite the spectacle as I purred across Queen Charlotte Sound from Picton, on a Beachcomber cruise boat. The frolicking dolphins basked in the boat's wake, before unleashing their acrobatic impulses, leaping out of the water and flying through the air like seasoned circus-performers, before finally splitting off after one final celebratory splash. 
Prior to boarding my ride, Picton beamed in the afternoon sun, bright and brilliant. The satin blue water cradling Picton Marina, gleamed photo-shoot perfect. Swanky waterfront cafes were doing a brisk trade in their horse-shoe curve edging the sparkling harbour. I headed to the hip new waterfront venue, Toastie Picton, which has been busy turning heads and seducing passers-by, with its gourmet sourdough toasted sandwiches, all made with their in-house four cheese blend. I ordered up an Ivan, consisting of pastrami, sauerkraut and pickle. Delish! Another hot-seller is their Pete toastie, which combines salmon with cream cheese, capers and pickles.
Photo / Mike Yardley
Suitably fuelled up, I joined the Mail Boat Cruise into Queen Charlotte. As one of the region's oldest tourist operators, Beachcomber Cruises offers a swag of tours including their iconic rural post delivery service. Our ebullient skipper, Phil, peppered the cruise commentary with a feast of fascinating insights. Māori call the sound Totaranui, because they think the sound resembles the shape of the mighty tree. Many of the old weatherboard homes in Wellington have a direct connection with this sound - the timber was milled here.
We passed by Kaipupu Wildlife Sanctuary, a prized mainland island that serves as a crèche for Kiwi. Brimming with predator-free islands and marine reserves, ogling precious wildlife is an undisputed magnet, luring the world to their crystal-clear waters. Phil remarked that alongside the Hector's, Dusky and Bottlenose Dolphins, whales are a regular sight in the Sounds. We rendezvoused with one of New Zealand King Salmon's farms in Ruakaka Bay, heavily fortified in perimeter fencing to stop the fur seals doing a drive-by feed. They make a hideous mess if they manage to break in.
Photo / Mike Yardley
Workers live on-site, two weeks on, two weeks off. Processed in Nelson, they are the largest produced of farmed King salmon in the world. In Resolution Bay, we fed fish off the side of the boat – colossal-sized Blue Cod and yellow-eyed mullet. The water was absolutely swarming with fish, because it's part of Long Island marine reserve – the South Island's first area to accorded marine reserve status. Fishing is strictly prohibited, although I did feel rather peckish. We also met some of the local legends who call the solitude of the Sounds home, including a 14 year old black Labrador who was trained as a pup to take his owner's mail bag down to meet the boat and collect the in-coming mail. Edging the waters, rocky nooks were aflutter with King Shags – unique to the Marlborough Sounds.
Phil mentioned their population is just 600. During Cook's second visit to New Zealand in 1773, his crew caught one of these beautiful birds and took it home to England. As you do. Many British twitchers love to come here, simply to admire the shags. We even spotted a lumbering fur seal snoozing on the back of boat at anchor. Mr Seal must have taken the boat's name to heart - "Feeling Naughti." Phil traversed all manner of topics from the sinking of the Mikhail Lermontov to the radar station installed in WWII at Long Island, complete with gun emplacements to take repel the Japanese.
The sheer size of the Marlborough Sounds is astonishing, comprising 20% of New Zealand's coastline, brimming with countless coves and secluded sandy bays. Thick native bush surrounds these ancient drowned valleys, where the calm, translucent water spans azure blue, vivid turquoise and shimmering emerald hues. Ongoing downward tectonic movement means the Marlborough Sounds continue to slowly sink.
Throughout the 1770s, sheltered Ship Cove provided safe anchorage, food, water and timber for Captain Cook and his crew on five separate occasions, marking some of the earliest sustained contact between Māori and Europeans. On arrival at Ship Cove, I dabbled in the creek where Cook made home brew for his crew before surveying the magnificent Captain Cook monument commemorating his repeat visits to the area. Remarkably, one of the original cannons from Endeavour, adorns the monument. The cannon was salvaged from Cape Tribulation in North Queensland, after the Endeavour ran aground on a reef and the crew had to throw numerous equipment overboard, to free the ship.
If you're keen for a taster of the Queen Charlotte Track, there's some great bite-sized chunks on offer. The full 73km traverse from Ship Cove to Anakiwa is typically a four day affair, but two half-day walking options of this celebrated trek, pertain to stage one and two. The first section is from Meretoto/Ship Cove to Furneaux Lodge, starting with a steep, thigh-burning haul, climbing away from the beach, through regenerating native forest.
Photo / MarlboroughNZ
But after that initial gut-buster, the rest of the four hour long trail is a breeze, with gentle undulations up and down panoramic ridgelines. Gregariously chirping fantails, fluting tui calls and the limpid notes dropped by bellbirds were a constant avian soundtrack, as I threaded my way through forests of manuka, kanuka, tawa, tree ferns and beech. Curious weka shuffled by, wood pigeons whooshed, but I didn't see any wild pigs – first released in these parts by Cook.
The lookout point at Tawa Saddle serves up seraphic views across Queen Charlotte Sound, while more pixel-burning vantage points loom large as you descend into Resolution Bay. The final stretch follows a well-graded old bridle path over a ridge and into Endeavour Inlet, threading along the shoreline. An unexpected surprise was the short detour to ogle one of New Zealand's largest and oldest trees. A 1000 year old Rimu, in Howden Forest. What a stunning specimen it is. Feeling somewhat jelly-legged, I toddled across the finish line with a flourish, sweetly surrendering to the laid-back hospitality embrace of Furneaux Lodge. Built by the Howden family nearly 120 years ago, the original homestead was thronging with thirsty patrons, chilling out and swapping tales. Furneaux Lodge reopens to guests on September 1.
The second stage of the Queen Charlotte Track, connects Furneaux Lodge with Punga Cove on a flat-easy 12km coastline track around Endeavour Inlet, through lush regenerating native bush, soundtracked with birdsong.  It's a doddle. I struck out on this trail on my most recent sojourn in Queen Charlotte Sound. (It's easy to arrange pick-ups and drop-offs if you only want to walk one way.) Another great roost is at the magnificent Punga Cove Resort. Its name pays homage to the plentiful punga ferns (tree ferns) that thrive in this high-rainfall area of the Sounds. There are also many rimu, matai and miro trees near the coast, while further away the red beech is predominant.
Photo / MarlboroughNZ
Nestled amongst sublime scenery, Punga Cove is a blissed-out retreat, draping the hillside, overlooking the jewel-like hue of Endeavour Inlet, backed by a procession of peaks. The range of accommodation spans all tastes and budgets, from bunkrooms and retro chalets to stylish apartments and suites. Crowning the hillside, I bedded down in one of the Frond Suites, a cradle of relaxation and pampered comfort. My suite was equipped with a mini fridge, microwave, tea and coffee making facilities, TV, decent wifi, and a superbly appointed bathroom. But it's the spacious private deck, with those gloriously wide vistas that kept commanding my attention.
Heading to bed with a star-flecked sky above, I awoke to an ethereal dawn, feeling transported to the brooding intensity of Fiordland. Coiling fingers of mist caressed the ridgelines and tumbled down to the waterline, recasting Endeavour Inlet in glowering alpine drama before the sky split open and it rained bullets. An hour later – bluebird skies resumed transmission.
Photo / MTC
Dining is another triumph, with the Punga Fern Restaurant cooking up a storm with a la carte breakfast from day-break to fine evening dining, from its hilltop roost, where menus are proudly assembled from local produce. For dinner, I enjoyed an entrée of Cloudy Bay Clams with linguine, citrus espuma, creole and herbs. It was a tough task singling out a main, but I plumped for the divine Canterbury Duck Breast, which were served as croquettes, topped with carrot puree, beetroot and jus. Drool!
There's a feast of activity options including the complimentary use of kayaks, stand up paddle boards and mountain bikes. Add to that, the on-site swimming pool and spa tubs, plus the sparkling social nexus of the Boatshed Café & Bar, down on the jetty. But with limited time, I chose to stretch the legs on another hearty slice of the Queen Charlotte Track, striking out to reach Eatwell's Lookout. It's quite the lung-buster on this four hour return work-out, with a particularly steep ascent to reach Kenepuru Saddle from Punga Cove, before climbing even higher to reach the view of all views on the Queen Charlotte Track, Eatwell's Lookout.
Drink in that soul-singing 360 degree panorama. The lookout is named in honour Rod Eatwell, a private landowner on part of the Kenepuru ridge, that was made available for the public track. He's dubbed the grandfather of the walkway. (You will need to buy a pass from reception to access this part of the track. It's just $12 for the day pass.) But no matter how active or languid your stay may be at Punga Cove, all of your senses are engaged in this definitive New Zealand experience. Your camera can't do justice to its beauty. Punga Cove reopens for guests on August 1.
More adventure? A mainstay of the outdoorsy scene, Wilderness Guides has been part of the tourism landscape in the Marlborough Sounds for 22 years, ever since Steve and Juliet Gibbs established the business. Based in Picton, if you're looking for a guided experience with passionate professionals, these are the go-to guys. Wilderness Guides offers hiking, biking and sea kayaking tours from just a few hours to multiple days. If time is tight, a superb option is to join their half-day guided sea kayak trip.
Photo / Wilderness Guides
Operating year-round, the tour takes in the western end of Queen Charlotte Sound, around Grove Arm, with its sheltered coves, beautiful beaches, azure blue waters and lush native bush. Because of its relative seclusion and sheltered calm, the marine life can pop up to say G'day with surprising regularity, from Hector's and Dusky dolphins to sting rays and eagle rays. Generally, an orca cruises through every month. It's an immersive encounter with the primal pull of the Marlborough Sounds. 
From the sensory natural pleasures of the Marlborough Sounds to the cultural head-turners, wines, craft producers and dining heroes of Blenheim, plan a flavourful fling with the Top of the South. Make your first port of call, the region's official website for the latest visitor tips and insights.
Mike Yardley is our resident traveller on Jack Tame Saturday Mornings.