Mike Yardley: Sky-high and underground in Houston
Author

Publish Date

Wed, 11 Mar 2020, 2:24PM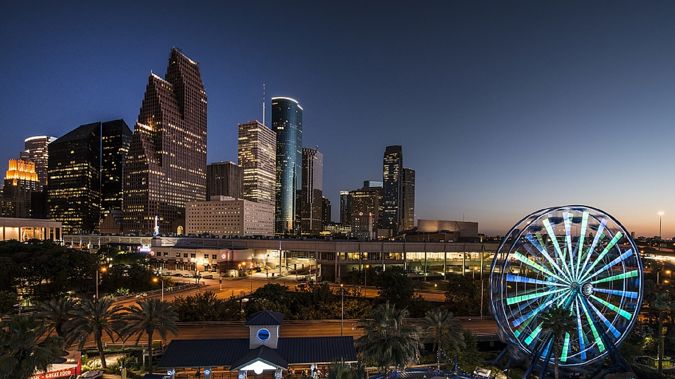 Mike Yardley: Sky-high and underground in Houston
Author

Publish Date

Wed, 11 Mar 2020, 2:24PM
Everything seems bigger in the Lone Star State and Houston is no exception. It's a sprawling cosmopolitan metropolis with a serrated skyline of glittering high-rises. Basing myself in the Downtown District, my Houston roost was the charming Magnolia Hotel, a 22-storey old-timer, clad in Indiana limestone proudly towering over Texas Avenue. Previously home to the Houston Post Disptach newspaper, this hospitality haven is loaded handsomely with homely comforts and modern flair. The rooftop swimming pool and hot tub is an effervescent perch to soak up the twinkling forest of wraparound skyscrapers, come night fall. And you won't want to miss the nightly temptation of complimentary oven-fresh, in-house cookies, served at 8pm. I can still smell that irresistible aroma!
I locked in my Houston stay with Booking.com Whether you're planning to travel around the country or the world, with your grandchildren or your pet, or trying to make sustainable choices when travelling, Booking.com covers all bases, when it comes to your accommodation tastes. Why? Because their extraordinary range of option spans over 29 million listings, including more than 6 million listings of homes, apartments and other unique places. www.booking.com
To shake off the jetlag, I stretched my legs on Main Street, ablaze in azaleas and the spring serenade of blooming tulips. I made my way through the historical district, abuzz with characterful bars, creative libations and designer mixology. Strolling through Market Square Park, giant colourful murals adorned the sides of many buildings. I ended up at Saint Arnold Brewing Co. It's Houston's oldest brewery and their brand is ubiquitous across the city. But it's their beer garden and restaurant that warrants a visit. The brewery was built inside a 25,000-square-foot wooden chapel, which may well explain why it's named after the patron saint of brewing. Every one of Saint Arnold's signature brews is on tap, including their wildly popular Art Car IPA. Order a pint and head straight to the covered open-air patio, where you'll find corn hole and loads of picnic tables with lip-smacking views of the skyline.
The following morning, the day dawned to swirling fog garlanding the skyscrapers. Houston's biggest boy, the 60-storey JPMorgan Chase Tower, had seemingly been cut in half. In a city swathed in an abundance of green spaces, I tootled down to Houston's crown jewel, Buffalo Bayou Park. It was dreamy spot to spectate the ongoing battle for supremacy between the tall towers and the curtain of fog. It's such an inviting park, laced in undulating trails, grassy plateaus framed by trees, bike and kayak rentals, and stacked with eye-grabbing art installations -- from the Dandelion fountain to the six 4-foot-tall "Monumental Moments" sculptures along the Kinder Footpaths.
Adjacent to Buffalo Bayou is Sam Houston park which is home to the Heritage Society's fascinating collection of Houston's oldest homes. As a history-hound I loved this repository of early settler heritage, with the oldest log cabin-style house dating back to 1882, pre-independence. Another house was built by a freed slave in 1870 and there's a charming old church dating from 1892. The Heritage Society restored them to their original state and furnished them with pieces from the appropriate eras.
There's plenty of quirky diversions in Houston and one of the best is also located close to Buffalo Bayou Park: The Cistern. This 1927 industrial relic was the city's former drinking water reservoir, but it was plagued with leaks. Despite constantly trying to plug the leaks, Houston finally pulled the pin on the reservoir about a decade ago. Reimagined as a public space, it's a very moody, pillared chamber reminiscent of the ancient Roman cisterns in Istanbul. With 200 concrete columns soaring 25 feet up, this enormous cavernous structure now hosts rotating temporary art installations. Speaking of cavernous, did you Houston has a whopping underground tunnel network? I don't know what it is about the subterranean, but I have a primal-like urge for the underground. Maybe I was a cave dweller in a previous life. Not dissimilar to Montreal, Houston's underground tunnel network is like a giant honeycomb under the city streets.
Connecting 95 city blocks and spanning 10 kilometres, much of it was built back in the 1930s, but it's been steadily added to. Not only is the tunnel network a pedestrian's paradise and refuge from the summer heat, but the underground passageways are studded with temptations, leading you to some the city's best food halls and art installations, spanning art deco to edgy ultra-contemporary. It's like a city unto itself. For edgy art, check out the tunnels beneath the Museum of Fine Arts.
The showpiece exhibit, 'The Light Inside", connects two of the museum's buildings, and as you transit between the buildings you're swept up by changing lights and the sensation of floating. Fancy more quirk? You'll be starstruck at the James Turrell Skyspace, a trippy light and sound installation. Located next to the Shepherd School of Music in the Suzanne Deal Booth Centennial Pavilion at Rice University, the acoustically engineered masterpiece is dubbed "Twilight Epiphany" thanks to an enthralling LED light sequence. It projects onto and through the structure's open roof just before sunrise and at sunset. The pavilion's lights gently interplay with the natural rising or setting of the sun, slowly painting a surreal light show on the skyspace ceiling. It's a do not miss.
In a city that has a fostered a red-hot culinary reputation, admittedly I gorged myself on Houston. You won't have to look far to get your fill of Texas barbeque. Houston falls into Southeast Texas style barbeque. Slow-cooked beef brisket, pork ribs and sausage, generally served with minimal sauce or none at all. It's got to be good for you. In a city where Tex-Mex cuisine is so pervasive, I absolutely adored staking out the eatery that popularised fajitas to the world 40 years ago, the Original Ninfa's on Navigation Blvd. Mama Ninfa introduced sizzling beef fajitas to Texans with her first outpost of this Tex-Mex landmark in Houston's East End. The marinated grilled fajitas are succulent and delicious and the tortillas are made fresh on-site.
Another stand-out was Lucienne, a relative newcomer to Houston's ever-evolving high-end dining scene. Situated in the sleek Hotel Alessandra, Lucienne has stamped its mark on the food landscape since opening just over a year ago. Sophisticated and stylish, Art Deco touches meet mid-century character in this elegant restaurant, suffused in chic European personality. As a devotee of Mediterranean cuisine, I was in seventh heaven, which celebrates the Med influence. Under the culinary command of Jose Hernandez, Lucienne's Executive Chef cut his teeth making pastry when he was just 14, but has spent the past 20 years plying his craft in some of the world's great culinary capitals, from Manhattan to Mexico City. I noshed contentedly from their lunch menu, starting with a spectacular appetizer, the Mango Ginger salad. Ablaze with flavour, the salad included ginger cashews, cilantro, heirloom tomatoes and gulf shrimp. A smash-hit. For my main, the Maine Lobster Roll was a delight, topped with jalapeno aioli, celery and crisp house fries. But to really immerse yourself in Jose's creative brilliance, make reservations for dinner and go degustation. www.luciennerestaurant.com
Another new boy in town turning a lot of heads is Guard and Grace. Troy Guard's steakhouse debuted in Denver and branched out to Houston just before Christmas. The two-storey space is contemporary, welcoming and bathed in natural light. The menu features classic steakhouse items along with some of Troy's signature dishes that riff on his worldly travels and Hawaiian background. Highlights include black truffle mac & cheese, mushroom ricotta agnolotti and whole-grilled red
snapper with Laotian tomato curry. With over ten sizzling steak options, all cooked on their oak fired grill, how about wrapping your lips around a brontosaurus steak, prime axe-handle tomahawk with cipollini, demi glaze, foie and bone marrow butter? https://guardandgrace.com/
To maximise your time in Houston, there's a wealth of on-the-ground advice, trip tips and sightseeing ideas on the official website, www.visithouston.com
Air New Zealand flies six times a week to Houston, an ideal gateway into the American South. In addition to its other direct flights to Los Angeles, San Francisco, Honolulu and Chicago, Air New Zealand's audacious new route will see the airline fly ultra-long haul from Auckland to New York non-stop. The inaugural service to Newark Liberty departs on October 29 and the service will operate three times a week, year-round. The exciting new route, the airline's sixth US destination, will be serviced by Air New Zealand's 787-9 Dreamliners, in a premium-focused configuration.
If Business Premier is too much of a financial stretch, Air New Zealand's Premium Economy offering is industry-leading, with the largest seat pitch in its class and 50% more recline than Economy. Seats have a 41" (104.1cm) pitch, 9" (22.9cm) recline and width of 19.3" (49cm) with a 5" (12.7cm) wide armrest. I slept like a lamb across the Pacific. If you're eyeing up the New York service, Air New Zealand's Economy Skycouch and their new Economy Stretch legroom product will be available on the route. Hopefully next year, that will be joined by the ground-breaking Economy Skynest product. For best fares and seats to suit, head to www.airnewzealand.co.nz
Plotting a great adventure to the land of Stars and Stripes? Brand USA's website is chock-full of trip inspiration to help you plan a magical holiday. www.visittheusa.com.au
Mike Yardley is our Travel Correspondent on Jack Tame Saturday Mornings.