Mike Yardley: Sizzling Sights in Steamy Kuala Lumpur
Author

Publish Date

Fri, 2 Oct 2015, 12:35PM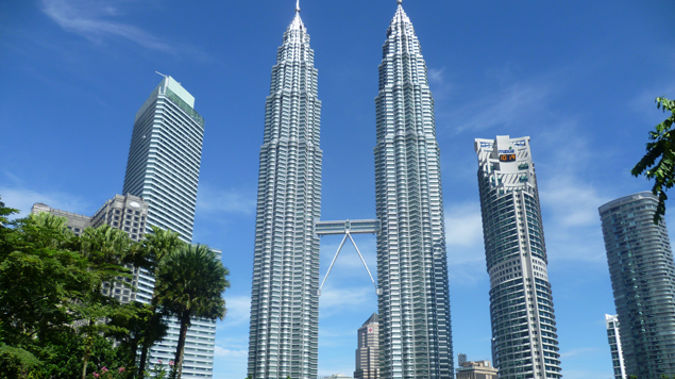 Mike Yardley: Sizzling Sights in Steamy Kuala Lumpur
Author

Publish Date

Fri, 2 Oct 2015, 12:35PM
Steamy, dynamic, multicultural Kuala Lumpur is an alluring layover, whether it be as a rest-stop en-route to Europe, or a bite-sized city break, ahead of an exotic Asian adventure. From the wispy smoke of joss-sticks in Buddhist temples to the sizzling satay at kerbside food stalls, KL serves up a sharply priced sensory feast. Slightly more orderly than Bangkok, but not as neat as Singapore, the lush, leafy Malaysian capital wields some seriously head-turning architecture.
The star attraction, and city letterhead, is the dizzying stainless steel masterpiece, the Petronas Towers.  Rising to a height of 415 metres, the 88-storey twin towers remains one of the world's tallest buildings.  The detail-rich exterior design is based on an eight-sided star that echoes arabesque patterns. Islamic influences are also conspicuous, with the tower's five tiers representing the five pillars of Islam, crowned by sky-piercing masts imitating minarets.  To see Petronas at its radiant best,  catch it at sunrise or sunset, as the building shimmers like cut diamonds, from the glorious ground level sanctuary of KL's city centre park. Spend a stolen hour in this serene urban sanctuary, complete with splashy time-sequenced fountains, techni-coloured tropical flora and a lavish adventure playground.
Another enjoyable aerial experience is to take a ride up Menara Tower, which despite being eclipsed by Petronas, still offers the city's highest cinematic skyline view from the observation deck. The helipad at Menara Tower was ingeniously transformed into a sky-high watering hole two years ago. It's a great perch to catch a sunset, although due to its sustained popularity, you'll have to arrive late afternoon if you want to score a seat at the bar, within the 360 degree observation deck. The helipad itself opens up from 6pm, which is a rather novel spot to party into the night.
Meanwhile, with a commanding ring-side view of Petronas Towers, directly opposite the blockbuster building, the SkyBar topping Trader's Hotel is a seriously revered address amongst the city's party set. By day the bar is actually a leisurely lap pool, spectacularly transforming at night into a nightclub with top DJs blasting out big beats, festooned in lights and beckoning the city's night owls with killer cocktails at agreeable prices. Kick back in the window alcoves, that double as cabana booths, and soak it all up. I asked a waiter how many patrons have accidentally fallen into the pool at night. Diplomatically, he answered it would be rude to keep a running count – but it's a nightly occurrence. Recommended cocktail? Try a Kiwitini, composed of Kiwi Fruit, Belvedere Vodka, Sugar Syrup, Moet et Chandon. The kiwi can fly in the SkyBar!  Dance in the clouds until early morning, before the bar reverts to its primary daytime repose for towelling robed hotel guests seeking a restorative dip and refreshing juice.    
As much as the cityscape resembles a sheet of steel stalagmites, traditional Malay and British colonial architecture speckle the streets. The Brits opted for Moorish/Mogul-inspired design in many of its buildings, best exemplified in Merdeka Square, where cricket was played and Malaysia declared its independence in 1957. Merdeka is home to the likes of the Royal Selangor Club and the Sultan Abdul Samal Building, with its striking copper-plated cupolas. Another crowd favourite is the National Palace, guarded by soldiers in fine-silk attire. If you've cash to burn on designer labels, head to Starhill Gallery, a tractor-beam for every top-end fashion brand.
In the spirit of its melting-pot legacy, the bustling districts of Little India and Chinatown are shopper and foodie magnets. Petaling Street is a round-the-clock retail haven, with traders hawking all manner of bargain-priced merchandise – and label knock-offs. Set aside some time for Central Market, which is billed as "Malaysia Under One Roof." Originally built in 1888 as a wet market, the cavernous building has a themed-street layout and shops modelled on traditional Malay houses. The market features folk dances, a  huge variety of local culinary delights and dozens of souvenir and craft stalls. Stop by Art Lane, where you can admire batik painters and other local artisans, practising their crafts. 
Kuala Lumpur's cultural mix of ethnically Malay, Chinese and Indian residents have created a fascinating, messy food culture entirely at odds with the glistening, contemporary skyscrapers that exemplify KL.  The city's relationship with food tends to be fuss-free, there's few frills and a lot of plastic: the chairs, the tables, the bowls.
For succulent street food, surrender to the sensory assault of Jalan Alor. It's a whole street of hawker-style street food eateries.  The street is certainly cleaner than how it was in decades gone by, but the smorgasbord of genuine street food flavours has not demurred. It's hard to go past the chicken satay in peanut sauce, or the barbequed chicken wings at Wong Ah Wah, but here's a few other options to graze from that really hit the spot for me.
Oyster omelettes and deep fried sweet potato balls are a must try. As is fruit rojak -a popular Malaysian snack or salad, consisting of a cup of of mixed fresh fruit or vegetables topped with Rojak sauce and peanuts. I fell in love with chilli pan mee – minced pork, poached egg, dried anchovies and home-made noodles. Considered  by many as Malaysia's national dish, Nasi lemak is instantly agreeable. This fragrant rice dish is cooked in coconut milk, and served with anchovies, peanuts, boiled egg, lamb curry, cucumber, and chili paste. Traditionally, it's wrapped in banana leaves. Truly superb. 
Just north of Kuala Lumpur, a 30 minute drive brings you to a spectacular limestone outcrop which is home to the Batu Caves. This cavernous sanctuary was discovered by an American naturalist in the 1890s, and it wasn't long before a Hindu shrine was constructed within the cave. Arrive early morning, to beat the crowds and humidity, and ascend the 272 steps which leads you into the soul-stirring Temple Cave. Added attractions include the playful monkeys that climb all over the limestone cliffs, the towering golden statue dedicated to Hindu god, Muruga, and the tranquil turtle pond at the base of the cave.
Mike Yardley is Newstalk ZB's Travel Correspondent on Jack Tame Saturdays. 11.20am