Mike Yardley: Shine on Tekapo
Author

Publish Date

Fri, 28 Jul 2017, 2:09pm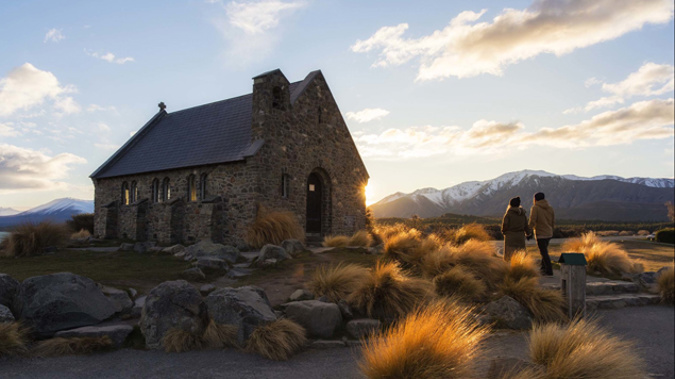 Mike Yardley: Shine on Tekapo
Author

Publish Date

Fri, 28 Jul 2017, 2:09pm
No matter the time of year, Tekapo's universal appeal seemingly knows no bounds.  Visitor flows continue to smash all records and the traditional shoulder seasons have melted away. There is now no such thing as an off-season in the Mackenzie. One glimpse, one snatch of the Mackenzie skyscape can be all its takes to convert the uninitiated into an astro-addict. And naturally-blessed Tekapo has cultivated an incomparable reputation as heaven's gate.
But before I surrendered to the star-spangled sky show, I tucked into some hearty winter fare at the celebrated Tin Plate Kitchen & Bar, in the heart of Tekapo. With a rustic, playful Italian ambience and blazing open fire, this toasty and convivial apres-ski spot is the sort of place you could linger all night - and their decadent pizza menu is beyond drool-worthy.
The a la carte dinner menu is stoically seasonal and what could be better than their lamb & winter vege hotpot? Another highly recommended winter pick-me-up is Tin Plate's pork fillet, glazed in dijon mustard and whisky, accompanied with roasted winter veges and caramelised apple. It's as mouth-watering as it sounds. www.tinplate.co.nz
Feeling suitably fuelled and fortified against winter's icy chill, I sauntered around to Tekapo Springs to experience their recent entrance into the head swirl of astro-tourism. The mercury was plunging and the inky darkness deepening. Tilting my head to the heavens, the canopy of constellations were all aglitter, with seductive intent. Pint-sized Tekapo certainly knows how to roll deep into the night.
For such a small town, the sheer volume of night owls out and about at midnight, having the time of their lives, would leave many much bigger towns in the shade. Stargazers by the truckload, rugged up and wide-eyed, were swanning through town to gaze in awe at the sky full of stars, as convoys of jam-packed coaches ferried visitors about. Astro-tourism is snow-balling at a startling speed, whereby a variety of new offerings are broadening the palette of nocturnal experiences.
Mt. John Observatory's Earth & Sky Experience will soon be complemented by the joint venture with Ngai Tahu, ushering in a multi-million dollar astronomy centre.  And since March, the beloved pleasure dome of Tekapo Springs, feted for its hot pools, snow tubing and ice skating rink, has also been making the most of its locale, nestled within the world's largest international dark sky reserve. 
Alongside a clutch of international visitors, our ebullient star guide, Dan, swept us up in starry-eyed wonder, as he navigated us through some choice specimens shining above. Inside, a giant video screen showcased a dazzling range of images, fresh from NASA's various exploratory craft roaming the solar system. Through the telescopes set out on the deck of the Tahr Bar, we drooled in wonder over an array of celestial bodies, from the rings of Saturn to the intensity of star-birthing nebulae, revolving serenely above. 
Beg, borrow or steal a DSLR camera or get an astro-photographer to capture what the naked eye can't see. Dan's commanding breadth of knowledge and his engaging story-telling made for a compelling night. It's one thing to have an insane amount of astronomic knowledge, but being able to impart it in such a way that mere mortals can easily digest, takes real thought and flair. Dan had us absorbed all evening. But the cherry on top of the Tekapo Springs affair is the forty-minute soak in the Pukaki hot pool, as I "floated" among the stars, sound-tracked by astro-music and more celestial story-telling.
My fellow guests from abroad were spell-bound by the insights into the ancient prowess of Maori and Polynesian navigators, who used the stars as their road map. The Milky Way's powdered depth and texture kept mesmerising me deep into the night. It's the razor-sharp clarity of Tekapo's skies that underscores its universal appeal – in every way. Soak it up. www.tekaposprings.co.nz
After a restful night at beautiful Peppers Resort, the day dawned crisp and dead calm as I feasted on the vista, overlooking millpond-smooth Lake Tekapo. The rugby field next to Peppers would have to be a prime candidate for being one of the most photogenic sports grounds in New Zealand. Filling my lungs with pristine alpine air, the sun poked its head over Two Thumb Range as the soul-rinsing sense of purity washed over me.
It's very easy place to soon find yourself communing with nature, reflexively, where your brain switches off and thoughts become lost in a world of natural reverence.  As dawn gave way to a sparkling, sun-splashed winter morning, and after an obligatory courtesy call on the Church of The Good Shepherd, cradled in fresh snow, I pointed the car west for the short hop to Twizel, as the unending movie reel of snow-draped mountain vistas wrapped around me.  www.mackenzienz.com
Mike Yardley is our Travel Correspondent on Jack Tame Saturday Mornings.