Mike Yardley: Sensationally soaked at Iguazu Falls
Author

Publish Date

Fri, 11 Sep 2015, 12:31pm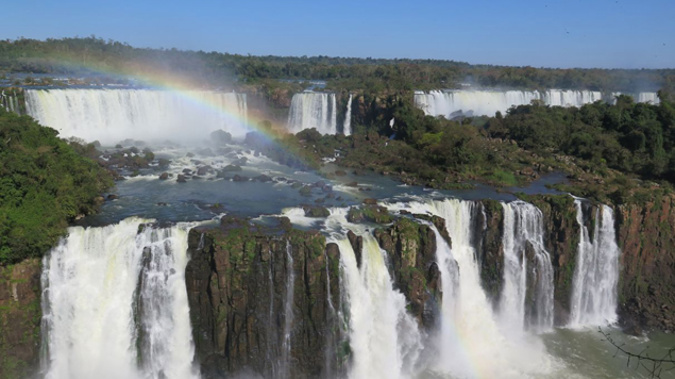 Mike Yardley: Sensationally soaked at Iguazu Falls
Author

Publish Date

Fri, 11 Sep 2015, 12:31pm
You might have read about them. You might have seen photos of them. But nothing can really prepare you for the full-throated ferocity, power and prestige of the Iguazu Falls. With over a million visitors a year, Iguazu has serious pulling-power. A ridiculously sized natural spectacle that left me gasping for superlatives,  "Niagara on Viagra" is how one visitor sought to encapsulate her Iguazú  encounter. Four times the width and twice as high as the famous cascades bordering Canada and the United States, an awe-inspired Eleanor Roosevelt famously remarked, "Poor Niagara". Iguazu is said to mean big water - a name coined by the local Guarani Indian tribe. They weren't mistaken.
Spanning 2.7 kilometres, Iguazu Falls is actually composed  of more than 275 separate waterfalls or cataracts, plummeting up to 70 metres into a colossal gorge, wrapped in subtropical rainforest. By any measure, these falls are colossal and this ecological blockbuster is the epitome of an appointment destination. Getting here does take an effort, it is not on the way to somewhere else, requiring a 90 minute flight from Buenos Aires or Rio de Janeiro.  As my local guide wryly observed, the alternative to flying is a 22 hour drive from Buenos Aires, although skilled drivers can crack it in 18.
But even though you may only stay here a night or two, the wondrous waterworks will reward you handsomely.  My travelling companion ranked it as a bigger pinch-yourself moment than Macchu Pichu. It's located within one of the few remaining inland rainforests in South America, the Atlantic rainforest, which thankfully is now preserved, after decades of rape, pillage and deforestation.
My guide, Cecilia, warned me that most tourists descend on the place from 9am, so it certainly pays to stay several steps ahead of the throng of humanity. Arrive by 8.30am at the national park entrance. A cute little train trundled us through the rainforest to the boardwalk to Devil's Throat, a tantalising convulsion of surging water, dropping 80 metres into a vast milky abyss that creates a permanent cloud of mist. This raging convulsion of water, and its deafening roar, generates a spray so intense it's as though geysers have erupted from below. This most majestic of cataracts is a multi-sensory monster!
Be sure to pack a poncho, unless you want to get stiffed by the on-site merchants who mugged me US $10 for a glorified sheet of glad-wrap, masquerading as a poncho, with a particularly tenuous life span. Desperate to protect my camera from water damage, I tucked that away within the folds of my clothes, while surrendering to the unsolicited soaking from Devil's Throat, the world's biggest open-air shower. In fact, the water pressure was unquestionably stronger than my early morning shower.
Approximately half of the river's waterflow plunges into this long and narrow chasm, which is U- shaped, 82 metres high and 150 m wide.  After tumbling over the edge of the Paraná Plateau, the Iguazu River's confluence with the Parana River, further downstream, delineates the borders of Argentina, Brazil and Paraguay. Although unlike its big brothers, poor little Paraguay doesn't get a slice of the falls fever. The falls are the result of a volcanic eruption which left a large fissure in the plateau. From above, it's as though Goliath's fist has slammed down on the river's path, cleaving  an 80m-deep chasm into the earth's crust. It looks like a giant hammer-blow has pulverised the plateau.
The other unmissable  experience is to take a boat ride into the jaws of these falls. My skipper seemed to take great joy in nudging his boat-load of screeching tourists into the pounding water. The staff ominously warn you to be ready to get wet, but nothing can really prepare you for the thunderous drenching – which did indeed puncture my glad-wrap poncho. (On-board, waterproof bags are provided for cameras and extra clothes.)  As I boarded, I noticed the captain was  conspicuously cocooned in a full waterproof kit. Off we went, like a script out of Apocalypse Now. First, you get a chance to photograph graceful falls like San Martin from a safe distance. But then, it's cameras away and knuckle down for the adrenalin rush. We were driven right into the snout of the Devil's Falls – well at least that's how it felt. The spray was so dense and disorientating, as much as I tried to take in the close visual encounter. The more we shouted and screamed, the more it egged the captain on, who gave us a second dousing, at the base of San Martin. Pouring ourselves off the boat, exhilarated and bedraggled, everyone was soaked to the skin. And the glad-wrap poncho was unceremoniously  binned.
The vast majority of the waterfalls, splayed out in a horse-shoe shape, reside in Argentina. Meticulously  designed pathways wend their way around the waterworks, from the mighty cascading curtains to the dainty and diminutive, with bridges crossing tranquil stretches of river. The boardwalks are flat and frequently poke their nose into the path of cascading water or churning spritz, just to get you that little bit closer to the action. Like a great storyline, the boardwalks slowly ramp up the unfolding drama, with grander waterfall vistas at every viewing platform.  The Argentine side is all about up and close and personal.
Before long, you'll savour the frisson of delight by spotting toucans in trees, flitting in and out of the branches, as if to tease the camera. They are such remarkably noble looking birds with their bright and bulbous yellow beaks. This fabulous red-soiled tropical jungle zone is also home to hordes of multi-coloured giant butterflies, that will gladly land on you, seeking minerals from your skin. Another wildlife curiosity are coati, furry critters related to the racoon, that are fearless of people and insatiable scavengers.  Be careful around them, because they are known to attack people for food.  If you want to buy some authentic souvenirs, a variety of stalls, operated by the local Guarani tribe, tout a profusion of rustic handicrafts, from wood-carved animals to musical instruments.
After a riveting day admiring the finery of Argentina's  falls, a good night's sleep refuelled me for a second helping, Brazilian-style. After some obligatory customs formalities, which the tour guide handled with aplomb, it was on to the Brazilian version of the Iguazu Falls. Like Argentina, beautifully constructed walking trails effortlessly guide you to all the knock-out viewing platforms, where my jaw continuously dropped. Argentina provides the intimate encounter, but Brazil blows their neighbour out of the water for wide-angle panoramics.  And as you walk further down the trail, the sweeping perspectives of the falls takes the beauty meter close to bursting point.
As far as the eye can see, mighty silver chains of gushing water, plunging through gaps in the emerald jungle, with semi-circular rainbows radiating across the river. Now that's grandeur. It's easy to see what Disney's Log Fume ride was inspired by. The end of the walk culminates with the Brazil's slice of Devil's Throat theatrics, as the platform leads you out to Salto Union. Gazing in awe at the gut-churning tumult of Devil's Throat, it's roar reverberated through my chest, as I was soaked to the core. All around me, dripping wet tourists leaning against the railing, squinting through a white cloud of spray for magical rainbows.
Adventure World have excellent touring options for Iguazu Falls.in Argentina. Head to www.adventureworld.co.nz/argentina/latin-rendezvous/, call 0800465432 or see your travel agent.
By Mike Yardley, Newstalk ZB's Travel Correspondent on Jack Tame Saturdays. 11.20am