Mike Yardley: Seduced by Seville
Author

Publish Date

Wed, 12 Aug 2015, 2:58pm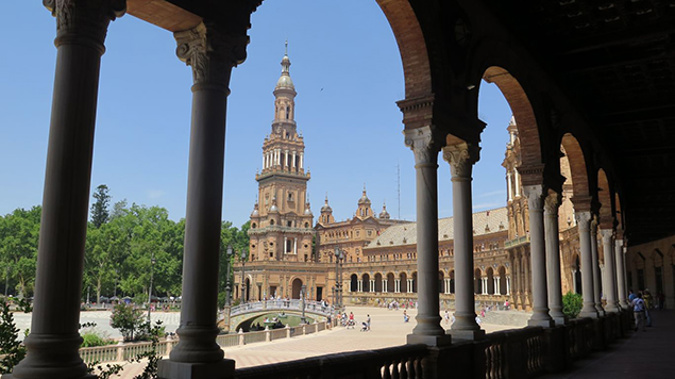 Mike Yardley: Seduced by Seville
Author

Publish Date

Wed, 12 Aug 2015, 2:58pm
Zesty, vivacious with old-fashioned good looks, Seville's cultural richness infuses the city with a distinctive personality.  Under an eternal blue sky, my first stop was a world icon of Gothic architecture.
Seville Cathedral, the world's third largest church, is central to the city's narrative and a staggering storehouse of history. Although you can soon feel churched out in Europe, God's big house in Seville boasts the extravagant tomb of Christopher Columbus,  buried in a carved stone casket, held aloft by four ceremonial footmen. It's a stunner! The artworks in the church will see your jaw dropping into the pews. Saint Fernando, who died nine hundred years ago, is buried here. His body hasn't corrupted, so he's wheeled out on public view in his glass casket.
Then there's the world's biggest altarpiece rising to the heavens, profusely carved with biblical scenes and gleaming in gold-leaf. I scaled the belltower, La Giralda, which was previously a minaret, before the Muslims lost power in 1249. Before the Moors were overthrown, they used to ride their horses all the way up the interior ramps.
If you can stomach the crowds, the other blockbuster attraction is the Alcazar, the former royal residence which began life as a Muslim fortress. Instead, I headed to Maria Luisa Park where in 1929 Seville ambitiously staged the Latin American World Fair.
Many of Spain's former colonies constructed elaborate permanent pavilions, reflecting the indigenous culture of their respective countries. There are some absolutely exquisite specimens, like the Guatemalan and Mexican and, since repurposed as consulates and museums. But the showpiece is Plaza de Espana, the sweeping central building, built in Renaissance Revival design, flanked by sumptuously tiled alcoves celebrating Spain's regions.
But my favourite Seville landmark is Torre del Oro ( Tower of Gold) a 900 year old riverside watchtower, which not only gleams like gold in the sunlight, but  where vast deposits of gold were first stored after being brought back from the New World.
Plunge into the one of the city's oldest medieval neighbourhoods, Santa Cruz, where a throng of shady little plazas and skinny laneways, brim with spirited neighbourhood tapas bars.  Order soladitos de pavia, which are oblong pieces of cod dipped in flour and fried in olive oil. Another local hit is pringa, which is a blend of veal, spiced sausage, black pudding and fat bacon. A cholesterol catastrophe, but so tasty!
Cross the river, from where Columbus set sail for the Americas, and head to the barrio of  Triana for the stunning old food market and the buzzing flamenco scene. Western Andalusia was certainly the birthplace of flamenco , and what Triana's  storied flamenco bars are like neighbourhood watering holes - not tailored-for-the-tourist artificial affairs. Fantastico!
Smack bang in the historic centre, Plaza Nueva is a restorative green and cool oasis, in a sun-drenched city. The plaza is crowned with a statue of King Ferdinand III on horseback - yes the same chap whose saintly remains are on display at the cathedral. And fanning out from the plaza is the swanky shopping strip of  Calle Sierpes, home to Seville's blue-ribbon retail street, including the celebrated Spanish department store, El Corte Ingles.
Fronting the plaza is Hotel Inglaterra, which has been indulging the world's visitors since 1857.  This mid-sized hotel oozes grace and charm, without being stiff or pretentious.  True to its historic location, guestrooms blend time-honoured elegance and lavish antique details with contemporary amenities, including free WiFi. 
My guestroom featured wooden flooring, lashings of marquetry,  stucco in the bathrooms, Italian plasterwork, embroidered linens and antique engravings. If you want to push the boat out, request a top-floor suite, for an oversized room and magnificently spacious private balcony, lording over the plaza. 
But the tabletop show-stopper that accentuates the hotel's winning reputation, is its spectacular roof-top terrace, La Terraza, serving up an unrivalled skyline panorama of Seville. Gaze lustily across to the Giralda Tower and the Cathedral, while enjoying great music, signature cocktails and tasty bites on a balmy Sevillian night.  You'll soon feel like you're floating above the city! La Terraza is such a knock-out, it has a siren-like following amongst Seville's glamour crowd. Locals know best! www.hotelinglaterra.es
Mike Yardley is Newstalk ZB's Travel Correspondent on Jack Tame Saturdays. 11.20am