Mike Yardley: Savannah's Southern Soul
Author

Publish Date

Wed, 19 Aug 2015, 3:35pm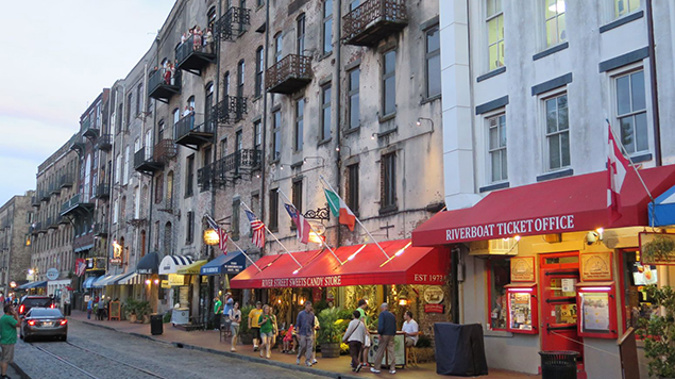 Mike Yardley: Savannah's Southern Soul
Author

Publish Date

Wed, 19 Aug 2015, 3:35pm
Few American cities can hold a torch to Savannah's especial charm and its abundant and beauty: grand oaks draped with Spanish moss, graceful antebellum mansions, magnolia trees, horse-drawn carriages, and ships plying the river. Savannah's fabled squares add an extra splash of stately elegance;  verdant spaces that soften the  Historic District with heroic monuments and lush greenery.
The last British colony in the New World flourished as a trading port and was thankfully spared by General Sherman during the Civil War, who presented the city to President Lincoln as a Christmas present. To gain an insight into Savannah's heroic preservation ethos, I visited the Davenport House Museum , where seven women started the whole Savannah restoration movement in 1954. They purchased the house, sparing it from demolition, and established the Historic Savannah Foundation which mobilised the safeguarding of the city's character. 
I once had the pleasure of interviewing John Berendt, who was presented with the Keys to Savannah, after writing his award-winning book, Midnight in the Garden of Good and Evil.  Pay a visit to the Bonaventure Cemetery, a trove of obelisks, monumental columns under a canopy of moss-wreathed trees – but maybe not at midnight, in this ghost-obsessed city. 
With a dizzying array of shops, restaurants, museums, and monuments studding the Historic District, the best way to dip into downtown Savannah's soul  is definitely on foot. If you feel like a tipple to help your walkabout, Savannah is one of the few US cities where you can totter about the streets, with a beer or cocktail, as long as it's in a plastic cup.
With more than 20 squares to choose from in the Historic District, surrounded by antebellum architecture and exquisite ironwork, you'll notice that each square seems to have its own personality.  My favourites include Chippewa Square, which was the location for the famed bus-stop scenes in Forrest Gump. The bench is no longer located at the square, but has been installed at the Savannah History Museum, which is housed in the old Central Georgia railway station. 
Lafayette Square is a show-stopper. Bracketed by large leafy trees and some notable house museum, like the Andrew Low House and St. John the Baptist Cathedral, Lafayette appears frozen in time. For even more architectural flourishes, Monterey Square boasts a stunning cluster of sublime historic homes, headlined by the acclaimed Mercer House, which was centre-stage in Midnight in the Garden of Good and Evil.
For a complete change of scenery, one of the city's famous faces is the southern cooking queen, Paula Deen, who's had to contend with various media storms in recent years, over racism.Her eponymously named store in Congress Street flanks her feverishly popular restaurant. The store attracts the hordes as well, to drool over her copious cookbooks, signature cookware, cutlery, dinnerware, glassware, souvenir mugs and aprons.
The city's wide river was where the world's  first steamship to sail across the Atlantic departed from in 1819. In the spirit of the SS Savannah,  climb aboard the elegant old riverboat, the Savannah River Queen, for a fresh perspective on this seductive city. Flanking the waterfront, River Street Inn is a dreamy, evocative roost, housed in a 19th-century cotton warehouse. Period furnishings are to the fore, setting the mood for a romantic Savannah sojourn. My room featured a  four-poster bed hardwood floor and oriental rugs.  You'll enjoy free wi-fi and a surprise bonus is the complimentary happy hour where wine and hors d'oeuvres are generously served to guests. This delightful property was built in 1819 and offers smashing riverside views. www.riverstreetinn.com
The riverfront area of converted and repurposed warehouses hosts a swag of galleries, souvenir stores, lively bars and – best of all, candy shops. The pick of the bunch is Savannah's Candy Kitchen , founded by Stan "The Candy Man" Strickland, over 30 years ago. It's morphed into a  successful chain, courtesy of its its traditional Southern treats including Savannah cakes, pecan pies, pecan log rolls, glazed pecans, and praline layer cakes.
If you're wanting to take a hop-on, hop-off sightseeing tour, many of the operators commence their services from the riverfront. Top of the class is the Old Town Trolley Tour, with an outstanding fully-narrated live commentary. www.trolleytours.com/savannah
Mike Yardley is Newstalk ZB's Travel Correspondent on Jack Tame Saturdays. 11.20am